entrevistas
[ Volver al artículo en castellano ]
Lorna Want: "Playing Cynthia Weil in BEAUTIFUL has been my biggest challenge to date"
03/08/2015
The Olivier Award actress co-stars alongside Katie Brayben, Alan Morrisey and Gary Trainor in the West End production of Carole King's musical, which opened on the 24th February 2015 at the Aldwych Theatre.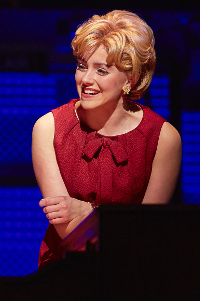 BEAUTIFUL - THE CAROLE KING MUSICAL opened at London's Aldwych Theatre on the 24th February 2015 starring Katie Brayben as Carole King, with Alan Morrissey as King's husband and song-writing partner Gerry Goffin, Lorna Want as song-writer Cynthia Weil, Glynis Barber as Genie Klein, King's mother, and Gary Trainor as music publisher and producer Don Kirshner.
BEAUTIFUL - THE CAROLE KING MUSICAL is based on the early life and career of legendary singer/ songwriter Carole King. BEAUTIFUL has book by Douglas McGrath with words and music by Gerry Goffin, Carole King, Barry Mannand Cynthia Weil and is directed by Marc Bruni.

BEAUTIFUL - THE CAROLE KING MUSICAL is the untold story of her journey from school girl to superstar; from her relationship with husband and song-writing partner Gerry Goffin, their close friendship and playful rivalry with fellow song-writing duo Barry Mann and Cynthia Weil, to her remarkable rise to stardom. Along the way, she became one of the most successful solo acts in music history, and wrote the soundtrack to a generation.

Winner of the Olivier Award for Best Actress in a Supporting Role in a Musical for her performance as Cynthia Weil in BEAUTIFUL, Lorna Want –who other theatre credits include FOOTLOOSE (Novello/UK Tour), THE FANTASTICKS (Duchess Theatre), EVITA (Adelphi) and PARADE (Donmar)– tells us about her work in this award winning musical who keeps on packing audiences in London.

HOW WOULD YOU ASSESS YOUR TIME IN 'BEAUTIFUL – THE CAROLE KING MUSICAL' SO FAR?
I would say that so much has happened in a short amount of time, it's been a rollercoaster. But a brilliant one, and I've learnt new things about myself along the way.

WHAT IS THE THING THAT HAS AMAZED YOU THE MOST OF ALL THE THINGS YOU'VE DISCOVERED ABOUT CAROLE KING, CYNTHIA WEIL AND THEIR FRIENDSHIP THESE LAST MONTHS?
Before I got the call to audition, I had no idea that most of the songs from this era were written by either Goffin and King or Mann and Weil. The audition and rehearsal process was incredible, discovering who these iconic people were, and just how much talent they have. I think the most astonishing thing is that they were penning these songs at such a young age.

WHAT DID IT MEAN TO YOU WINNING THE OLIVIER AWARD? HOW WAS THAT EVENING?
Winning the Olivier was such an honour. For my work to have been recognised and to be nominated was incredible, so to stand up and collect that award in front of people I respect and look up to, was a very surreal and special moment in my life. I'm not sure if it gets any better than that, I'm a lucky girl!

HOW IS THE AUDIENCE REACTING TO THE SHOW NIGHT AFTER NIGHT?
We are constantly blessed with appreciative audiences, and it just goes to show how much these songs resonate with people. It really is a soundtrack to a generation, and of course Carole King's story is touching and honest.

ONE OF THE MOST INSPIRING THINGS OF THE SHOW IS ONE OF ITS MESSAGES: EACH ONE OF THE THINGS THAT HAPPENS IN OUR LIFE, EVEN IF THEY LOOK REALLY BAD, COULD BRING SOMETHING GOOD… DO YOU AGREE? HAVE YOU HAD YOUR OWN EXPERIENCE OF THIS KIND OF SITUATIONS?
Yes I completely agree. Life has its ups and downs all the time, and it's how we deal with those highs and lows that helps us grow as people I think.

WHAT COULD YOU TELL US ABOUT YOUR CAST MATES? HOW IS IT THE ENVIRONMENT AT THE BACKSTAGE?
We're very lucky that we have a great company. There's lots of great work going on onstage; I'm constantly inspired by everybody, and there's lots of laughs backstage! Our leading lady Katie Brayben is the most down to earth, humble woman, with an insane amount of talent, and she leads the company with ease.

YOU DID YOUR WEST END DEBUT AT THE AGE OF 15, IN 'ROMEO AND JULIET'. HOW DO YOU REMEMBER THAT EXPERIENCE?
There's something about the first show you do that will always stay with you. And that's Romeo and Juliet for me. As I didn't go to drama school, I did most of my training on that job; watching the other actors to see how they behaved and dealt with situations. I felt like the luckiest girl in the world, to be playing a leading role in the West End at such a young age, and I enjoyed every single moment. The hardest part was discovering about bad press and bad reviews, and we got our fair share of them! But actually I wouldn't change it for the world. It made me stronger and wiser, and I thought, it doesn't matter what you say about me, I'm here living and breathing it, and making art, and somebody out there will hopefully appreciate it!

SINCE THEN, YOU'VE STARRED IN SHOWS SUCH AS 'FOOTLOOSE', 'EVITA', 'PARADE', 'THE FANTASTICKS'… IS THERE ANY SPECIAL ROLE YOU FEEL PROUDER OF?
I feel proud of them all, and have loved them all for different reasons. I would say playing Cynthia Weil has been my biggest challenge to date, so I'll always be grateful to Cynthia, and BEAUTIFUL for helping me to achieve new things.

COULD YOU COMMENT ON YOUR UPCOMING PROJECTS?
I will be in BEAUTIFUL for a little while longer, then after that who knows??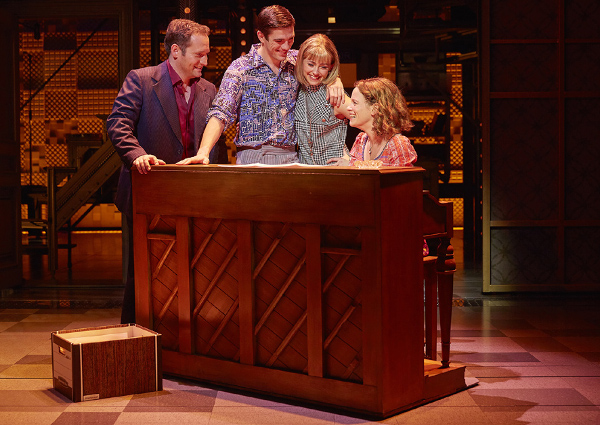 Gary Trainor (Donnie Kirshner), Ian McIntosh (Barry Mann), Lorna Want (Cynthia Weil) y Katie Brayben (Carole King)
Enlaces de Interés
Información Relacionada