[ Volver al artículo en castellano ]
RIA JONES, Swansea (Wales) 1967
26/06/2015
West End performer who has starred in shows such as EVITA, CATS, LES MISÉRABLES, JOSEPH or ANYTHING GOES, and will star in MISS-LEADING LADIES at London's St James Studio alongside Ceri Dupree this August.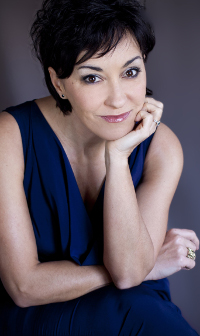 Her professional debut was at the age of 9 at The Swansea Grand Theatre in the pantomime CINDERELLA with Clive Dunn.

Other theatre credits include the role of Eva Peron in EVITA at 19, becoming the youngest actress ever to play this role; followed shortly by her West End debut in the musical CHESS, in which she played the roles of both Svetlana and Florence. She then went on to play Grizabella in CATS at the New London Theatre, (where she stayed for two years). Her next role was as Fantine in LES MISÉRABLES, at Manchester´s Palace Theatre, followed by the national tour, and the West End. Then came the role of the Narrator in JOSEPH AND HIS AMAZING TECHNICOLOUR DREAMCOAT at the Appollo Hammersmith, and the national tour. Other credits include: playing both Josephine and Monica in ROMANCE ROMANCE at the Bridewell Theatre; Necrophorous in NINE at the Donmar Warehouse; Kim in the European premiere of the musical revue PERSONALS at the New End Theatre, Hampstead; the creation of the role of Emma West in A TWIST OF FATE at the Jubilee Theatre, Raffles, Singapore; Petra in Stephen Sondheim's A LITTLE NIGHT MUSIC, at the Leicester Haymarket; Ida in HONK at the Victoria Theatre, Singapore. The title role in the European premiere of VICTOR VICTORIA at the Bridewell Theatre. Liz Imbrie in HIGH SOCIETY UK tour 2004/5, and the Shaftesbury Theatre. Reno Sweeney in the 2006 national tour of ANYTHING GOES for which she was nominated for a TMA award for best performance in a musical. Mrs Overall in ACORN ANTIQUES UK tour 2006/7. Alex Spofford in THE WITCHES OF EASTWICK UK tour; guest vocalist in "STRICTLY COME DANCING" the Professionals tour; CLOSER THAN EVER at the Landor Theatre, London; The Witch in Stephen Sondheim's INTO THE WOODS at the Esplanade Theatre, Singapore and Dorothy Brock in 42ND STREET at the Curve, Leicester. JERRY'S GIRLS at London's St James Studio and Jermyn Street Theatre. Concerts have taken Ria worldwide from France, Belgium and Spain to South Africa, Singapore and Shanghai.

Currently Ria is in rehearsals of her upcoming new show MISS-LEADING LADIES alongside Ceri Dupree, which will run at Lodon's St James Studio from 5th to 30th August.


- The first musical you saw and/or most impressed you: The first professional musical I saw in the West End was FIDDLER ON THE ROOF starring Topol in 1983.

- You would like to make a duet with: I would like to record the duet "Tell Him" with Shirley Bassey.

- Webber or Sondheim? Webber, because he writes such fantastic songs for the belt Voice and I've been fortunate enough to appear in five of his musicals.

- London or New York? I've never been to New York so I'd have to say London.

- Do you keep the programmes of the musicals you watch? I used to, but now they're too expensive. I feel, like Broadway, the West End should supply one with your ticket especially when they cost upwards of £85.

- The worst moment you've had live on the stage was (as a performer and/or as a spectator): As a performer when I fell and hit my head during the death scene in EVITA. I carried on till the end of the show, and was then rushed to A&E with a lump the size of an egg on my head, still dressed as Eva Peron, complete with blonde wig and hospital gown!

- An unforgettable moment (as a performer and/or as a spectator): Singing "Memory" as a guest at Buckingham Palace.

- Do you have any superstitions before the opening night? I never like anyone to whistle in my dressing room.

- A musical character that you would like to BE (not perform): Mary Poppins.

- A character of your opposite sex that you would like to perform: Javert in LES MISÉRABLES.

- What do you like most/least about your work? I like having most days free, I least like it when it takes me away from my family and friends.

- What is your favorite musical movie? GYPSY with Rosalind Russell.

- The last CD/DVD related to Musicals that you have bought is: A STAR IS BORN starring Judy Garland.

- What is your favorite line from a musical: "I am big it's the pictures that got small" from SUNSET BOULEVARD.

- Agree or disagree with TV Shows finding new Musical Stars (as 'Over The Raibow' or 'I'd Do Anything'): Disagree, you earn stardom it doesn't happen overnight.

- You feel proud of: Surviving for thirty one years in the business.

- Of this moment you're living as a performer, the most important thing to you is: My health and happiness.

- Other projects you are working on: MISS-LEADING LADIES and learning my songs for an album I'm recording with the Royal Philharmonic Orchestra in July.
Enlaces de Interés
Información Relacionada