noticias
Ria Jones y Ceri Dupree protagonizarán MISS-LEADING LADIES en el St James Studio de Londres
12/06/2015
Sarah-Louise Young dirige estos conciertos celebración de la carrera de las grandes damas del escenario y la gran pantalla que se podrán ver en la capital británica del 5 al 30 de agosto de 2015.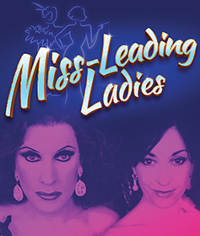 Ria Jones y Ceri Dupree protagonizarán MISS-LEADING LADIES, una revista musical que rinde homenaje a las grandes divas de la era dorada, que se podrá ver en el St James Studio de Londres del 5 al 30 de agosto de 2015.
MISS-LEADING LADIES se presenta como "un remolino de ilusión, cautivadora química y un delicioso homenaje para aquellos que admiraron a las grandes damas de la ya finalizada era dorada".

Ria Jones y Ceri Dupree añadirán su personal y propio estilo a esta celebración de algunas de las más grandes damas del escenario y la gran pantalla. Desde Ethel Merman a Doris Day, Marlene Dietrich o Danny La Rue, por citar a algunas, abarcando 60 años de historia e interpretando más de 20 grandes éxitos que se han escuchado en más de una ocasión en grandes escenarios como el Royal Albert Hall.

Ria Jones fue, con 19 años, la actriz más joven en interpretar a Eva Peron en EVITA. Debutó en el West End con CHESS y, posteriormente, interpretó a Grizabella en CATS en el New London Theatre. Sus créditos incluyen Fantine en LES MISÉRABLES, Narrator en JOSEPH AND THE AMAZING TECHNICOLOR DREAMCOAT y Necrophorus en NINE en el Donmar Warehouse. Ha protagonizado producciones regionales y en gira de A LITTLE NIGHT MUSIC, VICTOR VICTORIA, HIGH SOCIETY, ANYTHING GOES, THE WITCHES OF EASTWICK, INTO THE WOODS y 42ND STREET. Fue una de las protagonistas de CLOSER THAN EVER en el Landor Theatre de Londres. Recientemente ha protagonizado JERRY´S GIRLS en el St James Studio y en el Jermyn Street Theatre de Londres.

Ceri Dupree es un popular nombre de la escena cabaretera londinense, actuando en locales como Café de Paris, the Talk of London, the Stork club, Ronnie Scotts, Pizza on the Park, Minsky's Music Hall o Madame JoJo's. Ha escrito y producido sus propios espectáculos, como 'Extraordinaire', 'Ladies of Legend', 'Brenda: A Star is Torn', 'The Ceri Dupree Spectacular', 'Eager Divas', 'Duprees A Crowd', 'Totally Frocked Up!', vGown and Outv, 'Divalicious', 'The Ladies I Love', y recientemente 'Fit For A Queen' en el Leicester Square Theatre. Entre sus créditos teatrales se incluyen THE ROCKY HORROR SHOW, THE WIZARD OF OZ, y pantomimas como ALADDIN o PETER PAN.

Producido por Aria Entertainment, MISS-LEADING LADIES cuenta con dirección de Sarah-Louise Young y dirección musical de Edward Court.
Enlaces de Interés
Información Relacionada
Comentarios
Para poder añadir comentarios necesitas autentificarte como usuario registrado de todoMUSICALES.