entrevistas
[ Volver al artículo en castellano ]
Christopher Key: "LES MISÉRABLES is the people's musical, they take it to their heart"
16/09/2014
He is currently the Resident Director of LES MISÉRABLES London and Associate Director of LES MISÉRABLES 25th Anniversary production in Spain and Australia, and his relationship with the show began 12 years ago.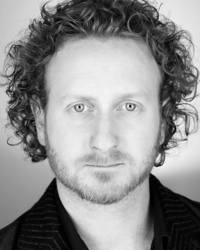 Christopher Key has worked as an actor and director in the West End and around the world. He has a long affiliation with LES MISÉRABLES, having performed in the show, and currently being the Resident Director of the London production and the Associate Director of the 25th Anniversary Production in Spain and Australia. Christopher was also the Resident Director on AVENUE Q in The West End.
As an actor, he has appeared in the West End productions of JERRY SPRINGER THE OPERA, and THE BEAUTIFUL GAME.

We met Christopher Key at the backstage of the Queen's Theatre, before the curtain of LES MISÉRABLES London goes up, and he tells us about his relationship with LES MISÉRABLES, the longest running musical in the West End, and about his work in the Spanish production of the show.

HOW DID YOUR RELATIONSHIP WITH 'LES MISÉRABLES' BEGIN?
In 2002 I auditioned for the show and was cast when the show was still at the Palace Theatre, and was in the company until 2004. Then I left and performed in JERRY SPRINGER THE OPERA, and after that was asked to come back and cover for someone for a month. At that time the show moved here, at the Queen´s, and after that month they said, we want you to stay for another contract, I accepted, and I was the swing of the show, Thenardier understudy, and I was the dance captain... So my responsabilities as dance captain were looking after the ensamble and the show in general when the resident director wasn't around. After that the Cameron Mackintosh, the organization, approached me about coming a resident director on their shows. So in 2006 I did it also on AVENUE Q... And, yes my relationship with LES MISÉRABLES began in 2002, so it´s been 12 years now.

HOW MANY PRODUCTIONS ARE YOU IN CHARGE OF CURRENTLY?
That are running at the moment: LES MIS London, obviously; LES MIS Australia, LES MIS Spain... Not on Broadway... And the Korean production as well, although it has finished.

IS IT SO DIFFERENT WORKING IN ONE PRODUCTION OR ANOTHER?
I think so. The greatest difference is working with this original production in London, and then with the new production anywhere else. The main difference is working with the two different productions, but then, working in a different country you get different qualities from the performers. So working with the Spanish cast was extremely different from working with the Korean cast. Both bring their unique qualities to the production. There are different approaches, different passions... But LES MIS is an universal production and it seems to work wherever we go.

AND WHAT DO YOU LIKE MOST OF THE SPANISH PERFORMERS?
I always say that they are passionate. It's a passionate country, but the performances, the commitment and the dedication, particularly among the ensamble as well... They are a talented cast... And I was looking at our principals and thinking how lucky we are in Spain to find such quality performers, who work extremely hard and even though they've been on the show since it opened in Madrid, they still are as passionate as committed to the show as they were when we first did it in 2010. It's been a big part of their lives and it´s hard to carry on with the same level of commitment doing the same show everyday over a four year period...

WHAT DID YOU THINK THE FIRST TIME YOU WERE TOLD YOU HAD TO WORK WITH THE SPANISH PRODUCTION?
I didn't know anything really. I didn't know what the standard would be like and I knew that it was a musical theatre scene in Spain, but it's not quite the same as the West End. There's a lot of productions, smaller productions going on in different venues, but when you look at the Gran Via, there wasn't that many big shows there at the time. We did a lot of auditions over a long period of time to try to find the right cast and the pool isn't as big as it's here, but as I said we found some great performers.

AND DO YOU GET USED TO THE PARTICULAR RYTHM OF LIFE IN SPAIN?
Ummm... yeah, we have Spanish time over there... Rehearsals start at 10ish, after lunch is 3.30ish or whatever... but you get used to that. The only thing I don't get used to is having a show at 10 at night. I can't comprehend how can we finish at 1am in the morning... I'll never get used to that! But the rest of it... I love Spain.

IS IT SO WEIRD FOR YOU TO LISTEN TO THE SHOW IN SPANISH?
The Spanish one was the first foreign production to me. We did so much work on the translation... so you know what they're singing... So it's easy to make sense... I got used to it pretty quick...

IS THE AUDIENCE REACTION VERY DIFFERENT?
It is, yes. It depends where you go. Barcelona recently was a wonderful reaction, but the other night in Bilbao they had a different reaction. They were very very quiet throughout the show but extremely responsive at the end.

WHICH ARE THE MAIN DIFFERENCES BETWEEN A RESIDENT DIRECTOR AND AN ASSOCIATE DIRECTOR?
My job here on London LES MIS is as a resident director so I'm looking after this production whenever I'm around. I'm in charge of cast changes, auditions, and maintaining the show on a day to day basis, watching it 3 or 4 times a week and just making sure that everyone´s doing as they should do, and the show is in the best quality it can be. As an associate director of foreign productions, I go out, I cast the show, I rehearse the show, and after the opening night, I leave it in the hands of the Spanish resident team, and drop in from time to time.

YOU WERE PART OF THE CREATIVE TEAM WHO DESIGNED THE 25th ANNIVERSARY PRODUCTION OF 'LES MISÉRABLES' WHEN IT OPENED IN CARDIFF IN DECEMBER 2009. HOW WAS THIS PROCESS?
It was interesting. When they first approached me about doing this resident job I said I love LES MIS, but I'm not sure if I want to do it cause it's going to be a brand new version. And that was exciting, just to think about how you could update the show. There's so many things that 25 years ago we couldn't do: the projections used in the show, technical things as Javert suicide. It was difficult, we all had to sit down, and look at the set design and work out how we would make the show different to the one we have here. Of course the main challenge was that there was no revolving stage, as we have here... This is a wonderful device that moves you seamlessly through the show and take you from scene to scene, so that was probably the main challenge. With the projections that Matt Kinley designed, each scene you have the setting and it's beautiful, you have colour in LES MIS, which we don´t have here... So it was nice then to see a completely different work created.

WHICH IS FOR YOU THE SECRET OF 'LES MISÉRABLES' SUCCESS AROUND THE WORLD?
I think, first it's the story, Victor Hugo's book. It deals with subject matters that are as relevant today as it was back then in the XIX Century. The story, the struggle of Valjean, his journey... Many people can relate to... Or Marius and Cosette story, or Fantine's troubles... They are prevalent in today's society as they were back then. It's a great book to start from. And then Claude-Michel Schönberg and Alain Boublil wrote fantastic music that just captured the nation's heart. Cameron said that this show was rejected by the critics but loved by the people. It's the people´s musical, they took it to their heart, and that's why it's still here 29 years later. And you open the show in Spain and people come, you open it in Korea, and people come... It's timeless. It's a combination of a great score and a great book.

SOMETIMES YOU HAVE TO BE ON AS VALJEAN IN THE WEST END, WHAT DOES IT MEAN TO YOU?
It's tricky. It's mixed emotions. It's very difficult standing on the stage in front of the people you direct, cause you start to feel that they go like "come on, now show us what you can do"... and that's hard. But as an actor, I miss acting, and it's a fantastic role to play. Although playing it once every so often is difficult because it's a challenging role.

DO YOU MISS PERFORMING TOO MUCH?
I do miss it, but at the same time I don't miss the insecurities of it. I'm very fortunate to get to play this role occasionally, I've got a family now, and being unemployed, going to auditions, and rejection is a tough business. So I think the work I'm doing at the moment suits me much better.

SOME PEOPLE SAY THAT THE WEST END IS COMING BACK TO THE 80s, WITH THE COMING BACK OF SHOWS AS ´MISS SAIGON´, ´EVITA´ AND ´CATS´, WHAT DO YOU THINK ABOUT THAT?
It's difficult because there's a certain element of truth, cause they all were popular shows that were created in the 80s, but at the same time, as I said with LES MIS, they are timeless, and there´s still a demand for them. I think it's about how you reinvent them and what you do with them. Certainly MISS SAIGON and LES MIS are both still spectacular shows and they stand up and can compete with new musicals today. I wish that we were in a world that new musicals were better supported and didn't need a star name to get people to go and watch them. There are a lot of musicals that deserve to be running but people are now watching how much money they spend, they want to know that they are watching something that they gonna enjoy, this is why people come back and watch LES MIS rather than take a gamble and watch something that they don't know, cause they know their money is well spend. I think that if there's a place for them, the demand for them, as long as they are updated and made relevant to today, then, why not?

COULD YOU COMMENT ON YOUR PROJECTS?
LES MIS London, MISS SAIGON, and LES MIS Spain will keep me busy through Christmas and then hopefully there will be some new projects in the new year.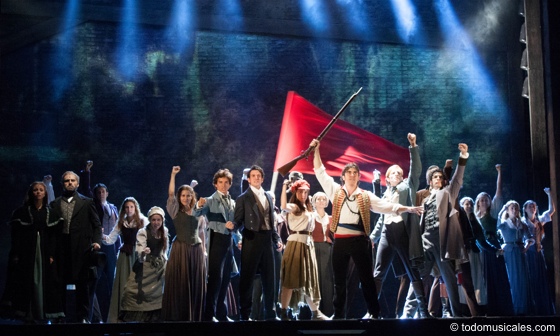 The Spanish cast of LOS MISERABLES at Barcelona´s Gran Teatre del Liceu
Enlaces de Interés
Información Relacionada