noticias
[ Volver al artículo en castellano ]
Madalena Alberto's new album 'Don't Cry For Me' released
10/03/2014
The current star of EVITA UK Tour has recorded a new album with songs of the renowned Andrew Lloyd Webber musical, as well as songs from shows as CABARET and JEKYLL & HYDE, which will be released on the 11th March 2014.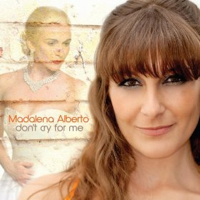 On 11th March 2014 it will be released 'Don't Cry For Me', Madalena Alberto´s new album, in which the current star of EVITA UK Tour sings some of the main themes of this musical written by Andrew Lloyd Webber and Tim Rice, as well as songs from other musical theatre shows.
Released by BK Records, 'Don't Cry For Me' also includes songs that Madalena Alberto has performed in her concerts, such as "Down With Love", songs from popular musicals such as "Maybe This Time" from CABARET, "Easy Terms" from BLOOD BROTHERS, "Unusual Way" from NINE and "Someone Like You" from JEKYLL & HYDE, which Madalena starred at London's Union Theatre in 2012. The album also includes one of the most popular songs written by the own Madalena Alberto, "Hispanic Feeling".

Originally from Lisbon, Madalena moved to London with a scholarship to enrol on a performing arts degree; and since her graduation she has developed a successful career in Musical Theatre. Madalena is currently starring in the acclaimed UK Tour production of EVITA. Previously, Madalena played the role of Piaf in selected performances at the Curve Theatre production of PIAF. In 2012 Madalena performed the role of Lucy in the acclaimed Morphic Graffiti production of JEKYLL AND HYDE at the Union Theatre. She played the role of Fantine in the acclaimed 25th Anniversary International Tour production of LES MISÉRABLES which finished at London's Barbican Center on October 2010. And she has also starred in shows such as GODSPELL, FAME, CHICAGO, ZORRO THE MUSICAL (West End) and OVER THE THRESHOLD (Edinburgh and Off-West End). Madalena made her Spanish debut on the 3rd December 2013 in successful intimate evening at Barcelona's La Cova del Drac.

Apart from her career as an actress, Madalena has developed a career as a singer / songwriter. In March 2011 she released the album 'Foreign Sketches - Live Studio Recording' in which she performed her songs solely with a guitar. In September 2012 Madalena released the EP 'Heart condition', recorded and produced at Rock Box Studios; and in June 2013 Madalena released her latest single "Forever Strange".

The complete track list follows:

1. Don´t Cry for Me Argentina
2. Let It Be Me
3. Down With Love
4. Unusual Way
5. Maybe This Time
6. You Must Love Me
7. Easy Terms
8. Love Me Tender
9. Someone Like You
10. Lament
11. Hispanic Feeling
Enlaces de Interés
Información Relacionada
Comentarios
Para poder añadir comentarios necesitas autentificarte como usuario registrado de todoMUSICALES.