entrevistas
[ Volver al artículo en castellano ]
Lauren Ward: "Miss Honey is a dream part and I absolutely love going to work every day"
23/01/2012
The American actress plays the role of Miss Honey in the West End production of the new British musical MATILDA, which opened at the Cambridge Theatre on the 25th November 2011.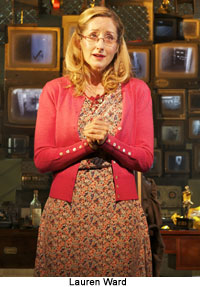 Based on the children´s novel of the same name by Roald Dahl, MATILDA THE MUSICAL opened at the West End's Cambridge Theatre last 25th November 2011 after a succesful run at the Courtyard Theatre in Stratford-upon Avon in December 2010. The show, produced by The Royal Shakespeare Company, is written by Dennis Kelly with music and lyrics by Tim Minchin and directed by Matthew Warchus.
Four young actresses alternate as Matilda: Eleanor Worthington Cox, Cleo Demetriou, Kerry Ingram y Sophia Kiely. They lead the cast of the show with Bertie Carvel as Miss Trunchbull, Paul Kaye and Josie Walker as Mr. and Mrs. Wormwood, and Lauren Ward as Matilda's teacher and allied Miss Honey.

Lauren Ward tells us about her work in MATILDA THE MUSICAL, which has been considered by reviewers as "the best new British musical since BILLY ELLIOT".


HOW WOULD YOU ASSESS THE WEST END RUN OF 'MATILDA' SO FAR?
I think it is going extremely well. The audiences love it.

WHAT HAS IT MEANT TO YOU CREATING THE ROLE OF MISS HONEY AND HOW DO YOU FEEL ABOUT PERFORMING IT EACH DAY?
I love working on new pieces. It has been a very rewarding and positive experience. She is a dream part and I absolutely love going to work every day.

HOW HAS IT BEEN WORKING WITH MATTHEW WARCHUS AND WITH THE REST OF THE CREATIVE TEAM?
I met Matthew 11 years ago in New York. He cast me as Young Sally in FOLLIES. We've now been married for 10 years and have 3 children, so needless to say we have a very good relationship in and out of work. There is a wonderful ease working together and I trust him completely as a director. Tim Minchin (music and lyrics) and Dennis Kelly (writer) are wickedly talented and brilliant. They make my job very easy. And I love Peter Darling (Choreographer) for giving me some dancing to do. I thought those days were over for me.

ARE THERE MANY DIFFERENCES BETWEEN THE COURTYARD THEATRE PRODUCTION OF THE SHOW AND THE WEST END ONE?
Yes, the Courtyard is a thrust stage and the West End is in a proscenium. This has changed quite a lot of the staging. And, as always with this creative team, there are added improvements to the script and music. They never stop working on it.

WHAT IS THE MOST DIFFICULT AND/OR THE EASIEST CHALLENGE OF WORKING WITH CHILDREN?
I love the kids. I love their honesty. Because there are four different Matilda's the show never feels stale. It is always fresh. The hardest part has been the amount of rehearsal. Because there are so many different teams and Bruce's and Matilda's we, meaning the adults, have to do everything at least 4 times!

WHAT WOULD YOU HIGHLIGHT FROM THE SONGS THAT TIM MINCHIN HAS WRITTEN FOR THE SHOW?
"School Song" is a brilliant take on the alphabet and is used so cleverly as a set up for what life is like for the students at Crunchem Hall. My own children can't stop singing "Revolting Children". That is definitely a hit. "Smell of Rebellion" is a terrific patter song. It is worth careful listening to on the CD. And, I love singing it, but I do feel "My House" is a beautiful heartfelt song that people can relate to outside of the show. It is gorgeous.

YOU HAVE DEVELOPED AN EXTENSIVE CAREER ON BROADWAY AND ON OFF-BROADWAY, WORKING IN SHOWS SUCH AS 'FOLLIES', '1776' AND 'CAROUSEL'. WHAT MEMORIES DO YOU KEEP THE MOST FROM YOUR NEW YORK PROFESSIONAL TIME?
My Friends! I made wonderful friends while I was there. I do love London, but in my heart, I will always be a New Yorker. It is where my adult life began. And, there is a constant creative pulse that I was a part of while I was there. I do miss those things.

WHY DID YOU DECIDED TO BEGIN TO WORK IN LONDON? AND HOW DIFFERENT IT IS FROM WORKING ON BROADWAY?
Love. I fell in love with a Brit (Matthew), and asked my agent's to help me get over to London. Over time, with the arrival of our children and the unbelievable support of my in-laws, it was a no-brainer to be based here. It really isn't that different in terms of the work. I've learned over the years that actors and performers are the same wonderful people all over the world. Contracts are different, working hours are different, pay is different. But, my life is also different. I didn't have 3 kids when I was working on Broadway. I worked all the time, non-stop. Now, I take a slower pace and take time off between projects because I love being a mom.

COULD YOU COMMENT ON YOUR NEXT PROJECTS?
The next project for me is putting my children to bed 7 nights a week for a while. I'm looking forward to that again.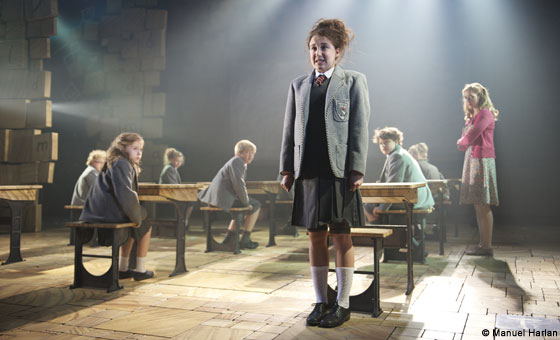 Lauren Ward, at the end, in a scene of MATILDA THE MUSICAL

Enlaces de Interés
Información Relacionada