noticias
[ Volver al artículo en castellano ]
Off-Broadway's RENT cast announced
08/06/2011
Adam Chanler-Berat, Matt Shingledecker, Arianda Fernandez and Annaleigh Ashford will star in this new production of Jonathan Larson's musical that will begin previews at New World Stages on July 14.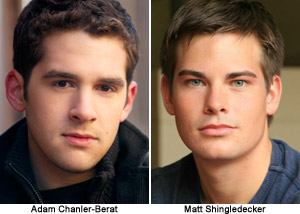 The producers of RENT have announced the cast for the upcoming off-Broadway production that begins previews Thursday, July 14, and opens Thursday, August 11 at New World Stages.
The cast of RENT is leaded by Adam Chanler-Berat (Mark Cohen), Matt Shingledecker (Roger Davis), Arianda Fernandez (Mimi Marquez), Annaleigh Ashford (Maureen Johnson), Corbin Reid (Joanne Jefferson), Nicholas Christopher (Tom Collins), Michael Rodriguez (Angel Schunard) and Ephraim Sykes (Benjamin Coffin III).

They are joined by Margot Bingham (Alexi Darling, Roger's Mom, and others), Marcus Paul James (Mr. Jefferson, Paul, and others), Tamika Sonuja Lawrence (Mrs. Jefferson), Ben Thompson (Christmas caroler, Mr. Grey, The Man, and others), Michael Wartella (Steve, Gordon, Waiter, and others) y Morgan Weed (Mark's Mom and others). Also in the company is Sean Michael Murray, Xavier Cano, and Genny Padilla.

This new production will be directed by Michael Greif who directed the show's original off-Broadway and Broadway productions. The creative team will include choreographer Larry Keigwin; music supervisor Tim Weil; set designer Mark Wendland; costume designer Angela Wendt; lighting designer Kevin Adams; and sound designer Brian Ronan.

With book, music and lyrics by Jonathan Larson, RENT first opened February 13, 1996 at New York Theatre Workshop where it was hailed as a landmark in the history of the American musical. It transferred to Broadway's Nederlander Theatre on April 29, 1996. The musical went on to win every major best musical award, including the Tony Award, New York Drama Critics Circle Award, Drama Desk Award, and the Outer Critics Circle Award. Additionally, RENT is one of only eight musicals to win the Pulitzer Prize for drama. In all RENT won four Tony Awards, six Drama Desk Awards, two Theatre World Awards, and Obie Awards for its creator, director, and entire cast. RENT closed at the Nederlander Theatre on Sunday, September 7, 2008, after playing 5,124 performances and 16 previews.

RENT is based on Giacomo Puccini´s opera `La bohème´. It tells the story of a group of impoverished young artists and musicians struggling to survive and create in New York´s Lower East Side in the thriving days of Bohemian Alphabet City, under the shadow of HIV/AIDS.
Información Relacionada
Comentarios
Para poder añadir comentarios necesitas autentificarte como usuario registrado de todoMUSICALES.