espacio crítico
[ Volver al artículo en castellano ]
Michael Bruce stokes the flame of new British musical
05/11/2009
On Sunday 1 November 2009 took place at the Apollo Theatre the concert `Michael Bruce: A Little Less Ordinary´. The songs of this young British composer were performed by top artists of the West End.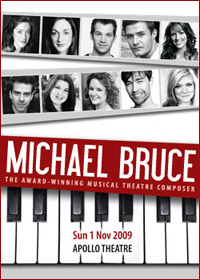 The Apollo Theatre, on London's Shaftesbury Avenue, had a full house on Sunday 1 November for the one-night-only concert `Michael Bruce: A Little Less Ordinary´. At this gala, fourteen of the hottest UK´s stars-Julie Atherton, Helena Blackman, Daniel Boys, Jessie Buckley, Sarah Earnshaw, Mark Evans, Clare Foster, Jenna Lee James, Alex Jessop, Leanne Jones, Sarah Lark, Paul Spicer, Emily Tierney y Finty Williams- performed 26 songs written by Michael Bruce, a British composer, lyricist, singer and musical director who has only 25 years old.
Michael Bruce began his career as a dancer. Done with dancing, he took up table tennis in his teens, playing in the Scottish national table tennis team throughout Europe. Later, the songwriter in him started to emerge, and he decided to study voice as a singer / songwriter at LIPA. He then graduated as a musical director and songwriter, working on a variety of shows in London, Liverpool and Edinburgh. On 2007 he won the Notes for the Stage competition run by Notes from New York and The Stage, following which his work has been performed in `Christmas in New York´ at the Lyric Theatre and at the Trafalgar Studios. His show ED received its professional première at this year's Edinburgh Fringe Festival, obtaining two awards: Best Book and Most Promising New Musical.
With Bruce at the piano while directing at the same time an orchestra of eight musicians, the two-acts concert offered the best of the work of this young composer.
The gala, tastefully arranged, began with a medley of the songs "Good Enough" and "A Little Less Ordinary" –from the musicals ED and RIGGED- performed by Michael Bruce, Leanne Jones, Clare Foster, Alex Jessop and Mark Evans. It shoud be noted that the producers, Neil Eckersley and Paul Spicer by Speckulation Entertainment, are imposing a hallmark to all events they organize. Concerts like CHRISTMAS IN NEW YORK, or performances such as THE LAST 5 YEARS or TICK, TICK...BOOM! are a good proof of this.
One of the surprises of the evening was the appearance on the stage of the unknown Phoebe Fildes. She sang one of the Bruce compositions, "Someplace Beyond the Moon". The girl, who was highly acclaimed by the audience due to her great performance, won an internet contest whose prize was to sing a solo on this concert.

During the first act of the concert there were several outstanding performances: Sarah Lark and Sarah Eanrshaw performed "I Want a Man" from ED; Daniel Boys and Clare Foster performed an stunning duet with the song "Believing" from HEY DIDDLE DIDDLE...; and Leanne Jones (winner of an Olivier Award for HAIRSPRAY) made an amusing performance of "Liquid Sunshine", also from the musical ED, with two dancers.

One of the most moving moments of the evening came when Jessie Buckley and Alex Jessop performed the song "In Your Smile" from the musical TOMMY´S WAR. Michael Bruce dedicated this theme to his deceased grandmother.
The first act finished with Emily Tierney wrapped in a outrageous dress singing the "Continental" from HEY DIDDKE DIDDLE...

After the break, a modest Michael Bruce thanked people in the audience for being still in their seats. He then performed with Mark Evans "Money Honey", from ED. This musical has an appealing soundtrack that brings together different musical styles such as rock, ballad or jazz.
Michael Bruce wanted to give a wink to the audience with a song dedicated to his admired Stephen Sondheim with "The Musical Theatre Song": with the melody of "Getting Married Today" from COMPANY, Bruce named dozens of musicals at breakneck speed, and received one the the greatest ovations of the night.
The gala continued with Sarah Earnshaw (cover of Glinda in WICKED) performing a wonderful ballad, "When You Say to Love Someone", from musical BEYOND. After several spectacular performances offered by Helena Blackman, Paul Spicer and Jessie Buckley, Daniel Boys and Jenna Lee James staged one of the most beautiful and sad duets of ED, "Looking Back". Then, an hilarious Julie Atherton sang "In a Disney Way", a theme written by Bruce specially for her that is a parody of Disney princesses.

The end of the concert came with all the cast onstage singing "Alive" from the musical BEYOND. After a long standing ovation, Michael Bruce with all the artists who had been in the concert performed the song from ED "Don´t Wanna Leave You Now" . This theme was the perfect finale to a unique evening that opens up new horizons to British musical.
Through all the concert, Michael Bruce offered class, naturalness, honesty and `savoir faire´. Although most of the audience did not know the whole repertoire –a fact that implied a significant risk for producers of the show-, all attendees enjoyed an evening full of splendid songs from different styles, that were performed and staged by excellent artists who served them in a perfect way.
Let's hope than in the near future we can see in the West End a large cast staging ED, the last musical to date written by Michael Bruce. We predict that this young composer will have a successful career.
Información Relacionada
Comentarios
Para poder añadir comentarios necesitas autentificarte como usuario registrado de todoMUSICALES.