entrevistas
[ Volver al artículo en castellano ]
Michael Bruce: "I´m big on acting, and acting through song"
07/08/2009
Sunday 1 Novembre 2009 Apollo Theatre will hold the gala concert 'Michael Bruce: A Little Less Ordinary', a fully-fledged West End concert profiling the contemporary musical theatre writing of a young British composer.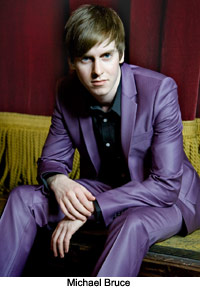 West End stars Julie Atherton, Helena Blackman, Daniel Boys, Clare Foster, Alex Jessop, Sarah Lark and Paul Spicer will dispense with the old and bastion the new when they showcase the work of 25 year old musical theatre composer, lyricist and musical director Michael Bruce in an unprecedented gala concert, 'Michael Bruce: A Little Less Ordinary', for one night only at the Apollo Theatre, Shaftesbury Avenue on Sunday 1 November 2009.
Produced by Neil Eckersley and Paul Spicer for Speckulation Entertainment in association with Notes from New York, 'Michael Bruce: A Little Less Ordinary' is an opportunity for a truly talented songwriter to make his mark on the West End stage and have his songs performed for the first time by a selection of the UK's young musical theatre stars.

Michael Bruce tells us more details about this concert in which some of his songs will be in front of an audience for the first time.

WHAT WILL AUDIENCE FIND AT THE GALA 'MICHAEL BRUCE: A LITTLE LESS ORDINARY'? HOW WILL BE THIS CONCERT?
Hopefully a fresh, new perspective on musical theatre with a real mix of songs and styles. Something a bit different to other contemporary writers. I´m a big fan of comedy and I´m going through a phase of loving doing that at the moment, as well as my more traditional musical theatre songs. I´m big on acting, and acting through song. Some of the songs will be in front of an audience for the first time, so it´ll be interesting to see the reaction!

WHAT DOES IT MEAN TO YOU TO THAT SOME OF THE YOUNG MUSICAL STARS OF THE UK PERFORM YOUR SONGS IN 'MICHAEL BRUCE: A LITTLE LESS ORDINARY'? HOW DID THIS PROJECT HAPPEN?
It´s a great thrill really. These guys are some of the best around, and are a joy to work with. I started working with the producers from the Notes From New York series after I won the Notes for the Stage competition. We´ve worked together on quite a few projects since then and have been talking about doing a concert of my stuff for a while. Projects in the theatre take a lot of time and detailed planning to come to fruition, so I´m really pleased that it´s finally happening.

YOU WERE THE WINNER OF THE NOTES FOR THE STAGE COMPETITION IN 2007. DID THIS AWARD HELPED YOU TO MAKE KNOW YOUR WORK IN THE INDUSTRY? DO YOU THINK THAT IT´S DIFFICULT FOR YOUNG COMPOSERS TO BRING THEIR WORK TO THE STAGE?
It was my first experience of working in the West End, and that´s a huge landmark for any composer or performer. It definitely gave me the beginning of a profile as a composer (I'd worked as a musical director before that) and has lead to other work and opportunities. Personally I don´t think it´s impossible to get your work on a stage. It may not be in the West End or on Broadway, but if you want it enough, you can get your work on a stage at your local village hall, at school or wherever. As a songwriter for the theatre, the work doesn´t exist until it´s brought to life by an actor on a stage. In my opinion, there´s no point in writing a song and then singing it in your bedroom for the rest of eternity. Get it out there, with an actor, on a stage, in front of people, even if it´s your family and friends. Only then will you be able to see if it works or not.

YOU BEGAN DANCING ON THE STAGE BEFORE STUDYING SONGWRITING. WHEN DID YOU DECIDE THAT YOU WANTED TO COMPOSE MUSIC FOR THE STAGE? WHICH WAS THE FIRST SONG / SHOW YOU WROTE?
Yes, I grew up on the stage as a dancer and always loved it. There´s a magical feeling being backstage in a theatre. I still find it quite mesmerising. I started writing music when I was about ten years old. We didn´t have a piano at home, so I taught myself how to play in music shops, school halls, and at my grandma´s organ; whenever I could really. I started out writing pop songs and actually went to LIPA (the Liverpool Institute for Performing Arts) to train as a singer / songwriter. It was there that I properly became involved in musicals. The first musical I wrote was called TOMMY´S WAR and it was a commissioned piece from the Arts Council. It was quite a lucky break really. It was then that I realised that writing musicals was what I really wanted to do.

WHAT ARE YOUR MUSICAL INFLUENCES? AND, SPECIFICALLY IN MUSICAL THEATRE, ARE THERE ANY SHOWS THAT WERE INFLUENTIAL TO YOU AS A COMPOSER?
Stephen Sondheim. It´s become such a cliché to say that these days, but it´s true. I had a mentor at college who was a doctor of musical theatre – specifically Sondheim – and he showed me what great writing is all about. I was also heavily influenced by Diane Warren and Andrew Lloyd Webber. Both are truly great songwriting talents.

HAVE YOU GOT ANY FAVORITE MUSICAL COMPOSER? AND ANY FAVORITE SHOW?
It has to be Sondheim, and my personal favourite is probably SUNDAY IN THE PARK WITH GEORGE. The writing craft in it is fascinating and the show never fails to move me.

DO YOU KNOW THE WORK OF YOUNG AMERICAN COMPOSERS AS SCOTT ALAN, ADAM GWON…? DO YOU LIKE THEIR WORK? DO YOU THINK THAT THERE ARE MORE CHANCES IN US THAN UK FOR YOUNG COMPOSERS TO SHOW THEIR WORK?
Yes, I´ve heard some of their work. I think it´s great that there are other people doing new writing out there, but I´d rather just get on with my own thing. If people like it, that´s great. There seems to be a tendency at the moment (not naming any names) to be a little self-indulgent. It´s starting to become less about the story and the characters, and more about the composers and the actors themselves. That´s fine, but it´s not musical theatre. For me, a (musical theatre) song should be for the audience´s benefit. They are the people who have paid to be there. There´s nothing worse than seeing an actor on stage sing about and for themselves. As soon as it becomes about how high or long someone can sing a note, or how great their riffs are, you´ve lost me. As far as opportunities go, there does seem to be more interest in new writing in the US, but the Brits are slowly but surely starting to make their mark. I think as well, that there is a difference between the British and American style. We tend to be a bit drier and more laid back than our American colleagues.

WHAT DO YOU THINK OF CURRENT SITUATION OF WEST END? THE KIND OF MUSICALS BEING MADE, THE WAY THEY ARE MADE...
There should be more new writing. It´s a shame that there isn´t, but unfortunately it´s hard to get people to invest in the unknown. The West End is an extremely expensive business, and shows have to make money or at least pay for themselves, so it´s no wonder there are so many jukebox shows. Some of them are done well, but it´s about time for us to move on and do something new and more inspiring. I'd like to think that my work and that of the Notes from New York team is doing that.

WHEN YOU WRITE A SONG OR A SHOW, WHAT ARE THE MAIN CHALLENGES THAT YOU FACE? WHAT DO YOU WANT TO TELL PEOPLE THROUGH YOUR WORK?
It should be about the story. You need a good book for a musical, and I´ve learned that the hard way.I want people to come to a show be taken on a journey. It´s the same with a single song or a whole show. You can´t preach to people about how you think they should lead their lives. People will be affected and will relate to things that happen with the characters on stage, but it all has to relate to the story you´re telling.

WHAT ARE THE PROJECTS YOU ARE WORKING ON?
I´ve just finished orchestrating the songs for the 'Christmas In New York' CD, which will be released in October, and which also features a couple of my songs. My new show ED is about to open in Edinburgh for the Fringe Festival, and I am also doing all of the orchestrations and arrangements for my concert 'Michael Bruce: A Little Less Ordinary'.
Enlaces de Interés
Información Relacionada