[ Volver al artículo en castellano ]
KELLY PRICE
30/04/2009
British actress that has starred in West End Musicals as MAMMA MIA!, GUYS AND DOLLS, DESPERATELY SEEKING SUSAN, CHICAGO and A LITTLE NIGHT MUSIC.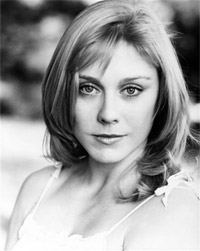 Her professional debut was as Lisa in MAMMA MIA! (understudy Sophie).
Other theatre credits include Sister Sarah Brown in GUYS AND DOLLS at the Piccadilly Theatre, succeeding Jenna Russell in the role to co-star with Adam Cooper as Sky Masterson and Patrick Swayze as Nathan Detroit. She performed Little Voice in 'The Rise and Fall of Little Voice' (Watermill Theatre). She played New Jersey housewife Roberta in the musical version of DESPERATELY SEEKING SUSAN that ran at the Novello Theatre for two months from mid-October to mid-December in 2007. In September 2008 she assumed the role of merry murderess Roxie Hart in the London production of Kander and Ebb´s CHICAGO.
Currently she is performing Charlotte Malcolm in the revival of Sondheim's A LITTLE NIGHT MUSIC, at the Garrick Theatre.

- The first musical you saw and/or most impressed you: BLOOD BROTHERS in its hometown Liverpool.
- You would like to make a duet with: Ewan McGregor singing: "I´ve Never Been In Love Before", but I was lucky enough to do that!!! I would have to say Hugh Jackman singing ANYTHING (preferably a love song!!!!) or Johnny Depp...
- London or New York? London.
- Do you keep the brochures of the musicals you watch? No.
- The worst moment you've live on the stage was (as a performer and/or as a spectator): An Actor drying during a song and the orchestra carrying on. Getting out of sync with the band is awful. You have no control and have to ride the storm.
- An unforgettable moment (as a performer and/or as a spectator): Taking a bow with Ewan McGregor, Jane Krakowski and Douglas Hodge when I stepped up as an understudy on the 1st Preview of GUYS AND DOLLS to play Sarah Brown.
- Some superstition before the opening night? No superstition just terrible useless nerves.
- A musical character that you would like to BE (not perform): Vicki Lester in A STAR IS BORN.
- A character of your opposite sex that you would like to perform: Hamlet.
- The more/less that you like of your work: Working and not working.
- A musical movie: DIRTY DANCING! or THE WIZARD OF OZ.
- The last CD/DVD related to Musicals that you have bought is: A LITTLE NIGHT MUSIC and A STAR IS BORN.
- A sentence of a musical: "To flirt with rescue when one has no intention of being saved" Frederick Egerman (A LITTLE NIGHT MUSIC) & "I´m A Mission Doll" (GUYS & DOLLS).
- Agree or disagree with TV Shows finding new Musical Stars: Disagree.
- You feel proud of: Getting this far.
- Of this moment you're living as an actress, the most important to you is: Integrity.
- Projects: No project to talk about as yet.
Información Relacionada