noticias
Katie Brayben protagonizará BEAUTIFUL - THE CAROLE KING MUSICAL en el West End
26/09/2014 (actualizada 17/10/2014)
Junto a Alan Morrisey, Lorna Want, Glynis Barber y Gary Trainor liderará el elenco de esta producción que iniciará funciones en el Aldwych Theatre de Londres el 10 de febrero de 2015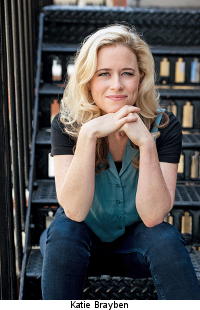 Katie Brayben protagonizará la producción del West End de BEAUTIFUL - THE CAROLE KING MUSICAL dando vida a Carole King. El musical iniciará funciones en el Aldwych Theatre de Londres el 10 de febrero de 2015, estrenándose oficialmente el 24 de febrero. Junto a ella estarán Alan Morrisey como el marido de King, Gerry Goffin; Lorna Want como la escritora de canciones Cynthia Weil; Glynis Barber como la madre de King, Genie Klein; y Gary Trainor como el productor musical Don Kirshner.
Katie Brayben está actualmente interpretando a Princess Diana en 'King Charles III' en el Wyndham's Theatre de Londres; y anteriormente había participado en AMERICAN PSYCHO en el Almeida Theatre. También formó parte del elenco de RAGTIME en el Open Air Theatre de Londres y de MAMMA MIA! en el West End y en gira por el Reino Unido.

Glynis Barber es popular en el Reino Unido por interpretar a Harriet Makepeace en la serie 'Dempsey and Makepeace' y Soolin en 'Blake´s Seven'. Además ha participado en otras series como 'EastEnders', 'The Royal', 'Family Affairs' o 'Emmerdale'. En teatro ha participado en obras como 'Love Leters', 'Once in a Lifetime' o ´A Murder Is Announced'.

Alan Morrisey formó parte del elenco de I CAN'T SING en el London Palladium del West End. Ha trabajado con la Royal Shakespeare Company en 'Twelfth Night' y 'As You Like It'; y ha aparecido en series de televisión como 'Holby City' o 'Doctors'.

Lorna Want recientemente dio vida a Winnie en la gira de ANNIE GET YOUR GUN. Entre sus créditos en el West End se incluyen FOOTLOOSE, EVITA, PARADE, THE FANTASTICKS y DREAMBOATS AND PETTICOATS.

Gary Trainor ha participado en 'Potted Potter' en el Garrick Theatre del West End y en gira; en INTO THE WOODS en el Landor Theatre; y en las giras de BUDDY y 'Stones In His Pockets', entre otras.

Completarán la compañía Vivien Carter, Ed Currie, Oliver Lidert, Fela Lufadeju, Tanya Nicole-Edwards, Terel Nugent , Jay Perry, Tanisha Spring, Lucy St. Louis, Danielle Steers, Dylan Turner y Joanna Woodwood; y el ensamble lo integrarán Andy Coxon, Jason Denton, Michael Anthony Duke, Joel Harper-Jackson, Rosie Heath, Aisha Jawando, Hannah Jay-Allan y Leigh Lothian.

BEAUTIFUL - THE CAROLE KING MUSICAL es la historia jamás explicada del viaje de Carole King, desde ser una colegiala a una súper estrella; desde su relación con su marido y compañero de composición Gerry Goffin, su cercana amistad y rivalidad con sus compañeros compositores Barry Mann y Cynthia Well, hasta su remarcable ascenso al estrellato. Durante el camino, se convirtió en una de las más exitosas artistas en solitario de la historia de la música, y escribió la banda sonora de una generación.

Con un elenco de 26 intérpretes y una orquesta de 12 músicos, BEAUTIFUL - THE CAROLE KING MUSICAL incluye clásicos de Carole King, entre ellos "So Far Away", "It Might As Well Rain until September", "Take Good Care of my Baby", "Will You Love Me Tomorrow", "Up on the Roof", "Locomotion", "One Fine Day", "You've Got a Friend", "(You Make Me Feel Like) A Natural Woman" y "I Feel the Earth Move", junto con éxitos de Barry mann y Cynthia Well como "You've Lost That Lovin' Feeling", "On Broadway" y "Uptown".

La laureada artista Carole King luchó en su camino para entrar en la industria de la música siendo adolescente, vendiendo su primer éxito "Will You Love Me Tomorrow" con sólo 17 años. A los 20 ya escribía éxitos para grandes bandas como The Drifters, The Shirelles, Aretha Franklin y The Monkees. Se convirtió en la primera cantautora cuyo álbum 'Tapestry' ganó tres de los principales premios Grammy en 1972, ganando también el Grammy a la Mejor Vocalista Femenina. Con más de 25 millones de discos vendidos, 'Tapestry' continuó siendo uno de los álbumes de una artista femenina mejores vendidos durante un cuarto de siglo. Más de 400 de sus composiciones han sido grabadas por más de 1.000 artistas, con 100 singles de éxito y 6 premios Grammy.

BEAUTIFUL - THE CAROLE KING MUSICAL continúa en cartel en el Stephen Sondheim Theatre de Broadway, donde se estrenó el 12 de enero de 2014, convirtiéndose en uno de los éxitos de la temporada. Una gira norteamericana del musical se iniciará en Rhode Island en septiembre de 2015.

El álbum de la grabación del elenco original de Broadway del musical -liderado por Jessie Muller- fue editado por Ghostlight Records en abril de 2014.

BEAUTIFUL - THE CAROLE KING MUSICAL cuenta con coreografía de Josh Prince, escenografía de Derek McLane, vestuario de Alejo Viettii, iluminación de Peter Kaczorowski y sonido de Brian Ronan. Las orquestaciones y los arreglos musicales son de Steve Sidwell. BEAUTIFUL - THE CAROLE KING MUSICAL estará producido en Londres por Paul Blake y Sony/ATV Music Publishing.
Enlaces de Interés
Multimedia
Información Relacionada
Comentarios
Para poder añadir comentarios necesitas autentificarte como usuario registrado de todoMUSICALES.