noticias
John Davidson vuelve a THE FANTASTICKS en el Off-Broadway como Henry
26/04/2012
El actor que interpretó el personaje de Matt en 1964 regresa el 1 de junio de 2012 al popular musical del Off-Broadway que actualmente protagoniza Aaron Carter en The Snapple Theater Center's de Manhattan.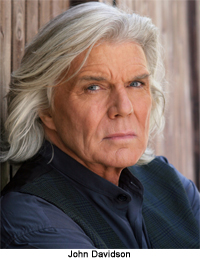 John Davidson, el celebrado actor norteamericano que protagonizó la versión de THE FANTASTICKS del Hallmark Hall of Fame en 1964 interpretando el personaje de Matt, se incorporará al elenco de la producción del Off-Broadway de THE FANTASTICKS durante una temporada limitada para dar vida al personaje de Henry, The Old Actor.
Davidson realizará su primera función el 1 de junio de 2012, realizando un total de 19 representaciones, hasta el 16 de junio. THE FANTASTICKS actualmente está protagonizado por Aaron Carter en el personaje de Matt.

Entre los créditos de John Davidson en Broadway se incluyen los personajes de Able Frake en STAGE FAIR y Curly en OKLAHOMA!. En el Off-Broadway ha protagonizado espectáculos como HIGH INFIELITY; y a nivel regional ha protagonizado musicales como THE MUSIC MAN, CAMELOT, CAROUSEL, FOLLIES, CHICAGO y MAN OF LA MANCHA. En televisión ha presentado programas como 'That's Incredible' o 'One Handred Thousand Dollar Pyramid'; y ha participado en películas como 'Airport 80', 'Edward Scissorhands' y 'The Squeeze'.

El actual elenco de THE FANTASTICKS está formado por Aaron Carter, Edward Watts, Bill Bateman, Tom Flagg, Heidi Giberson, Matt LEisy, Michael Nostrand, Dan Sharkey, Juliette Trafton y Charles West.

Un moderno giro en la historia de Romeo y Julieta, THE FANTASTICKS (con música de Harvey Schmidt y libreto, letras y dirección de Tom Jones) es la historia de una pareja de jóvenes que deciden querer experimentar el mundo. El musical presenta una historia hilarante y sobrecogedora apropiada para todas las edades. Su partitura incluye canciones como "Try To Remember", "Soon It's Gonna Rain" y "They Were You", tan atemporales como la propia historia.

Tras haberse representado durante 42 años la producción original en el Sullivan Street Playhouse, THE FANTASTICKS es el musical de mayor tiempo de permanencia en cartel de la historia. Actualmente se encuentra en cartel en The Snapple Theater Center's de Manhattan, donde el espectáculo se reestrenó en agosto de 2006.
Enlaces de Interés
Información Relacionada
Comentarios
Para poder añadir comentarios necesitas autentificarte como usuario registrado de todoMUSICALES.