noticias
[ Volver al artículo en castellano ]
Stephen Sondheim to receive Olivier Special Award 2011
04/03/2011
The American composer and lyricist will accept the award in person in the Awards ceremony that will take place on Sunday 13th March 2011 at London's Theatre Royal Drury Lane. The ceremony will be hosted by Michael Ball and Imelda Staunton.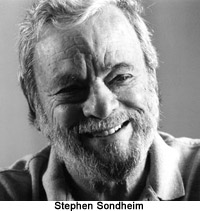 The Society of London Theatre announced today that Stephen Sondheim, the legendary American composer and lyricist, will be the recipient of the Olivier Special Award 2011. He will accept the Award in person, given in recognition of his contribution to London theatre, at the Olivier Awards 2011 with MasterCard on Sunday 13 March at the Theatre Royal Drury Lane. The Awards ceremony will conclude with a unique tribute to Sondheim by performers including Adrian Lester, who starred in Sondheim's Company, and surprise guests on the night. The Special Award is chosen by the board of the Society of London Theatre and over the years, there have been a total of 24 recipients including Sir Alec Guinness, Dame Judi Dench, Sam Mendes, Sir Peter Hall and Lord Olivier himself.
This year's hosts are two former Olivier Award winners - Michael Ball and Imelda Staunton. Musical theatre favourite and BBC Radio 2 presenter, Ball won the coveted Best Actor in a Musical award in 2009 for Hairspray, while Staunton is a double winner, having picked up the famous bronze statuette in 1985 and 1991. They have a distinctive connection to the Special Award winner, as they will be starring together in Chichester Festival Theatre's revival of Sondheim's Sweeney Todd in September.

One of the special performances will be by the legendary Barry Manilow, flying into the UK especially for the Olivier Awards, appearing with West End leading lady, Kerry Ellis, who has starred in Wicked and We Will Rock You.

Dance companies Thick Skin and Zoo Nation have been commissioned to create choreography especially for the Awards show, and there will be highlights from all the nominated musicals including Sweet Charity, Into the Woods, Love Story, Fela!, Legally Blonde, Passion and Love Never Dies. All the musical tributes, including special star performances, will be accompanied by the 72-strong BBC Concert Orchestra, under the musical direction of David Charles Abell, with original music and orchestrations provided by Larry Blank.

The Awards will be given during the evening by presenters including Benedict Cumberbatch, Anne-Marie Duff, Matthew Fox, Elisabeth Moss, Rupert Everett, Mark Gatiss, Amanda Holden, Jonny Lee Miller, Elaine Paige, Tamara Rojo, Patrick Stewart , Danielle Hope, Rachel Tucker and Olivia Williams. Distinguished guests from London's arts and cultural scene will join nominees and presenters as they arrive on the red carpet. The evening will also be attended by members of the Olivier family.
Enlaces de Interés
Información Relacionada
Comentarios
Para poder añadir comentarios necesitas autentificarte como usuario registrado de todoMUSICALES.