noticias
[ Volver al artículo en castellano ]
Open Air Theatre production of INTO THE WOODS available to stream and download online
14/02/2011
The acclaimed production of Stephen Sondheim and James Lapine's show, which ran last Summer in London, is one of the new productions added at the catalogue of www.digitaltheatre.com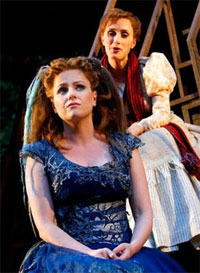 Digital Theatre has announced today the three new productions that will be available to stream and download at www.digitaltheatre.com. One of them is the acclaimed Open Air Theatre's production of INTO THE WOODS, the first musical show included in the catalogue of this British website.
INTO THE WOODS tells Brothers Grimm´s stories and gives them a dark and humorous twist. The popular tales of Red Ridinghood, Jack (of Beanstalk fame), Cinderella and Rapunzel are interwoven with that of the Baker and his Wife and their quest to have a child. However this re-telling goes beyond 'happily ever after' as the familiar characters find themselves in unfamiliar circumstances and hopes and dreams are questioned and revisited.

Celebrating Stephen Sondheim's 80th birthday, the 2010 season at Regent's Park Open Air Theatre closed with Sondheim and Lapine's 1987 musical Into the Woods, co-directed by Timothy Sheader and Liam Steel. With designs by Soutra Gilmour, movement by co-director Liam Steel, musical supervision and direction Gareth Valentine, lighting by Jon Clark, orchestrations by Chris Walker and sound by Mike Walker, INTO THE WOODS became the highest selling single production at Regent's Park Open Air Theatre. Earlier this month it was announced that INTO THE WOODS has received two Laurence Olivier Award nominations - Best Musical Revival and Best Performance in a Supporting Role in a Musical for Michael Xavier.

The cast (in order of appearance) comprises Eddie Manning as the The Narrator, Helen Dallimore as Cinderella, Ben Stott as Jack, Mark Hadfield as Baker, Jenna Russell as Baker´s Wife, Gaye Brown as Cinderella´s Stepmother, Amy Ellen Richardson as Florinda, Amy Griffiths as Lucinda, Marilyn Cutts as Jack´s Mother, Beverly Rudd as Little Red Ridinghood, Hannah Waddingham as Witch, Gemma Wardle as Cinderella´s Mother, Billy Boyle as Mysterious Man, Michael Xavier as Wolf and Cinderella´s Prince, Valda Aviks as Grandmother, Alice Fearn as Rapunzel, Simon Thomas as Rapunzel´s Prince, Mark Goldthorp as Steward, Sophie Caton as Snow White/Harp, Marc Antolin as Woodsman, with Judi Dench as the voice of the Giant.

Alomgside INTO THE WOODS, the other two productions available to stream and download at www.digitalteatre.com are William Shakespeare's 'As You Like It', their second collaboration with the Royal Shakespeare Company; and the sell out West End production of Arthur Miller's 'All My Sons'.

Digital Theatre's partner theatres are the Almeida Theatre Company, the Bush Theatre, English Touring Theatre, the Gate Theatre, Notting Hill, Regent's Park Open Air Theatre, the Royal Court Theatre, the Royal Exchange Theatre, the Royal Shakespeare Company and the Young Vic.

Digitaltheatre.com has been built with a variety of technologies to provide the user with the best platform for delivery. The entire application is hosted in a secure and scalable environment with servers running the latest Windows and Adobe software. Adobe Rights Management ensures top level digital copyright protection. SSL site encryption provides high-level security guaranteeing the privacy of customer and payment information.
Enlaces de Interés
Información Relacionada
Comentarios
Para poder añadir comentarios necesitas autentificarte como usuario registrado de todoMUSICALES.