entrevistas
[ Volver al artículo en castellano ]
Helena Blackman: "I think of Rodgers & Hammerstein like the Shakespeare of musical theatre"
07/02/2011
Best known as the runner-up in the BBC's 'How Do You Solve a Problem Like Maria?', she releases her debut solo album 'The Sound of Rodgers & Hammerstein' on 14th February 2011.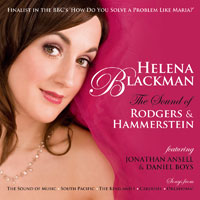 'The Sound of Rodgers & Hammerstein' is the debut album of Helena Blackman, the British performer who took part of the popular BBC reality show 'How Do You Solve a Problem Like Maria?'. The album is available for pre-order on iTunes from Monday 7th February, and it will be officially released on Valentine's Day, the 14th February.
On the previous day, Sunday 13th February, Helena Blackman will perform at her album launch at Delfont Room with special guest stars yet to be announced.

Helena Blackman headlined the acclaimed UK tour of Rodgers & Hammerstein's SOUTH PACIFIC in 2008, and starred in the West End première of Stephen Sondheim's SATURDAY NIGHT in 2009.
Helena Blackman tells us about her debut album, about her love for the music of Rodgers and Hammerstein and about her previous work in musical theatre, as well as her future projects.

WHY DID YOU DECIDE TO RECORD AN ALBUM OF THE MUSIC OF RODGERS & HAMMERSTEIN?
I´ve grown up with the music. The films were always on the TV and I´d watch them hungrily, loving how magical the music is. It´s also been part of my journey through my career, from learning to sing, being part of the Maria show and doing SOUTH PACIFIC. Lastly, we all agreed it was something that hadn´t been done in a while. So many people release albums of new work, which I support, but I wanted to bridge the gap between generations and give R&H a fresh, vibrant sound that brings it into the 21st Century, reminding people just how much it can be enjoyed.

SOME OF THE SONGS THAT ARE INCLUDED IN THE ALBUM HAVE BEEN RECORDED AND PERFORMED BY DIFFERENT ARTISTS. WHAT DO YOU THINK IS YOUR CONTRIBUTION TO THE SONGS?
We've concentrated on the musicality and the drama, balancing that fine line between the lyrics and the music, how they complement each other and how often you have to do very little but just open your mouth and feel it. It sounds kind of corny, but I think of Rodgers & Hammerstein like the Shakespeare of musical theatre in the sense that the direction is all in the writing; the less you do sometimes, the better.

YOUR ALBUM INCLUDES TWO DUETS: ONE WITH JONATHAN ANSELL AND ANOTHER WITH DANIEL BOYS. WHY DID YOU CHOOSE THEIR COLLABORATION?
They were both on my dream list. I´d performed with Daniel a number of times and we duetted together on BBC Radio 2´s 'Friday Night Is Music Night'. He has a voice that is so flexible to different genres of music and I knew he´d do a great job with a Rodgers & Hammerstein song. We also trained at the same drama school in Guildford, and so our work ethic is the same. With Jonathan, I´d never met him before but just knew he´d be perfect. We asked them both, and luckily they said yes.

YOU WILL LAUNCH YOUR ALBUM WITH A CONCERT AT THE DELFONT ROOM, IN THE PRINCE OF WALES THEATRE. HOW WILL THIS NIGHT BE?
I really hope that regardless of how people feel about my interpretation of the music they walk away humming the tunes, having been introduced to some new ones and having a new found respect for the writers. All the music is uplifting and I constantly want to create a positive vibe, so I want people to feel that when they come to watch.

WHAT DO YOU LIKE MOST ABOUT THE WORK OF RODGERS & HAMMERSTEIN? HAVE YOU GOT ANY FAVOURITE SHOW BY THEM?
I like that is works, that it´s simple and often subtle and moving in ways you can´t explain and that you shouldn´t spend too much time squandering over. Their themes were and are still controversial, but if handled sensitively, they suggest rather than patronise. My favourites are THE KING & I and CAROUSEL.

YOU WERE PART OF THE CAST OF ONE RODGERS & HAMMERSTEIN SHOW, 'SOUTH PACIFIC'.WHAT DO YOU REMEMBER ABOUT THAT EXPERIENCE? WHAT DID IT MEAN TO YOU?
I was most unfamiliar with this little gem out of all their pieces. It was an interesting choice by them to write a female lead that wasn´t a soprano and whose vocal range is so small, but it works and I´m sure has a lot to do with Mary Martin who played the role. I mostly remember playing to packed houses in the most beautiful theatres in the country. It was a real honour bringing Rodgers & Hammerstein to them.

YOU TOOK PART OF THE FIRST TV PROGRAM THAT AUDITIONS ACTRESSES TO PERFORM A LEADING ROLE IN A SHOW, 'HOW DO YOU SOLVE A PROBLEM LIKE MARIA'? WHICH EFFECT DID IT HAVE ON YOUR CAREER? WHAT DO YOU THINK ABOUT THE SUCCESS OF THIS KIND OF TV SHOWS?
It had a profound effect on my career, but so would any big job that leads you on to the next rung of the ladder. Maria was that rung for me. I grew up fast, became more ambitious, business minded, willing and wanting to prove myself and most importantly wanting to fight for my place within the industry. Nothing has ever been handed to me on a plate. Even though I´ve had success, I´ve worked very hard for it and our work ethic on the TV show ensured this. I support the process as it brings new audiences to our theatres. I look at the bigger picture, of having a career in ten years' time and being in a recession means that we have to re-evaluate the way we resource projects. I´m not naive, it´s not perfect but it is business, and we have to try and make it work and keep theatre alive for the future. I feel the weight of that responsibility, primarily from doing the TV show. Like anything, the process can´t last forever, but let´s try and make it positive and get the most out of it for now. There are worse things going on in the world that should be taking up more of our head space.

YOU RECEIVED GREAT REVIEWS FOR YOUR WORK IN SONDHEIM'S 'SATURDAY NIGHT'. WHAT DID YOU ENJOY MOST OF TAKING PART OF THAT PRODUCTION?
I enjoyed every aspect of the process. The cast, the creative team, the crew… We were all passionate about the project and got five stars in Time Out. We also had amazing people come to see it, namely Sondheim who came to our dressing rooms afterwards. Helen was one of my favourite parts to play and I got to sing "So Many People" my all time favourite Sondheim song. It was a dream show for me.

CAN YOU TELL US ANY MORE ABOUT YOUR CURRENT PROJECTS?
I have an amazing team of people around me who I constantly throw ideas about with. At the moment, my focus is very much on the album. It´s going to be a hectic couple of months. I want to do more concert and cabaret work around the country and abroad. I also have lots of other ideas, so watch this space.
Enlaces de Interés
Multimedia
Información Relacionada