[ Volver al artículo en castellano ]
STEPHEN ASHFIELD, Glasgow (Scotland) 1979
16/06/2008
British actor that made his West End debut as Boy George in TABOO. He has also starred musicals as FAME, TOMORROW MORNING and IMAGINE THIS. Currently he performs Bob Gaudio in JERSEY BOYS.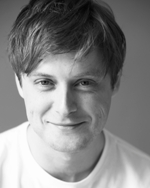 His professional debut in the West End was as Boy George in TABOO (opposite Boy George!) a role he reprised for the UK tour.
Other Theatre credits include: John in new musical TOMORROW MORNING (New End Theatre, London), Nick Piazza in FAME (West End), George in new musical THE HA´PENNY BRIDGE (The Point, Dublin), Harry in WHEN HARRY MET BARRY (West End Showcase), Basilio in THE MARRIAGE OF FIGARO (Drill Hall, London), Soloist in AN ENCHANTED EVENING (Theatre Royal, Drury Lane) for BBC, Principal Vocalist in the national premier of Christopher Benstead´s CARMEN (Scottish Ballet), Colin in MOTHER GOOSE (Watford Palace Theatre), Beast in BEAUTY AND THE BEAST (Clwyd Theatre Cymru), Prince Charming in CINDERELLA (Lichfield Garrick), Featured Artist in 16 GOBS (The Kings Head, London), BEYOND BROADWAY, KINGS OF SWING and MASTERS OF THE MUSICAL for Calibre Productions.
Recently Stephen created the leading role of Adam, in the world premier of IMAGINE THIS at Plymouth Theatre Royal. He can also be seen in Tim Burton´s film SWEENEY TODD.
Currently he is playing the role of Bob Gaudio in the hit musical, JERSEY BOYS, which opened at the Prince Edward Theatre in London's West End on 18th March 2008.
- The first musical you saw and/or most impressed you: LES MISERABLES - I was about twelve, and was inspired.
- You would like to make a duet with Celine Dion singing "Bridge over Troubled Water" (How cheesy would that be?!)
- Webber or Sondheim? Webber
- London or New York? London baby!
- Do you keep the programmes of the musicals you watch? Yes, I´ve got a box I keep them in. Very organised.
- The worst moment you've had live on the stage was: (as a performer and/or as a spectator) As a performer, I was playing Boy George in TABOO, and towards the end of the show I would start "Bow Down Mister" as a solo after the guitar had played the first few chords which then led into the finale proper. However, the guitarist forgot to reset his capo and so we started in the wrong key. I was still singing, when a few lines later the music ground to a halt. I just shouted "I think we´ll have that again please" and we resumed in the correct key. I thought I was gonna die right then of embarrassment!

- An unforgettable moment: (as a performer and/or as a spectator) The curtain call of Jersey Boys on opening night with Frankie and Bob on stage.
- Do you have any superstitions before the opening night? None, don´t believe in them.
- A musical character that you would like to BE (not perform): Well I wouldn´t mind getting a hold of Bob Gaudio´s bank balance!
- A character of your opposite sex that you would like to perform: Elphaba
- What do you like best/least about your work? I love the immediate response from the audience, I suppose I just wish acting was a bit more "stable".
- What is your favorite musical movie? THE SOUND OF MUSIC all the way! I went to Austria last year to retrace every step.
- The last CD/DVD related to Musicals that you have bought is: SWEENEY TODD - to watch myself endlessly. Blink and you´ll miss me.
- What is your favorite line from a musical: Mother Superior to Maria "What is it you can´t face?". Naughty.
- Agree or disagree with TV Shows finding new Musical Stars: Disagree. If you want to find the best person for the job, you have to audition everyone. Most professionals that I know wouldn´t endure the public humiliation when they have a career to consider. On the other hand it does increase the public exposure of musical theatre.
- You feel proud of: I feel proud of what we hace achieved as a company in Jersey Boys. We are a team and work very hard.
- Of this moment you're living as an actor, the most important thing to you is: To be happy! As an actor you don´t really know whats gonna happen from month to month. Things can be very unpredictable. You never know whats just around the corner, and so you must embrace that. I´ve learned to love it.
- Other projects you are working on: Are you kidding? I´m a Jersey Boy...when would I have time to do anything else?! I would like to name check one project though - a new musical I worked on last year called "Imagine This" by Glenn Berenbeim, David Goldsmith and Shuki Levy and directed by Timothy Sheader. It is set in the Warsaw Ghetto (not a likely setting for a musical you may think) and is one of the most thought provoking pieces I have ever worked on. It should be in the West End within the next year. Check it out! Its outstanding.
Información Relacionada