entrevistas
[ Volver al artículo en castellano ]
Rogelio Douglas, Jr: "To be a part of THE LITTLE MERMAID is a wonderful experience"
06/05/2009
Douglas, who was an original cast member of IN THE HEIGHTS, performs currently the role of Sebastian in the Broadway production of THE LITTLE MERMAID.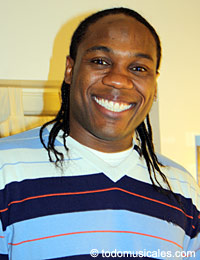 THE LITTLE MERMAID opened at the Lunt-Fontanne Theatre on Broadway in January 2008. This musical is a new production by Disney Theatricals, and it follows the path of the previous successes BEAUTY AND THE BEAST and THE LION KING. Based on the animated movie by Disney, THE LITTLE MERMAID features music by Alan Menken and lyrics by Howard Ashman and Glenn Slater.
Rogelio Douglas, Jr. joined the cast of THE LITTLE MERMAID last December, replacing Tituss Burgess on the role of Sebastian. Previously, Douglas was an original cast member of IN THE HEIGHTS. He has also been in shows like `Riverdance´, CELIA, DREAMGIRLS or FIVE GUYS NAMED MOE.
Rogelio tells us his feelings about being on this Disney musical and about his experience in playing Sebastian.
HOW DID YOU GET THE CHANCE OF JOINING ´THE LITTLE MERMAID´ CAST?
The story is I was performing across the street at IN THE HEIGHTS. I was on stage understudying at the time, and I happened to be on for Christopher Jackson in the role of Benny. And it happened to be at that performance, our director casting and talent development at Disney. Her name is Jane Rudin and she was in the audience that day. Thank God! And she gave me a card after the show. I called her and she invited me to have a meeting with her. And she said to me to come and audition, and little than a week and a half later they offer me the role of Sebastian in the show. And that was it, I was moving my stuff across the street.
WHAT DOES IT MEAN TO YOU PERFORMING THIS SINGING CRAB?
It means so much! To summarize it in one word is a little difficult, because everyone loves THE LITTLE MERMAID, it´s a part of everyone´s chilhood. A lot of people that are older and had seen the cartoon have children now, and they can share the story of THE LITTLE MERMAID on the stage with their children. To be a part of it is such a wonderful experience! It means the world, actually.
YOU REPLACED TITUSS BURGESS, WHO ORIGINATED THE ROLE OF SEBASTIAN. DID HE GAVE YOU ANY ADVICES?
Oh yes, absolutely he did! Specially how to hit those high notes, they rewrote the show for him. He told me how fortunate I was. Tituss and I happen to know each other before coming here, it was funny. I met him weeks before getting the role here, and he said to me a lot of things. He could see why they chose me. He said to me "you wear your heart on your sleeve, but to wear it at every time that you act it´s important to the show, too". Said so for the kids, you know. He did help me a lot.
IN YOUR OPINION, WHAT HAS BEEN YOUR CONTRIBUTION TO THE ROLE OF SEBASTIAN? HOW HAVE YOU WORKED ON IT TO CREATE YOUR OWN CHARACTER?
Because I´m more of a dancer, I have a dancer background, I was able to add a more physical quality to Sebastian. There are little things that I brought to the character. I decided to develop this crab walk. I don´t recall Tituss doing the walk, but I started to develop it when I created Sebastian. All of a sudden, I started looking at films of a crab, and I just started creating this walk. I don´t know where it came from, but I´m happy I have it. And then also, for "Under The Sea" there´s a lot that I thought could happen. I thought, you know, this is Sebastian´s moment of really get loose and be free. So for me, in this moment my Sebastian can really relax and really start to move and dance more when he has the opportunity. So that´s what I´ve done.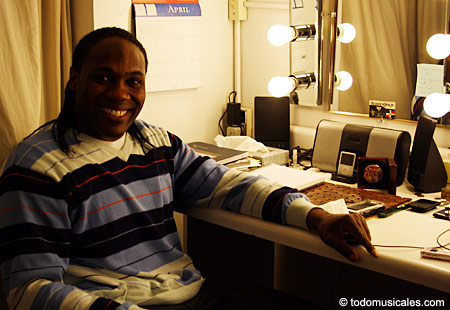 Rogelio Douglas, Jr. at his dressing room before becoming Sebastian
YOUR CHARACTER IN ´THE LITTLE MERMAID´ TRIES TO GIVE ARIEL WISDOM ADVICES AND MAKE HER HAPPY ABOUT HER FATE. DO YOU IDENTIFY YOURSELF IN ANY WAY WITH THE VISION OF YOUR CHARACTER OR DO YOU THINK THAT PEOPLE MUST FIGHT FOR THEIR DREAMS ALTHOUGH THEY SEEM IMPOSSIBLE TO REACH?
That´s interesting. He´s coming from the world of an adult, like your parents would tell you, or your favourite auntie or uncle would speak to you. He´s giving Ariel advices because, you know, everyone must follow rules. And there are rules that parents say, and sometimes we break them up. But I think it is okay when the rule that you are breaking is because you have passion for something you believe in. I know it for me... My parents, you know, they wanted a whole different world for me. They didn´t necessarily want me to choose being and entertainer, but I remember having to let them know that it chose me. I didn´t see myself doing anything else in my life but performing and being in entertainment. So I believe in that. I understand that there have to be rules while you´re growing up, but after a while you start to experience the world, you start to love different cultures, different things and experiences about the world. You start to have a love and a passion for some things, and I definitely feel that people should go for that and not for what someone else wants for you.
YOU PERFORM ONE OF THE MOST POPULAR SONGS OF THE SHOW, "UNDER THE SEA". DO YOU LIVE THIS MOMENT OF THE SHOW IN A SPECIAL WAY?
Yes, it is a very special moment, because everyone loves the song "Under the Sea", that´s a big one!. At first, I couldn´t believe they had asked me to sing this song, because in the Disney movie is a song for a baritone. And in this show is like ridiculously high, you know, next to Titus. The first time that I was learning it, I was like "God, forbid I mess that up!", because everybody knows it. And when I´m up there and I get the chance to glance at the audience, everybody is singing this song. It´s a lot of pressure, I can´t just free style it! It´s a joy to know that I get to sing this song that has been a part of so many people´s childhood. It´s an honor, actually, to have to come out to perform such a hit, an Oscar winner song. That´s huge.
LIKE ITS DISNEY PREDECESSORS ´THE LITTLE MERMAID´ IS BASED UPON THE ANIMATED MOTION PICTURE. WHICH ARE THE MAIN DIFFERENCES BETWEEN THE MOVIE AND ITS STAGE ADAPTATION?
There are differences between the cartoon and the show. There are several songs that were added to the Broadway musical. For instance, in the second act, Ariel sings a song that´s not actually in the movie, because it is once Ariel has lost her voice. Another difference is the fake Ariel that is in the cartoon and she doesn´t get put into the musical, because there is another way of still being able to tell the story without it. But I think is the dynamic of it is basically the same. Once you have seen it on the screen, with all the music and all the colors, it is vibrant. But here, it doesn´t lose that, coming to Broadway. Because it still has all the vibrant colors, and all the music is there, and there´s also added music. Plus, it´s life. You know what I mean? Like we get to reach out and touch the audience. They get to feel us. And so for kids, you see their face at the moment I pop up at the opening, and it´s like "oh, my God! it is really happening? Uau!". I love the dynamic and how Disney is able to transfer the cartoon onto stage and still touch people.
AS YOU SAY, ´THE LITTLE MERMAID´ IS PRODUCED BY DISNEY, ALSO RESPONSIBLE FOR SHOWS LIKE ´BEAUTY AND THE BEAST´ OR ´THE LION KING´. IN YOUR OPINION, WHICH ARE THE CHARACTERISTICS OF DISNEY MUSICALS AND WHAT IS THE SECRET OF THEIR SUCCESS?
I guess is how they are able to appeal to everyone. This is how Disney world is: it is okay to be a kid, when you go there it doesn´t matter if you´re sixty-five, you just come and enjoy. I believe the musicals do the same thing for everyone. And I think that´s the same with THE LION KING, which is one of my favourite shows. I mean, they have a knack for doing that. I think that´s the secret: that everyone enjoys it and everyone leaves touched and moved. Everytime, no matter what musical you see, MARY POPPINS, THE LITTLE MERMAID or THE LION KING.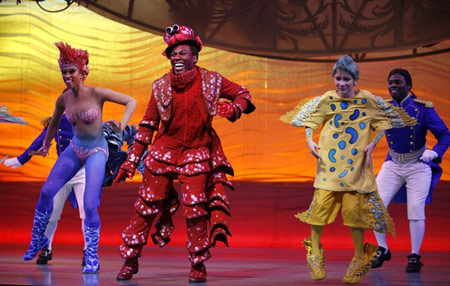 Rogelio Douglas, Jr. as Sebastian in THE LITTLE MERMAID
YOU WERE AN ORIGINAL MEMBER CAST OF ´IN THE HEIGHTS´, A SHOW ABOUT THE LATINO-COMMUNITY IN MANHATTAN THAT HAS REACHED A HUGE SUCCESS IN BROADWAY. COULD YOU TELL US ABOUT YOUR EXPERIENCE IN THIS MUSICAL?
That experience changed my life, it really did. You know, growing up as a new yorker and loving theatre, falling in love with theatre at a young age... I was obviously into hip-hop and also salsa, merengue... You listen to all of this, but then you also listen to LES MIZ, CATS, etc. But that wasn´t like a common thing, you know? My parents said to me "What was that? What is wrong with you?" And so, to know that there is a musical that I can relate to, is great. Specially the story about Abuela Claudia in IN THE HEIGHTS... that´s the story of my "abuela"! She came here from Panama and brought my mother and my aunts and uncles here, to have a better life. So that part of the story I can relate to. As well as being hip-hop and salsa on Broadway. For the latino community is huge to have a representation of us, and specially in a good light, on Broadway. And the cast, from Lin-Manuel Miranda, who is the head, all way down to everybody, they´ve got the biggest hearts in the world. It´s a family, over there. On the stage, there never was someone being higher than the other, we were all on the same page every night. And I think that´s very special.
Información Relacionada