noticias
THE PHANTOM OF THE OPERA celebra su 22º aniversario en el Her Majesty's Theatre
20/08/2008
El próximo 9 de octubre el musical más emblemático de Andrew Lloyd Webber conmemorará sus 22 años en cartel en Londres. Además, el 8 de septiembre la producción tendrá un cambio de parte del reparto liderada por la incorporación de Simon Bailey como Raoul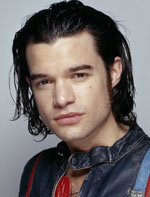 Recientemente realizó su función número 9.000, y el 9 de octubre cumplirá 22 años en cartel THE PHANTOM OF THE OPERA, el musical más exitoso de Andrew Lloyd Webber, que se continúa representando en el Her Majesty's Theatre del West End.
Antes de ese día, el 8 de septiembre, la producción londinense del musical realizará un importante cambio de algunos de los componentes de la compañía. Así, Gina Beck, que había estado interpretando a Cosette en LES MISÉRABLES, dará vida a Christine; y Simon Bailey, uno de los miembros del grupo Teatro, interpretará a Raoul. Simon había participado en otros musicales del West End como LES MISÉRABLES o WE WILL ROCK YOU. Otras incorporaciones destacadas son las de Barry James y Gareth Snook como Monsieur Firmin y Monsieur André; Kate Radmilovic como Carlotta; Rohan Tickell como Piangi y Tori Johns como Meg Giry.

THE PHANTOM OF THE OPERA continuará estando protagonizada por Ramin Karimloo como The Phantom.

THE PHANTOM OF THE OPERA ha ganado más de 50 premios teatrales destacados, entre ellos siete Tonys y 3 Olivier. Se estrenó el 9 de octubre de 1986 con un reparto liderado por Michael Crawford como The Phantom, Sarah Brightman como Christine y Steve Barton como Raoul. El montaje cuenta con dirección de Harold Prince.
Enlaces de Interés
Información Relacionada
Comentarios
Para poder añadir comentarios necesitas autentificarte como usuario registrado de todoMUSICALES.