[ Volver al artículo en castellano ]
JEREMIAH JAMES, New York 1980
19/02/2009
Also a member of TEATRO, he has performed in musicals as SIDE SHOW, WHITE CHRISTMAS, CRAZY FOR YOU, OKLAHOMA! And CAROUSEL.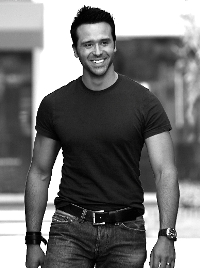 His Musical debut was at the age of 15, as one of the sailor boys of ANYTHING GOES.
Other theatre credits include the role of Shiek in SIDESHOW (Colony Theater, Los Angeles); Jerry in THE FULL MONTY (Studio Players, New Jersey); Bob Wallace in WHITE CHRISTMAS (Hilton Head Arts Center); Bobby Child in CRAZY FOR YOU (Madrid Teater, Los Angeles) -for which Jeremiah received an LA Ovation Award nomination for Best Lead Actor in a Musica- and Curly in OKLAHOMA! (NETworks). Ha has also work in different films and in television.
Jeremiah is also a member of the international recording group TEATRO.
Currently he is performing Billy Bigelow in the West End revival of CAROUSEL.

- The first musical you saw and/or most impressed you: Les Miz. I was 11
- You would like to make a duet with: Shirley Jones singing: "People Will Say We 'er In Love".

- Webber o Sondheim? BOTH.
- London or New York? BOTH.
- Do you keep the programmes of the musicals you watch? ALWAYS.
- The worst moment you've had live on the stage was: (as a performer and/or as a spectator): Getting sick and running off stage during the bows of OKLAHOMA!
- An unforgettable moment: (as a performer and/or as a spectator): The first time I ever bowed in my first show ever! Hearing the audience!
- Do you have any superstitions before the opening night?: I always have a small glass of scotch and a cigar opening night!
- A musical character that you would like to BE (not perform): Curly! Who doesn't want to be a cowboy? : >
- A character of your opposite sex that you would like to perform: Mama Rose!
- What do you like best/least about your work? Taking people minds off their everday lives for a few hours.
- What is your favorite musical movie? HEDWIG AND THE ANGRY INCH.
- The last CD/DVD related to Musicals that you have bought is: Haven't in forever! I have so many!!
- What is your favorite line from a musical: "NO NOT THE WHALE BARNABY!"
- Agree or disagree with TV Shows finding new Musical Stars: (as 'How do you solve a problem like Maria' or 'I'd Do Anything'): BOTH.
- You feel proud of: CAROUSEL.
- Of this moment you're living as an actor, the most important thing to you is: How lucky I am to be here.
- Other projects you are working on: New Musical about the Life Of Elvis Presley.
Información Relacionada