entrevistas
[ Volver al artículo en castellano ]
Danielle Tarento: "Theatre is not always about money"
03/09/2015
Freelance producer and casting director, Danielle Tarento has created succesful fringe musical productions in London, such as PARADE, MACK & MABEL, TITANIC, or her current hit GRAND HOTEL, running at the Southwark Playhouse.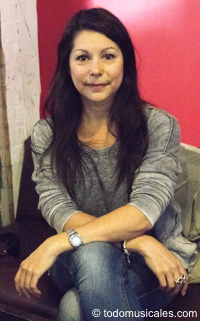 Danielle Tarento trained as an actress at the Guildhall School of Music and Drama and worked in theatre, television and film for nine years before becoming a producer. In 2004, she co founded the Menier Chocolate Factory and co produced/cast all in house shows including TICK, TICK…BOOM! by Jonathan Larson; and SUNDAY IN THE PARK WITH GEORGE by Stephen Sondheim, which was transferred to the West End, winning 5 Olivier Awards in 2007.
The opening of the Menier Chocolate Factory changed the theatre scene in the Off-West End, turning those little venues, with small budgets, in places where all the top names of the West End want to work in, due to the big quality of their productions, most of them acclaimed by the critics and with sold out runs.

In the last few years, Danielle Tarento has been responsible of successful and critically acclaimed musical productions in the Off-West End, such as PARADE, MACK AND MABEL, VICTOR/VICTORIA, TABOO, TITANIC, DOGFIGHT and, currently, GRAND HOTEL, which will run at the Southwark Playhouse until the 5th September 2015.

We meet Danielle at the Southwark Playhouse, where she tells us about her current projects, and about her passion for making theatre which goes straight to the heart and to the emotions of the audience.

LET'S TALK FIRST ABOUT YOUR CURRENT PROJECT, 'GRAND HOTEL' IS AT THE SOUTHWARK PLAYHOUSE GETTING AMAZING REVIEWS, WHAT DOES IT MEAN TO YOU?
It´s fantastic. It´s a show that Thom Southerland, the director, and I wanted to do for a long time and I think it´s interesting when there are shows that you´ve wanted to do for a long time... Sometimes the time it´s just right, another times the time is wrong, and even though this show has been in our list for a long time, now was right. It´s been a dream come true. This venue is fantastic for it. I very much believe that I make work for a venue. The work couldn´t belong anywhere. If this place wasn´t available I might not have done it in the same way somewhere else. That´s very important to me. And my relationship here is very strong, I´ve done a lot of work here. So I´m thrilled, and we´ve done something very different with it, because it´s never been done like this before and it´s always a risk. I love it. And the critical response has been extraordinary. When you get a lot of 5 star reviews, you have to assume that some people are going to hate it, because that´s the nature of the world... And they haven´t. So we´ve been very lucky. The company are fantastic, and I´m very glad that they´ve got the response they deserve.

TWO WEEKS AGO THE COMPOSER MAURY YESTON ATTENDED THE SHOW AND DID A SPECIAL Q&A WITH THE AUDIENCE...
Yes. Since TITANIC, Maury Yeston has become a really close friend of mine. It´s a privilege to work with people like that, and also to have them in your life. He knows everyone and he knows everything, and the stories that he tells are so interesting... whether talking of his own work or other people´s... I always think about these q&a´s that they are never long enough. I could listen to him for hours! It was great.
He loved the production. He said he really loved it because it wasn´t about spectacle. So many Broadway shows are about the money spent on the setting... He said the same with TITANIC: "I didn´t write a musical about a ship". And with GRAND HOTEL is the same: "I didn´t write a musical about a hotel, it´s about people". I think sometimes, when you do shows in a venue like this, where it´s not all about the set, you can focus so much more deeply on personal relationships, on the character, and I think that for the audience this is much more satisfying.

HOW CAN IT BE POSSIBLE ACHIEVING A GREAT SUCCESS YEAR AFTER YEAR WITH THESE SMALL PRODUCTIONS? WHAT IS THE SECRET?
I don´t know but if I did, I wouldn´t tell you, because everyone would do it! (laughs) I think it´s about what I just said. It´s about stripping away all the stuff and just telling the truth, and being honest, being very character driven, and focusing on the emotional part of the piece... A lot of the shows that Thom and I have done together have been revival of shows that didn´t do so well when they were big and I think partly it´s coming back to refresh them adding a 21 century spin on them, but also just allow the audience in. When you´re sit in all those Broadway houses, you´re miles away, you´re sort of watching something pretty, but to feel it... it´s completely different.

HOW DO YOU PICK UP THE SHOWS YOU WANT TO PRODUCE?
The first thing is I do love them. Thom and I work very closely together. Obviously I work with other directors as well, but a lot of my work has been with Thom. I think in the beginning I had to fight harder to make people want us to do them, but I think now we have a good reputation... There are also titles that the writers want us to explore and to see done again. I´ve only ever had one show that somebody said not to... We had not got the rights for... But I love the fact that most of the ones we´ve wanted to do, we´ve got.

TALKING ABOUT THOM SOUTHERLAND, WHAT WOULD YOU HIGHLIGHT OF HIS WORK?
Before we even knew each other we were working towards the same things. We have the same taste, we have the same believe in what theatre should be. I think even before we started, that foundation was very strong. We really like each other, which helps, we get on very well, we very rarely disagree... So we get to work quicker. I trust him, and it´s rare that I´ll say to him "What have you done!!??"
Thom was in America when we cast GRAND HOTEL, so I cast it without the director, we did it all on Skype, and somebody said "how hard has it been?", and I said "look, it hasn´t been hard because Thom and I always agree, and if we don´t agree, I win!" (laughs).

IT´S NOT USUAL FOR A PRODUCER TO BE ALSO THE CASTING DIRECTOR OF HIS/HER SHOWS...
That started at the Chocolate Factory, because when we founded it eleven years ago, we didn´t have any money, so we did it all ourselves... Also, it´s a small industry, we know everybody! Casting directors are brilliant, I think they do a fantastic job, but until I think I can´t do it better than somebody else, I´m gonna keep doing it.

'GRAND HOTEL' HAS A CAST OF 17 PERFORMERS, AND A ORCHESTRA OF SEVEN MUSICIANS, APART FROM THE CREATIVE TEAM. ALL IN A VENUE OF LESS THAN 200 SEATS. HOW CAN THIS FINANCIALLY WORK?
It´s very hard. I think that because we do shows that people want to be in, we do still get top names who want to do them. There are some jobs you do for love, and there are some jobs you do for money, this is not one for money. They are also short runs, six weeks, so you´re not dedicating a year of your life to not earning very much money... And I think that, certainly for younger members of the company, it is a chance to get to be seen... One of the lead girls in TITANIC was seen in the show and was offered the lead of the international tour of MAMMA MIA! It´s an investment for the future.
It can be done, it´s not easy, and with all the success, nobody makes a fortune... But I think that theatre is not always about money.

'TITANIC' OPENED IN TORONTO SOME MONTHS AGO, HOW WAS THE EXPERIENCE?
It was incredible to take it from a 200 seats theatre to a 2.000 seats theatre. It couldn´t been more different, but ended up being exactly the same. The set designer did an incredible job just scaling up what we had, it looked the same, he didn´t change it, it was just on a bigger scale. We took all the cast and they had the best time.

AND WHAT ABOUT BROADWAY?
The ship is not sunk yet. The thing with TITANIC is that there are certain places where it worked, and there are certain places where it wouldn´t, and Broadway is so expensive. If you get it wrong, everyone is going to lose a lot of money. And obviously if we´d take it to Broadway, we´d have to recast it, it will be an American company, and it will become a Broadway show... It would be the same conception but it would feel very different. Also, Broadway audiences expect something that maybe TITANIC may not deliver, in terms of "Where are the big dance numbers? Why is there only one set?" So we just have to be careful... But never say never... I think it has more chances in London... We´ll see.

NOW YOU'RE WORKING IN ANOTHER SHOW THAT WILL OPEN AT THE ST JAMES THEATRE, 'PURE IMAGINATION', A HOMAGE TO LESLIE BRICUSE…
It´s been interesting cause there´s a lot of people who have told me "I don´t know him, is he famous?" And I tell them, "well, you may not know him, but you´ve probably heard of 'Goldfinger', 'Charlie and the Chocolate Factory'…" He´s written over 1.000 songs and it seems crazy to me that there wasn´t a show about his music. Kander & Ebb have AND THE WORLD GOES ROUND, Stephen Sondheim has PUTTING IT TOGETHER… There are so many of these compilation shows... And Bricuse is so much alive, he´s in his 80's and he´s so excited to have it. It felt the right time to do it. It´s lovely to do something brand new. We´re building it from scratch. Leslie is been working very closing with us. There are 55 of his songs in a two hour show. Some of them will be exactly as you know them, and others will be completely different, with new orchestrations... So we hope to make a really fun and interesting evening of music.

YOU WERE ONE OF THE CO-FOUNDERS OF THE MENIER, WHICH NOW HAS BECOME ONE OF THE MOST IMPORTANT VENUES OF LONDON WHERE EVERYBODY WANTS TO WORK, HOW WERE THOSE THREE FIRST YEARS?
The best three years of my life, because to find an opportunity like that... As much as I would like to go and do something like that again, I think buildings like that don´t just suddenly appear. We found the venue so quick... It was the hardest three years of my life, because we opened the doors the first day and we had two chairs, two desks, and a telephone... and in a theatre there was a few lights and some seats. That was all. We took the restaurant as well, so we were running two business at the same time... But what an opportunity...

ANY PROJECTS YOU COULD SHARE WITH US?
I can´t!! You´ll have to check in in about three or four weeks! Thom and I are going to do another show here, in January, for six weeks, and it´s big news!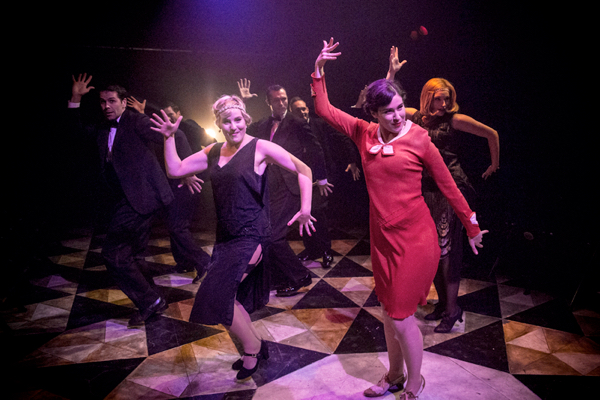 GRAND HOTEL at London´s Southwark Playhouse
Enlaces de Interés
Información Relacionada