[ Volver al artículo en castellano ]
ROBERT CREIGHTON, Walkerton, Ontario (Canada)
15/04/2015
Actor, singer, composer and author whose Broadway credits includes ANYTHING GOES, CHICAGO and THE LION KING; and whose original musical CAGNEY! is opening Off-Broadway in May 2015.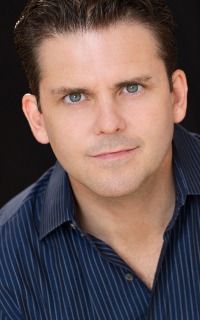 His professional debut in Canada was as the Artful Dodger in OLIVER! in Winnipeg Manitoba; in the US his professional debut was in a play called 'End Of Summer' for the Phoenix Theatre Company in NYC; and his Broadway debut was in Jackie Mason's 'Laughing Room Only' in 2003.

Other theatre credits include the Broadway productions of THE MYSTERY OF EDWIN DROOD, ANYTHING GOES, CHICAGO, THE LION KING, THE LITTLE MERMAID, CHITTY CHITTY BANG BANG; the Encores! City Center productions of LITTLE ME and DAMN YANKEES; and regional productions of GUYS AND DOLLS, ANYTHING GOES, FUNNY GIRL and SWEENEY TODD.

Currently his original musical CAGNEY!, about legendary star and the screen's greatest tough-guy, James Cagney, will make its New York debut off-Broadway this spring at the York Theatre Company. Robert will star in the title role and the production will feature direction by Bill Castellino and choreography by Joshua Bergasse.

- The first musical you saw and/or most impressed you: Maybe not the first – but the one where I thought I WANT TO DO THAT was seeing OLIVER in Toronto when I was maybe 7 or 8.

- You would like to make a duet with.. I have been fortunate to record duets with Joel Grey, Kate Baldwin, Heidi Blickenstaff and Tituss Burges on my 2012 Album 'Ain't We Got Fun!' and on stage with both Sutton Foster and Stephanie J. Block on a Broadway stage singing "Friendship". I'll take that.

- Webber o Sondheim? Sondheim all the way.

- London or New York? Working in London is on the Bucket List! LOVE living in NY!

- Do you keep the programmes of the musicals you watch? Every single one!

- The worst moment you've had live on the stage was (as a performer and/or as a spectator): Was understudying Scuttle in THE LITTLE MERMAID on Broadway and went on only twice – the second time I missed an entrance for a scene and left poor Ariel out there alone to vamp for a little bit. I was, in fact, totally focused on what I was doing – just had skipped a scene in my head and had gone on to the next time I entered and was already headed up to my dressing room. Meanwhile – that was a 20 seconds ago!!!! AHHHH!!!!!!

- An unforgettable moment (as a performer and/or as a spectator): Put on for Joel Grey two weeks into previews for ANYTHING GOES (2011) opposite Sutton Foster WITH NO REHEARSAL (As the Understudy I had rehearsed it on my own) and had a blast!!

- Do you have any superstitions before the opening night? Not before, but always have champagne in my dressing room after the show!

- A musical character that you would like to BE (not perform): Peter Pan! (and I have actually played the role too!).

- A character of your opposite sex that you would like to perform: Mama Rose (GYPSY).

- What do you like most/least about your work? So many things I love and am grateful for about making my living as an actor – but being on stage and hearing the laughs. No place I'd rather be at that moment however. Missing time with my wife and kids 5 nights a week is my LEAST favorite thing.

- What is your favorite musical movie? YANKEE DOODLE DANDY or SINGIN' IN THE RAIN

- The last CD/DVD related to Musicals that you have bought is: A documentary about The Warner Bros Studio.

- What is your favorite line from a musical: "but wait – there's more!" by the sexy dude in SWEET CHARITY when she's in his apartment.

- Agree or disagree with TV Shows finding new Musical Stars (as 'Over The Raibow' or 'I'd Do Anything'): Knowing Laura Osnes who won one of those for GREASE and turns out to be THE most talented, lovely individual anyway – I don't have a problem with them. The winners will get a shot and they will survive or go away based on their talent!

- You feel proud of: My reputation as someone who shows up prepared and works joyfully. That's how I want to go through life and who I want to be as a person. Also – bringing my show CAGNEY to NYC!

- Of this moment you're living as a performer, the most important thing to you is: Challenging myself.

- Other projects you are working on: I am about to debut a show I helped create about the life of James Cagney at the York Theatre called CAGNEY! where I wrote some of the music and also star as Cagney.
Enlaces de Interés
Información Relacionada