[ Volver al artículo en castellano ]
REBECCA TREHEARN, St Asaph (Wales) 1982
11/09/2014
Welsh performer who starred as Molly in the UK tour production of GHOST THE MUSICAL, and is currently appearing in DOGFIGHT at London's Southwark Playhouse.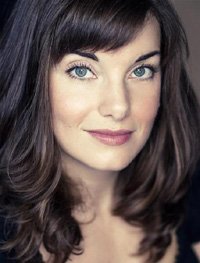 Her professional debut was in Anne Dalton's musical HER BENNY at the Liverpool Empire, in 1993.

Other theatre credits include the West End productions of WE WILL ROCK YOU, DIRTY DANCING, LOVE STORY and GHOST THE MUSICAL. She also appeared in ASPECTS OF LOVE at the Menier Chocolate Factory and BERNARDA ALBA at the Union Theatre. She starred as Molly in the UK tour of GHOST THE MUSICAL. Rebecca has been involved in workshops for many a new musicals, including MY LAND´S SHORE, and she recorded the title role of Abby in Bobby Cronin´s THE CONCRETE JUNGLE

Currently she is appearing in the European premiere of Pasek & Paul's Off-Broadway musical DOGFIGHT, running at London's Southwark Playhouse until September 13th.


- The first musical you saw and/or most impressed you: The first musical I remember seeing is STARLIGHT EXPRESS aged around 5, I think. I'm pretty sure I slept through a considerable amount of it…! I don't think I could pick a show that's most impressed me, I've seen so many incredible things over the years. LES MIS and PHANTOM really got me hooked as a kid though, they certainly would've been my joint answer twenty years ago!

- You would like to make a duet with: Oh God, so many people! Barbra Streisand. Singing: Anything. The phone book. I don't care!

- Webber o Sondheim? Sondheim; although as I said, PHANTOM was one of my first loves and I'd love to have a stab at EVITA one day.

- London or New York? I love New York and would love to work there someday, but London's my home.

- Do you keep the programmes of the musicals you watch? I used to. Sadly it got to the point where they were taking up way too much space! I'll only keep the ones that hold some personal significance now.

- The worst moment you've had live on the stage was: (as a performer and/or as a spectator) Perhaps playing SLEEPING BEAUTY as a teenager; whilst being carried onstage on my deathbed, the poor buggers tasked with the job dropped the bed, and consequently me, on the floor. Not knowing what else to do, I 'sleepwalked' back onto it; only to discover having been awakened by my prince that my dress was now pinned under the bed. I had to tear it to get offstage.

- An unforgettable moment: (as a performer and/or as a spectator) Singing in the Wales Millennium stadium before the six nations final in 2005 was a pretty amazing experience. You get to the point where all you can hear is the echo of your own voice coming back at you.

- Do you have any superstitions before the opening night? Besides a ridiculous amount of toilet breaks, I try not to let superstitions develop!

- A musical character that you would like to BE (not perform): Augustus Gloop. Death by chocolate sounds like a glorious way to go.

- A character of your opposite sex that you would like to perform: Valjean! What a great role. Although I'm also coveting Eddie Birdlace in my current show, DOGFIGHT. Another character that's as great an acting role as it is a sing.

- What do you like most/least about your work? You can't beat the joy of doing what you love for a living, getting to be creative, the buzz of live performance. The thing I hate most is that there isn't enough work around for all of us in the business to work consistently!

- What is your favorite musical movie? Got to be THE WIZARD OF OZ. I was OBSESSED with it as a child.

- The last CD/DVD related to Musicals that you have bought is: DESSA ROSE Broadway cast recording

- What is your favorite line from a musical: Pretty much any line in BOOK OF MORMON has me choking with laughter.

- Agree or disagree with TV Shows finding new Musical Stars: (as 'Over The Raibow' or 'I'd Do Anything') It's not a road I'd choose to go down, I don't think; I'm not a fan of the way they sensationalise the audition process. That said, times are tough and there's no denying these programs have brought a new audience to the theatre and possibly kept the shows in question running for longer than they would otherwise have done. At the end of the day, if they're providing work for the people cast and by extension, everyone else working on the production, it can't be an entirely bad thing. I dream of a day when audiences will book for a show regardless of whether there's a familiar name attached, though…!

- You feel proud of: Managing to work professionally in this industry for over twenty years, been successful enough to pay my rent and not having entirely lost my mind.

- Of this moment you're living as a performer, the most important thing to you is: Being involved in projects I'm genuinely inspired by and proud to be a part of. I've had a very lucky run over the last year or so; long may it continue!

- Other projects you are working on: I'll be starting rehearsals for CITY OF ANGELS at the Donmar, playing Donna/Oolie, in October.
Enlaces de Interés