noticias
[ Volver al artículo en castellano ]
Madness musical OUR HOUSE to celebrate its 10th anniversary with a concert in the West End
21/09/2012
Madness frontman, Suggs, many original West End cast members and the original West End director Matthew Warchus will reunite for this gala concert at the Savoy Theatre in aid of Help for Heroes on Sunday 11th November 2012.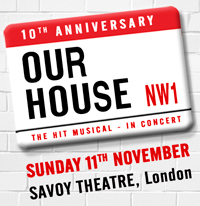 OUR HOUSE - "A place of heart and hearth which you are never sad to go back to" - will mark it´s 10th anniversary with a celebratory West End gala concert at the Savoy Theatre in aid of Help for Heroes on Sunday 11th November.
Madness frontman, Suggs (who will play Joe´s dad) and many original West End cast members are reunited to celebrate with such Madness hits as "Our House", "Baggy Trousers", "My Girl", "Embarrassment", "The Sun and The Rain", "Driving In My Car", "The Wings of a Dove", "Night Boat to Cairo" and the all-time classic, "It Must Be Love".

Alongside Suggs, this OUR HOUSE concert will be lead by Alistair McGowan (CABARET, LITTLE SHOP OF HORRORS), Tameka Empson (OUR HOUSE, Eastenders) and Wendi Peters (Coronation Street, THE MYSTERY OF EDWIN DROOD).

The rest of the cast are Chris Carswell, Miria Parvin, Jack Shaloo, Jenny Fitzpatrick, Matt Cross, Greg Airey, Georgie Ashford, Lauren Appleby, Kara Bayer, Gabrielle Brooks, Dougie Carter, Debbie Jenkins, Paul Kemble, Lewis Krik, Kayleigh Louise-Smith, Michael Melmoe, Jenny O´Leary, Carryl Thomas and Gavin Wilkinson.

First presented at the Cambridge Theatre in October 2002 and the Olivier Award winner for Best New Musical, OUR HOUSE combines a witty and brilliantly-crafted romantic tale, written by Tim Firth (Calendar Girls, KINKY BOOTS, The Wedding Video), with the energetic and often madcap songs of Madness. Set in Camden, OUR HOUSE is a fast moving romantic comedy which tells the story of Joe Casey, his mates, his girlfriend Sarah and the night he commits a petty crime to impress her. It follows the two paths his life would take if he stays to face the music when the police appear on the scene or if makes a run for it.

OUR HOUSE´s original director, Matthew Warchus (MaTILDA, GHOST THE MUSICAL, LORD OF THE RINGS), has been reunited with the show´s designer, Rob Howell (MATILDA, GHOST THE MUSICAL, Private Lives), for this one night only gala concert.

"What a great pleasure it is to be revisiting one of my all-time favourite projects for this charity concert version. I can´t wait to unpack it again. It must be love, indeed," said Matthew Warchus.

"OUR HOUSE remains one of the proudest achievements of my career, and one of my happiest collaborations," said Tim Firth.

The rest of the team includes many leading West End and Broadway creatives: musical supervision is by James Draisey (WICKED, CHILDREN OF EDEN); lighting by Jonathan Rouse (SHREK, WIZARD OF OZ); sound by Simon Baker (LOSERVILLE, MATILDA); Video/Projection/Animation by Andrzej Goulding (GHOST THE MUSICAL, LOVE NEVER DIES).

OUR HOUSE was first staged at the Cambridge Theatre in the West End from 28 October 2002 to 16 August 2003. Michael Jibson made his professional debut as Joe Casey and was nominated for a Laurence Olivier Award for Best Actor in a Musical. Direction was by Matthew Warchus with choreography by Peter Darling, and featured Julia Gay as Sarah. Members of the band Madness played roles in the executive production of the show, and Madness frontman Suggs performed in the production for a while as Joe´s father.

A UK revival started at Birmingham Repertory Theatre and continued on a UK tour in 2008, with Chris Carswell playing the lead role of Joe Casey. In 2008/2009 it played cities from Stoke in July 2008 to Crawley in March 2009. The touring production changed aspects of the show in reaction to criticism of show´s début in the West End. "House of Fun" was replaced with "Los Palmas 7" as the opening of the show. "Sarah´s Song" was also replaced with the new Madness hit "NW5".

The recorded original production was telecast on BBC Three in December 2003 and was released on DVD on 1 November 2004.
Enlaces de Interés
Comentarios
Para poder añadir comentarios necesitas autentificarte como usuario registrado de todoMUSICALES.