entrevistas
[ Volver al artículo en castellano ]
The new musical THE IN-BETWEEN by Laura Tisdall to get its CD version
01/06/2012
A CD version of the concept album is being released by Dress Circle on Saturday 23 June 2012. Sabrina Aloueche, Daniel Boys, Dianne Pilkington and Lauren Samuels will attend the album launch.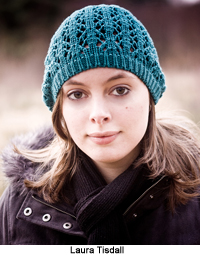 A CD version of the concept album for new musical THE IN-BETWEEN is being released by Dress Circle on Saturday 23 June 2012. The album will be launched with an in-store signing from 11am to 12 noon, with cast members just announced to attend including West End stars Sabrina Aloueche, Daniel Boys, Dianne Pilkington and Lauren Samuels.
Initially released solely online in mid February, the album has since received over 35,000 views on YouTube, despite having no commercial backing. The recording's line-up is completed by other leading performers Julie Atherton, Cassandra Compton, Hadley Fraser, Alexia Khadime and Liam Tamne.

THE IN-BETWEEN has music, lyrics and book by Laura Tisdall, whose previous credits include Bill Kenwright's UK tour of THE HAUNTING and Kerry Ellis and Brian May's 'Anthems: The Concert'. The concept album is available to pre-order from Dress Circle and can be heard online at www.theinbetweenmusical.com. Laura's first musical FAERYTALE, was showcased by Guildford School of Acting at the Electric Theatre. THE IN-BETWEEN is her second musical.

Laura Tisdall tells us more details about THE IN-BETWEEN.

HOW WAS 'THE IN-BETWEEN' BORN? HOW WOULD YOU INTRODUCE IT?
The short answer is from many years of reading and watching fantasy and sci-fi books and shows! I´m terrible at summarising it but; a fantasy musical about a teenage girl with a tough past who´s given up really trying in life because of it. Then she gets trapped in between parallel worlds -something which forces her to re-evaluate the decisions she´s made, really fight for what she still has and realise that although what she does may not be perfect, it could still make a difference.

HOW HAS BEEN PEOPLE REACTION TO 'THE IN-BETWEEN' RECORDING SO FAR?
It´s been so encouraging! Before the release, some of these songs had only ever been heard by a handful of people who were friends or family. It´s been so lovely that other so many other people now seem to have liked them too!

WAS IT VERY DIFFICULT FOR YOU RECORDING THESE SONGS AND GETTING THE WEST END PERFORMERS TO DO IT?
It took quite a lot of organising and I´d spent a long time previously recording the music tracks, but the performers were really positive. I contacted a couple directly, but mostly went through agents and it was just really nice that lots of them said yes!

HOW DID IT COME UP THE IDEA OF RELEASING THE CD VERSION OF THE CONCEPT ALBUM?
I finished writing the show about August 2011 and didn´t really know what to do as a next step. I´d heard about the concept albums they used to make for shows before they came out in the 70´s, like Evita, and just thought why not try it and see what happened? With the internet, nowadays it´s a pretty perfect environment for being able to get recorded music ´out there´.

WHICH WILL BE THE FUTURE OF 'THE IN-BETWEEN'?
I hope the show will have a professional production... I´m doing my best to get us there, but we´ll see. To have done this album and worked with such incredible artists has been exciting in itself.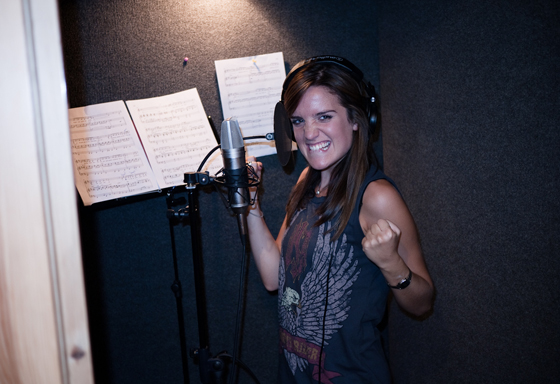 Lauren Samuels in the recording studio

Enlaces de Interés
Información Relacionada