entrevistas
[ Volver al artículo en castellano ]
Tim Rogers and Madalena Alberto uncover the bowels of JEKYLL AND HYDE
30/05/2012
They star as Dr. Jekyll/Mr. Hyde and Lucy Harris in the acclaimed Morphic Graffiti production of Frank Wildhorn's JEKYLL AND HYDE that run at London's Union Theatre until the 16th June 2012.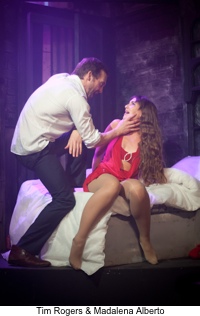 Morphic Graffiti's JEKYLL AND HYDE has got rave reviews on its opening at London's Union Theatre. Audience and professionals share the same devotion to this fringe production of Frank Wildhorn and Leslie Bricusse musical that will end its running on the 16th June 2012.
Two of the main stars of the show –Tim Rogers (Dr. Jekyll / Mr. Hyde) and Madalena Alberto (Lucy Harris)– give us more details about their work in this acclaimed show directed by Luke Fredericks that offers a new look into the original piece written by Wildhorn and Bricusse based on the famous novella by Robert Louis Stevenson.

WHAT SHOULD THE AUDIENCE EXPECT FROM THIS 'JEKYLL AND HYDE'?
Tim Rogers: The unexpected.
Madalena Alberto: Yes! This is a completely different take from the original piece which opened on Broadway and the one that has toured the UK.
It is set in modern days, and performed with a lot of passion, realism and commitment.

WHAT DOES IT MEAN TO YOU STARRING IN THIS PRODUCTION?
Tim Rogers: I'm delighted. It's a role I've always wanted to play and working with the Director Luke Fredericks to create this version of the roles has been hugely challenging and exciting.
Madalena Alberto: I have always wanted to play Lucy because the part is so meaty and the songs are epic. I am so pleased I´ve been given the opportunity to explore what I can bring to the character. I am also very proud to be part of such an amazing team. From the creatives to the cast and musicians, it has been a pleasure.

TIM, WHICH IS THE HARDEST PART OF THE ROLE OF JEKYLL / HYDE SO FAR?
Tim Rogers: It is exhausting keeping the two separate. You can never relax with either as they are both so fascinating in their own ways.

AND MADALENA, WHICH IS THE HARDEST PART OF PLAYING LUCY? HOW ARE YOU APPROACHING THE CHARACTER?
Madalena Alberto: I think it is the most I have sang in a show. Lucy has very big recognisable songs such as "Someone Like You" and "New Life", and the scenes she has with Jekyll/Hyde are very intense. Having such an amazing cast and a very supportive Tim Rogers as the leading role makes the journey easier.
I see Lucy as a woman who ended up in a way of life she might not have intended, but she is not a victim of circumstance either. I think in real life the lines between right and wrong, who´s good or bad are very blurred, so I didn´t want to portray Lucy in black and white. I think there are a lot more stories to unfold about her.

HOW HAS THE REHEARSAL PROCESS BEEN? WHAT WOULD YOU HIGHLIGHT OF THE WORK OF THE CREATIVE TEAM?
Tim Rogers: I loved rehearsals. The creative team are fresh, motivated and full of new and challenging ideas and approaches to the show.
Madalena Alberto: The rehearsal process was the smoothest I have recollection of being part of. The whole team seems to know exactly what their vision is and how to get there. It has been amazing to witness how a bunch of young creatives has managed to put on such an ambitious show from scratch, just with passion and trust. The company is a joy to work with. And this is definitely a Team work show.

'JEKYLL AND HYDE' EXPLORES THE BOUNDARIES OF MORALITY, THE NATURE OF GOOD AND BAD. IS THERE ANYTHING NEW YOU BOTH HAVE DISCOVERED ABOUT THE JEKYLLS AND HYDES INSIDE OF US DURING THE PREPARATION OF THE SHOW? WHICH IS THE KEY –IF THERE IS ONE– TO EMPATHIZE WITH THE "EVIL PART" (MR. HYDE)?
Madalena Alberto: Well, we all have a bit of evil in us. It is part of our nature to convey all that is good and all that is evil. It is all energy, and that is science. But it is up to us to choose how we deal with all the afflictions inside of us. We can either let ourselves be victimised by them and act upon it or have a more clear view of reality. I think Jekyll/Hyde is an extreme case, as he uses chemicals to bring out his alter ego. What I´ve learnt is that he could have just chilled out before taking the ´potion´ and maybe would have come to a more beneficial solution!
Tim Rogers: It was important for me to make Hyde real not a monster. I looked at research on people with multiple personalites as a start. My Hyde in an total ego manic who spirals out of control. He is not so much evillbut has no regard for any other human being. He acts totally without conscience…Perhaps that is true evil. I don't set out to make him likable or sympathic. My job is to be as real as possible as Hyde and allow the audience to make up their own mind. If the audience do empathise or at least understand him a bit, then I'm very happy.

WHY DO YOU THINK THAT THIS CHARACTER AND THIS STORY WRITTEN BY STEVENSON IS SO APPEALING TO PEOPLE EVEN AFTER MORE THAN 100 YEARS?
Madalena Alberto: Well, I think because we can all relate to that duality and we think that in order to have peace we need to exterminate all evil from mankind. It is an unrealistic way of looking at life but we all like tales of good vs evil and wish good to prevail.
Tim Rogers: We are fascinated with the darker side of ourselves.

WHAT COULD YOU TELL US ABOUT THE MUSIC WRITTEN BY FRANK WILDHORN FOR THIS SHOW? WHAT DO YOU LIKE MOST OF IT?
Tim Rogers: Wildhorn writes beautiful melodies. We have re-orchestrated some of these to wonderful effect. Our MD Dean Austin and the amazing band are brilliant!!
Madalena Alberto: Oh I do enjoy performing his music! I don´t understand why this show hasn´t had a longer life on stage. Mr Wildhorn´s writing is stunning. Lucy´s songs are perfect platforms for a singer to shine and an actor to get lost. The score is haunting and beautiful and in this production it is beautifully orchestrated.

COMPARING WITH OTHER CHARACTERS YOU'VE PLAYED SO FAR. WHAT DOES THIS ONE HAVE THAT HAS MADE YOU EVOLVE AS AN ACTOR/ACTRESS?
Tim Rogers: Each time I play a role I learn more about myself and us. I am always growing and want to always bring something new and fresh and part of myself to a role. I am lucky to say I have loved every role I played.
Madalena Alberto: I feel that every job is a preparation for the next one to come. I learn so much and feel I´m evolving every time I work with a company. My last big part was Fantine, funnily enough, also an ill fated doomed character, and it now feels that working on her character has helped me with Lucy´s. With Lucy I explore more into sexual, drug, good and evil related issues than any other previous character (Carmen in FAME also dwelled with some of these issues). But the process is the same: be faithful to the script and songs and trust the director and the cast members to get you where you want to be.

WHAT IS FOR YOU THE BEST / WORST OF WORKING IN AN INTIMATE VENUE AS THE UNION THEATRE?
Tim Rogers: The Union is a wonderful Atmosperic Venue. People really support it and the surrounding theatres are also all building in popularity and reputation. Only bad thing is the bar closes at 11pm!!
Madalena Alberto: I think for the audience it is a completely different experience than of being in a big theatre. They get to see the actors´ work up close and to hear them without any amplification. For us is it a challenge at the begging to make sure we are heard without compromising the dramatic choices. But once we rehearse with the musicians, we all get the feel of what the right levels are. It is the second time I work at the Union, and this time around it actually feels like a big production, with the set and lighting design and video projections, and the level of talent and commitment of the entire team. (Just not much space back stage, as there is no backstage!)

DO YOU THINK THIS PRODUCTION OF 'JEKYLL AND HYDE' SHOULD/COULD TRANSFER TO THE WEST END?
Tim Rogers: Yes I would love to see that. There would need to be a few adjustments of course, but I would be very proud if it did.
Madalena Alberto: It should definitely have life after this run at the Union. Whether on stage or on screen perhaps, either way, I would love to be part of it.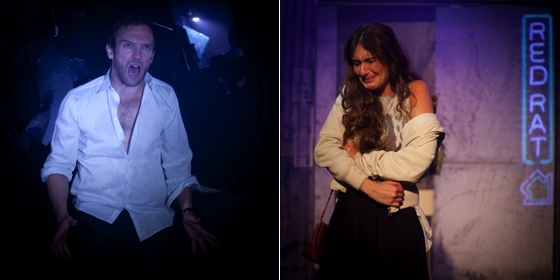 Tim Rogers (Dr Jekyll & Mr Hyde) and Madalena Alberto (Lucy Harris) in JEKYLL AND HYDE
Enlaces de Interés
Información Relacionada