entrevistas
[ Volver al artículo en castellano ]
Meredith Braun: "'Someone Else's Story' is full of stories, each song is a journey"
16/03/2012
New Zealand's West End star, who has starred in shows such as SUNSET BOULEVARD, LES MISÉRABLES and THE PHANTOM OF THE OPERA, will release her debut solo album on the 26th March 2012.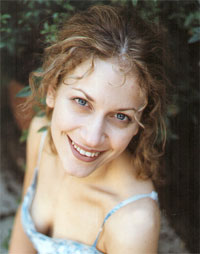 Meredith Braun returns to performing after a ten year absence with the release of her debut solo album 'Somene Else's Story' on the 26th March 2012. The album is a collection of songs from contemporary musical theatre written by composers such as Stephen Sondheim, Andrew Lloyd Webber, Michel Legrand, Stiles and Drewe, and Stephen Schwartz.
Meredith Braun has originated the roles of Betty Schaeffer in SUNSET BOULEVARD and Lily in THE SECRET GARDEN, and has played the roles of Eponine in LES MISÉRABLES and Christine in THE PHANTOM OF THE OPERA, in the West End. On screen, Meredith starred as Belle in the 1992 Disney film 'The Muppet Christmas Carol' opposite Michael Caine and the cast of the Muppets.

New Zealand´s performer tells us about her debut album and about her career in musical theatre.

HOW WOULD YOU INTRODUCE YOUR DEBUT ALBUM 'SOMEONE ELSE'S STORY'? It's full of stories, each song is a journey, my journey, but maybe it's others' too. For me, the story is the reason for the song.

HOW DID THE IDEA OF RECORDING IT COME UP? AND HOW DID YOU CHOOSE THE SONGS THAT ARE PART OF IT? I was approached by Stage Door Records about a year ago. Tim and I had been working on a demo of a new show and he suggested a solo album. I think he'd read an interview, from nearly 20 years ago, where I had categorically stated that I'd like to wait to record a solo album until I had 'complete control over the content and do a full range from popular to opera'. Tim, rather cleverly, asked me if I was now ready to do exactly that! The song choices were easy! Some were absolute definites from the very beginning – Meadowlark, Someone Else's Story and the Sondheim´s and some grew more slowly as I discovered their stories for myself.

WHY DID YOU DECIDE TO ADD ONE SONG IN FRENCH AND ONE IN ITALIAN AS BONUS TRACKS? Ah. 'Se Dormi' was born of a lovely glass of cold white wine by a pool in Tuscany. I knew the English version and had great fun creating the adaptation with my Italian teacher. L'Arc En Ciel came from watching the Muppets on a very gorgeous weekend in Paris. Of course, since working with Kermit, I remain his most devoted fan.

THE ALBUM INCLUDES SONGS OF SOME OF THE MOST IMPORTANT COMPOSERS OF CONTEMPORARY MUSICAL THEATRE. DO YOU FEEL ESPECIALLY ATTACHED TO THE WORK OF ANY OF THEM?
I very much wanted to record Lloyd Webber's 'Love Never Dies'. It is 11 years after Phantom, when Christine has a son. Having played Christine I relished the opportunity to interpret her as a grown-up mother. I think the song describes very different kinds of love. Similarly, Sondheim just envelops you. The way he marries music and lyrics and his ability to describe complex, conflicting feelings in a word or leitmotif is unparalleled.

YOU STARRED IN YOUR LAST MUSICAL THEATRE SHOW IN LONDON IN 2002. HAVE YOU MISSED MUSICAL THEATRE ALL THESE YEARS? WHY DID YOU DECIDE TO BE APART FROM IT FOR SUCH A LONG TIME?
Do you know, I haven't! I love musical theatre but my children are definitely more important. I have three -14, 14 and 7. It is impossible to do eight shows a week and also be there for them completely. I love my life and happy now I have the children as a huge influence on my music.

YOU PLAYED EPONINE IN 'LES MISÉRABLES' AND CHRISTINE IN 'THE PHANTOM OF THE OPERA'. BOTH SUCCESSFUL SHOWS HAVE CELEBRATED RECENTLY THEIR 25TH ANNIVERSARY IN LONDON. WHAT DID IT MEAN TO YOU BE PART OF THEM? HOW DO YOU REMEMBER THOSE EXPERIENCES? LES MISÉRABLES was a joy. I was in the show for two and a half years (nearly 1000 performances) in the early days and it was the best education. Eponine is a gift of a role - it was a dream come true. I took it very seriously and it was tremendously exciting. Productions were opening all over the world and my husband at the time was Musical Supervisor so I had the opportunity to see many of them - I remember my small son helping him in the pit in Shanghai. The Argentinian production was truly revolutionary and the Madrid production was whilst I was performing in Manchester. However, I think I had more fun with Christine than with any other role. PHANTOM is very visual and I enjoyed the physicality. I was quite naughty too… seemed to get away with doing it my way!

ANOTHER IMPORTANT SHOW IN YOUR CAREER IS 'SUNSET BOULEVARD'. WHAT DID IT MEAN TO YOU TO ORIGINATE THE ROLE OF BETTY SCHAEFFER? The people involved were legendary – Trevor Nunn, Bob Avian, Andrew Lloyd Webber, Don Black, Patti LuPone etc. I was 21 and very like Betty – full of hope, strong ideals and always wanting to believe the best about people so it was really quite straight forward for me to create her in the musical. I think all the famous people I'd ever heard of came to the first few months of that show!

WHAT DO YOU THINK ABOUT THE CURRENT WEST END SITUATION REGARDING MUSICAL THEATRE? I live near Chichester and I absolutely adore the productions that come out of the Festival Theatre – musicals and plays. They often transfer to the West End - SWEENEY TODD is the latest (Imelda Staunton is faultless) – and they set a very high standard. These musicals are put together with such integrity and I believe intelligent audiences recognise this. I'm not interested in 'juke box' Musicals, if it doesn't have a decent story, I get bored!

WOULD YOU LIKE TO STAR IN ANY PARTICULAR SHOW? One day there may be Norma Desmond!! But now? I don't think so. Direct? Certainly.

COULD YOU COMMENT ON YOUR future PROJECTS? Do you mean aside from three children, two cats, a dog and a very sweet goldfish named Barney? Actually, I would like to do more recording – especially Sondheim. I've also been writing new, modern arrangements for Noel Coward songs… and I'd love to record my new arrangement of 'When Love Is Gone' from the Muppet Christmas Carol.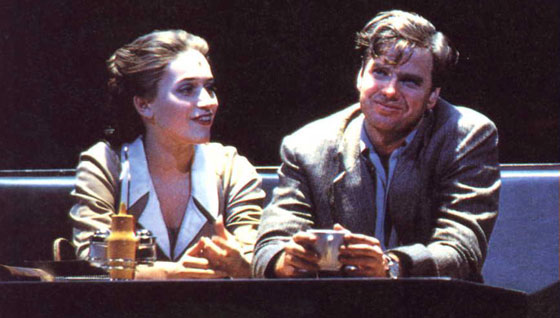 Meredith Braun and Kevin Anderson in SUNSET BOULEVARD
Enlaces de Interés
Información Relacionada