noticias
[ Volver al artículo en castellano ]
MAMMA MIA! transfers to the Novello Theatre in September 2012
14/10/2011
The musical created from Abba's songs which has been running for twelve years in the West End will begin its run at the Novello Theatre on the 6th September 2012.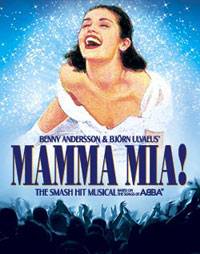 Following record-breaking runs at the Prince Edward and Prince of Wales Theatres in London's West End, the flagship production of the smash hit musical MAMMA MIA! will move to the Novello Theatre in September 2012.
To date, MAMMA MIA! has been seen by more than 50 million people in 34 productions in 14 different languages grossing more than $2 billion at the box office. MAMMA MIA! the Movie is the highest grossing musical film and one in four households in the UK have the DVD.

MAMMA MIA!'s original creator and producer, Judy Craymer, said the following about the next step for the pioneering London production: "I am delighted that the original production of MAMMA MIA! will move to the stage of the beautiful Novello Theatre. It is a perfect space for the musical. The Novello is a gem of a theatre that perfectly suits the creative needs of MAMMA MIA!, and provides a comfortable and friendly experience for audiences in the heart of Theatreland."

The West End cast of MAMMA MIA! is now lead by Sally Ann Triplett (Donna Sheridan), Joanna Monro (Rosie), Kim Ismay (Tanya), William Tapley (Sam Carmichael), Oliver Senton (Harry Bright), Mark Gillis (Bill Austin), Dani De Waal (Sophie Sheridan), Craig Fletcher (Sky), Hannah Fairclough (Ali), Rachel Sargent (Lisa), Warren Sollars (Pepper) and Alex Jessop (Eddie).

From West End to global phenomenon, the London production of MAMMA MIA! has now been seen by more than 1 in 10 of the entire UK population. It's one of only 5 musicals in history to have run for more than 10 years on both Broadway and in the West End.

MAMMA MIA! has also recently become the first Western musical ever to be staged in the People's Republic of China - in Chinese. The show opened in Shanghai in July this year with a Mandarin-speaking cast and heralded a new era of musical theatre in China.

With music & lyrics by Benny Andersson & Björn Ulvaeus, MAMMA MIA! is written by Catherine Johnson, directed by Phyllida Lloyd and choreographed by Anthony Van Laast. The production is designed by Mark Thompson, with lighting design by Howard Harrison, sound design by Andrew Bruce & Bobby Aitken and musical supervision, additional material & arrangements by Martin Koch.

MAMMA MIA! is produced by Judy Craymer, Richard East & Björn Ulvaeus for Littlestar in association with Universal.
Enlaces de Interés
Información Relacionada
Comentarios
Para poder añadir comentarios necesitas autentificarte como usuario registrado de todoMUSICALES.