entrevistas
[ Volver al artículo en castellano ]
Hannah Waddingham: "I´m so excited to be performing in Barcelona!"
27/10/2010
The British actress, who has starred in musicals as INTO THE WOODS or A LITTLE NIGHT MUSIC, will perform for the first time in Spain on Thursday, October 28 at L´Auditori´s Sala Oriol Martorell in Barcelona.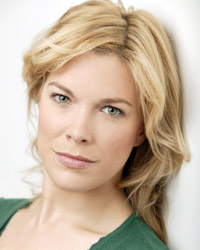 Hannah Waddingham will perform for the first time in Spain on Thursday, October 28 (21.30h) eat L´Auditori´s Sala Oriol Martorell in Barcelona. The British actress, accompanied at the piano by David Randall, will sing songs from some of the musicals she has starred in the West End, as INTO THE WOODS, A LITTLE NIGHT MUSIC or MONTY PYTHON´S SPAMALOT, and some other popular show tunes.

There will be three guest stars, top Spanish musical theatre performers, that will perform with Julie some duets: Joan Vázquez (MAMMA MIA!, MERRILLY WE ROLL ALONG), Mone (INTO THE WOODS, MAMMA MIA!) and Sergi Albert (SPAMALOT, BEAUTY AND THE BEAST).

Hannah Waddingham tells us about this special event and about some of her West End credits.
WHAT DOES IT MEAN TO YOU PERFORMING IN SPAIN FOR THE FIRST TIME?
I´m so excited! I´ve only ever been to Barcelona on holiday and fell in love with the architecture. To be singing in the homeland of Montserrat Caballe is glorious!

HOW HAVE YOU MADE THE SELECTION OF THE SONG THAT WILL BE INCLUDED IN THE CONCERT?
I have chosen songs by the composers that have dominated and hugely influenced my career.

IN THE CONCERT YOU WILL PERFORM DUETS WITH THREE SPANISH PERFORMERS. WHAT DO YOU LIKE MOST OF PERFORMING DUETS?
There can be such magic when you duet with someone. Something happens in that moment which creates a bond,however fleeting. A well sung duet makes two people become one and can be far more powerful than a solo.

LAST SUMMER YOU PERFORMED THE WITCH IN `INTO THE WOODS´. HOW WOULD YOU ASSESS THIS WORK? IT´S SPECIALLY DIFFICULT TO PERFORM IN THE OPEN AIR?
It was very.....challenging shall we say,in the Open Air because it just kept on raining!! It was such a thrilling job though and I didn´t want to stop playing her. The run was far too short unfortunately. The cast all fell in love with each other and that is just as important as the work created on stage. They were a massively talented cast and I was honoured to share a stage with them all.

YOUR LAST SHOWS IN LONDON HAVE BEEN MUSICALS BY STEPHEN SONDHEIM. WHAT DO YOU LIKE MOST OF THIS WORK?
Where do I start?! Stephen is the true master of human emotion. There is nothing he doesn´t give you both musically and lyrically.

IN BARCELONA´S CONCERT YOU WILL SING SONGS BY ANDREW LLOYD WEBBER. HOW WAS THE EXPERIENCE OF WORKING WITH HIM IN `THE BEAUTIFUL GAME´?
It feels very natural and effortless working with Andrew and I can´t wait to start working with him again in December.

LAST YEAR YOU DID SUCCESSFUL CONCERTS AT THE MENIER. HOW WOULD YOU ASSESS THESE CONCERTS? WHEN THE ALBUM WILL BE RELEASED?
My one woman show at The Menier Chocolate Factory was a dream come true. To have such a leading light as David Babani (Artistic Director) offering to record the show for a live album as well was overwhelming. The album will be available in February 2011,in conjunction with my new project!

IT´S VERY DIFFERENT FOR YOU AS AN ACTRESS PERFORMING ON A SOLO CONCERT THAN DOING A ROLE IN A SHOW?
They are such different mediums. But the reason I choose songs for my concert work is because they have moved me deeply when I have played the role and continue to affect me after the run of the show has finished. I hope my Barcelona audience will feel the same way!

YOU´VE PERFORMED VERY DIFFERENT ROLES, SOME MORE COMEDIAN (SUCH AS THE LADY OF THE LAKE) AND SOME MORE DRAMATIC (SUCH AS DESIRÉE ARMFELDT). WHICH KIND OF ROLES DO YOU LIKE MOST TO PERFORM?
Life itself is both comedic and dramatic at times and that is why I swap and change. I love exploring the human condition through theatre and film.

ARE YOU SPECIALLY PROUD OF ANY OF THE SHOWS YOU HAVE STARRED IN?
I am most proud of my involvement with Sir Trevor Nunn´s production of A LITTLE NIGHT MUSIC because it was the most perfect gem that we all knew we had to hold so delicately in our hands and the other show is Regent´s Park´s Open Air production of INTO THE WOODS. It was extremely innovative and ground-breaking.

COULD YOU COMMENT ON YOUR NEXT PROJECTS?
I´m not meant to talk about my next project yet but I´ve already given you a little clue in a previous answer! Shhhhh!!
Enlaces de Interés
Multimedia
Información Relacionada