[ Volver al artículo en castellano ]
GINA BECK, High Wycombe (Buckinghamshire, UK)
21/04/2010
Actress who has starred in musicals as IMAGINE THIS, LES MISERABLES, PETER PAN or, currently, THE PHANTOM OF THE OPERA.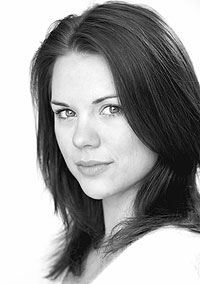 Her professional debut in musical theatre was as Cosette in LES MISERABLES in the West End.

Other theatre credits include performing the role Rebecca Warshowsky for the world première of IMAGINE THIS at the Theatre Royal (Plymouth) in 2007. That same year Gina appeared as Wendy Darling in Stiles and Drewe´s PETER PAN THE MUSICAL. She also played the role of Cosestte in the 21th anniversary celebration concert of LES MISERABLES and also performed THE PHANTOM OF THE OPERA duet with Ramin Karimloo at Andrew Lloyd Webber´s `60th Birthday Concert in Hyde Park´. In 2006, she toured South Africa in `The Merry Widow´, and has also starred in several operas and operettas as `Madame Butterfly´, L´Elisir d´Amore´or Gilbert and Sullivan´s RUDDIGORE.

Currently she performs the role of Christine Daaé in THE PHANTOM OF THE OPERA at Her Majesty´s Theatre in London.


- The first musical you saw and/or most impressed you: LES MISERABLES when I was 14, I loved every minute of it.
- You would like to make a duet with Joanna Ampil singing "A Boy like That/I have a love" from WEST SIDE STORY.
- Webber o Sondheim? I Have to say Webber as I have never performed any Sondheim... they are both very different, but both tremendous.

- London or New York? I love London and the West End, but of course I would love to perform on Broadway, hopefully fingers crossed one day I might get the opportunity.

- Do you keep the programmes of the musicals you watch? Yes, I have a cupboard at home that is full to bursting with programmes. It´s great to have them to look back on, especially the ones from when I was little.

- The worst moment you've had live on the stage was (as a performer and/or as a spectator): Hmm.. the worst moment on stage was when we recorded the LES MISERABLES 21st Anniversary Concert for BBC Radio 2, just because of my nerves! I have never been so nervous in my whole life, due to the fact that Boublil and Schönberg, the writers of LES MISERABLES, where sat at the front and I could see Cameron Mackintosh pacing around at the back of the auditorium... no pressure!!

- An unforgettable moment (as a performer and/or as a spectator): Was singing at Andrew Lloyd Webber's Birthday concert in Hyde Park in 2008, I'd only been performing as Christine for a week, so it was a crazy experience!

- Do you have any superstitions before the opening night? Not really, I'm not very superstitious, in fact I accidentally said Macbeth twice in the theatre the other day which is something you must never do, so fingers crossed the chandelier wont fall on me!

- A musical character that you would like to BE (not perform): I would love to be a fairytale character such as Ariel in THE LITTLE MERMAID or Belle in BEAUTY AND THE BEAST and end up with my happy ever after!

- A character of your opposite sex that you would like to perform: The Phantom of course, I would love to see what it's like to play that part.

- What do you like best/least about your work? The best thing is doing what I love as my job, and the lie-ins! The worst thing is competitiveness.

- What is your favorite musical movie? My favourite is probably GREASE! I used to watch it over and over again when I was younger.

- The last CD/DVD related to Musicals that you have bought is: LOVE NEVER DIES, the music is beautiful.

- What is your favorite line from a musical: "Oh no Anita, no! You should know better, you were in love or so you said, you should know better…" (WEST SIDE STORY).

- Agree or disagree with TV Shows finding new Musical Stars: I wish they would make the performers already playing lead roles famous on TV rather than the other way around! It's going to get to the stage when you won't be able to get any job without going on one of these programmes. Although I do admire the performers who enter the competitions, they are very brave!

- You feel proud of: My career so far, I've been very lucky and I hope I continue to have the opportunity to play great parts.

- Of this moment you're living as an actress, the most important thing to you is: Keeping up my health and stamina and giving 100% to every performance.

- Other projects you are working on: One or two things in the pipeline, but nothing concrete. Watch this space!
Enlaces de Interés
Información Relacionada