entrevistas
[ Volver al artículo en castellano ]
Ryan Silverman: "To have a night of my own at Feinstein's is quite an honor"
08/02/2010
Silverman, who currently performs the role of Raoul in the Broadway production of THE PHANTOM OF THE OPERA, will make Feinstein's solo debut February 15.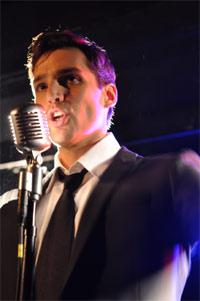 Ryan Silverman will sing a solo evening of American Songbook classics at Feinstein's at Loews Regency February 15. This concert marks Silverman´s debut at Feinstein´s. Silverman currently performs the role of Raoul in the Broadway production of THE PHANTOM OF THE OPERA, now on its 22th year at the Majestic Theatre.
Silverman had already played the role of Raoul in Las Vegas in 2007. This Canadian actor made his Broadway debut in CRY-BABY (2008). He starred then as Tony in the British 50th Anniversary Production of WEST SIDE STORY. On February 2009, he appeared in MUSIC IN THE AIR at Encores! alongside Kristin Chenoweth and Sierra Bogges. His theatre credits also includes tour productions of MAMMA MIA!, CHICAGO and WICKED.

Ryan Silverman tells us about his upcoming concert at Fienstein´s, his experience in THE PHANTOM OF THE OPERA and his professional career.

YOU'RE GOING TO OFFER A SOLO CONCERT NEXT 15TH FEBRUARY AT FEINSTEIN'S AT LOEWS REGENCY. HOW IT WILL BE THIS CONCERT? WHAT WILL THE AUDIENCE FIND ON IT?
I'm doing an evening of the American Songbook Era. I grew up singing those songs with my family around the piano. Those nights are where I developed my love of singing and the American Songbook. I want to share that with the audience. The evening will be easy, fun and comfortable. Tickets also are only $25, so you can have a great night without breaking the bank.

WHAT DOES IT MEAN TO YOU PERFORMING AT THIS RENOWNED NYC CLUB?
There have been so many talented singers and performers who have stood on that stage, so to have a night of my own, I consider it quite an honor.

YOU JOINED THE BROADWAY 'PHANTOM' COMPANY AS RAOUL IN APRIL, AFTER PLAYING THE ROLE IN LAS VEGAS IN 2007. WHAT ARE THE MAIN DIFFERENCES BETWEEN BOTH PRODUCTIONS?
The show in Vegas has been cut down to 90 minutes whereas the Broadway production remains at its original length of two and one half hours, including intermission. Also, the Vegas production had the opportunity to update a few things like the special effects and the chandelier. It is very impressive. But both shows have kept their charm and romance, which is one of the reasons for its continued success.

WHAT DID IT MEAN TO YOU MEETING AGAIN WITH THIS CHARACTER AND WITH THIS SHOW IN BROADWAY?
I was so happy to have the opportunity to step back into the role of Raoul, but this time on the Broadway stage. Also the Broadway production is longer and has a few more scenes which fill out the story more and give the character more of a journey.

WHAT DO YOU LIKE MOST ABOUT THIS RECORD BREAKING MUSICAL? WHAT DO YOU ENJOY MOST OF BEING PART OF IT?
I love being a part of a show that is loved worldwide. Our audience is full of people from all over the world and each night they get a top notch show, because the show is run so well and has talented and dedicated cast members. I also of course love singing the music. It goes from quiet and sweeping to loud and belting. A joy for a singer!

RAOUL IS YOUR FIRST LEADING ROLE ON BROADWAY. WAS IT YOUR GOAL PERFORMING A STARRY ROLE ON BROADWAY WHEN YOU STARTED YOUR CAREER?
I first started out wanting to be a singer. Theatre wasn't something I really considered. But I naturally seemed to find this direction and I'm glad I have because it's given me a great career so far. But I am excited to get back to standing on stage as Ryan Silverman.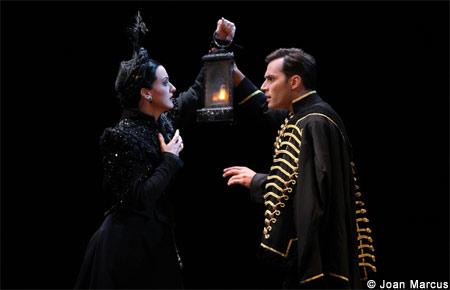 Cristin J. Hubbard ( Madame Giry) and Ryan Silverman ( Raoul) in THE PHANTOM OF THE OPERA
LAST YEAR YOU WERE PART OF THE CAST OF THE ENCORES! PRODUCTION OF 'MUSIC IN THE AIR', AND YOU WORKED BESIDES KRISTIN CHENOWETH. HOW WAS THE EXPERIENCE?
It was as one would hope. She was kind and open during rehearsals, and an utter joy to be with on stage. I hope I get the opportunity again.

YOU STARRED AS TONY IN THE SUCCESSFUL INTERNATIONAL TOUR PRODUCTION OF 'WEST SIDE STORY'. DID YOU ENJOY TAKING PART OF THIS PRODUCTION? WHAT ARE YOUR MEMORIES ABOUT IT?
I loved it! I played the role last in London, which was an amazing experience. The show is a dream for an actor and singer. You get to tackle very difficult material and vocally challenging songs. I love London, so to get the opportunity to perform there, and then perform at the Olivier Awards when the show was nominated was an amazing opportunity.

DO YOU THINK THERE ARE DIFFERENCES BETWEEN EUROPEAN AND AMERICAN AUDIENCES?
I don't think there are. I've performed all over Germany, and London and North America, and haven't found much difference. In Germany they were a little quieter but we were performing in English with German subtitles, which makes the experience a little less immediate. But all in all, I found the audiences reactions and excitement at the end to be very similar.

YOUR BROADWAY DEBUT WAS WITH 'CRY-BABY THE MUSICAL', A SHOW THAT HAD A SHORT LIFE IN NEW YORK. WAS IT HARD FOR THE CAST TO SEE THAT THE SHOW DIDN'T HAVE THE EXPECTED SUCCESS? HOW DID YOU LIVE THAT EXPERIENCE?
I came into the show just before it opened, so I didn't have the experience of working on the show out of town and being connected to it from the beginning, and I didn't have the same hopes or expectations for it perhaps than the other cast members might have had. That being said, it's never fun to have a job and then find out that it's ending. People put so much time, money and effort into a new show so it's upsetting to see it not work out.

DO YOU THINK THAT WHEN A PERFORMER GETS A MAIN ROLE IN A BROADWAY SHOW, OTHER WORKS AND PROPOSALS COME EASIER? HOW DIFFICULT IS BEING CAST IN A BROADWAY SHOW?
Well, you certainly hope that work will come easier but it's hard to say whether that will happen. You do get more attention and it does become easier to get "in the door" so to speak, but you still have to be good at what you're doing or that door will close pretty quickly. It's very difficult to get a Broadway show. There are so many talented performers who want the same job you do. It comes down to who fits the part best. So it can be quite a struggle.

IS THERE ANY MUSICAL OR ANY ROLE THAT YOU DREAM OF PERFORMING?
I would love to star in a new production. It's a great challenge to create a role and I would love that opportunity on Broadway. I also would love one day soon to appear on stage as myself at a large venue like Carnegie Hall or Radio City. That would be a dream come true.

COULD YOU COMMENT ON YOUR NEXT PROJECTS?
I'm going to continue performing Raoul in PHANTOM and working on my solo work and performances. You can follow me at www.facebook.com/ryansilvermanonline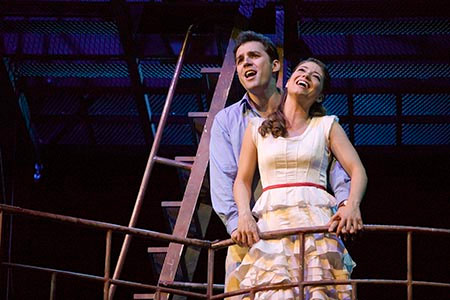 Ryan Silverman (Tony) and Sofia Escobar (Maria) in WEST SIDE STORY
Información Relacionada