noticias
[ Volver al artículo en castellano ]
Linzi Hateley and Jessie May will join the London cast of  MAMMA MIA!
07/12/2009
On Monday 14 de December 2009 Linzi Hateley rejoins the London Cast of  MAMMA MIA! to play Donna and Jesse May will play Sophie in this production that has just extended its booking period until 1 February 2011.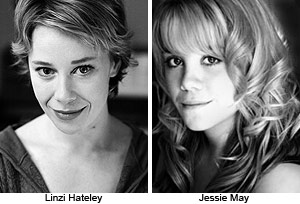 Linzi Hateley and Jessie May will join the London cast of the smash hit musical MAMMA MIA! at the Prince of Wales Theatre on Monday 14 December 2009 to play mother and daughter 'Donna and Sophie Sheridan'.
Linzi Hateley rejoins the cast to play 'Donna', a role she has already played in London to great acclaim, whilst Jessie May will be playing her first major West End role as 'Sophie'. The cast also features Katy Secombe as 'Rosie' and Jane Gurnett as 'Tanya', with Norman Bowman as 'Sam Carmichael', Paul Ryan 'Harry Bright', Christopher Hollis 'Bill Austin', Oliver Hembrough 'Sky', Jodie Read 'Ali', Laura Selwood 'Lisa', Ben Heathcote 'Pepper' and Sam McKay 'Eddie'. At certain performances the role of 'Donna Sheridan' will be played by Melissa Jacques.

The booking period for MAMMA MIA! has just been extended until 1 February 2011. The smash hit musical based on the songs of ABBA celebrated its 10th London birthday in April this year. MAMMA MIA! continues to break box office records at the Prince of Wales Theatre. The musical has had the highest ever weekly gross taken in the history of the Prince of Wales Theatre several times. From West End smash to global phenomenon, MAMMA MIA! has already been seen by more than 40 million people in over 200 cities across North America, Australia, Europe and Asia. It has already grossed over $2 billion at the box office worldwide. The original London production opened in 1999 and has grossed £180 million at the UK Box Office. At this point in time, the London production has been seen by over one in ten of the UK population.

Inspired by the story-telling magic of ABBA's timeless songs, writer Catherine Johnson's enchanting tale of family and friendship unfolds on a Greek island paradise. On the eve of her wedding, a daughter's quest to discover the identity of her father brings three men from her mother's past back to the island they last visited 20 years ago…

With music & lyrics by Benny Andersson & Björn Ulvaeus, MAMMA MIA! is written by Catherine Johnson, directed by Phyllida Lloyd and choreographed by Anthony Van Laast. The production is designed by Mark Thompson with lighting design by Howard Harrison, sound design by Andrew Bruce & Bobby Aitken and musical supervision, additional material & arrangements by Martin Koch.

MAMMA MIA! is produced by Judy Craymer, Richard East & Björn Ulvaeus for Littlestar in association with Universal.
Información Relacionada
Comentarios
Para poder añadir comentarios necesitas autentificarte como usuario registrado de todoMUSICALES.