[ Volver al artículo en castellano ]
KATE BALDWIN, Evanston (Illinois)
18/09/2009
American actress that has starred in Broadway musicals as WONDERFUL TOWN, THOROUGHLY MODERN MILLIE, THE FULL MONTY or FINIAN´S RAINBOW.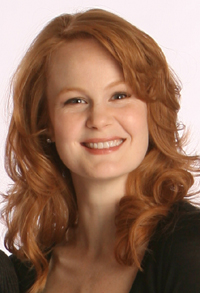 Her professional debut was as Laurey in OKLAHOMA at age 19 in Mt Carroll, IL.

Other theatre credits in Broadway include WONDERFUL TOWN, THOROUGHLY MODERN MILLIE or THE FULL MONTY., as well as Sondheim´s OPENING DOORS. Regional roles include SOUTH PACIFIC, HELLO, DOLLY!, THE PAJAMA GAME, MY FAIR LADY or WHITE CHRISTMAS.

Currently she is rehearsing for the new Broadway revival of FINIAN´S RAINBOW that will open at St. James Theatre next October with Kate Baldwin, Jim Norton and Cheyenne Jackson in the leading roles. The show arrives to Broadway after the acclaimed City Center Encores! production last spring. On October 20 she will release her debut solo album entitled `Let´s See What Happens´, a tribute to composer Burton Lane and lyricist E.Y. Harburg.


- The first musical you saw and/or most impressed you: THE PIRATES OF PENZANCE at my local high school. It was beautiful and silly all at once. I was in fourth grade and I idolized the high school actors.

- You would like to make a duet with: Victoria Clark.

- Webber or Sondheim? Sondheim.

- London or New York? New York.

- Do you keep the programmes of the musicals you watch? Yes.

- The worst moment you've had live on the stage was: (as a performer and/or as a spectator) No mishaps yet…

- An unforgettable moment: (as a performer and/or as a spectator) Frank Langella ad-libbing in Present Laughter. The set was falling apart in front of him and he started admonishing the unseen people off stage. He tore a piece of wood off of the door frame and threw it into the wings shouting "And next time, pay the mortgage!"

- Do you have any superstitions before the opening night? Nope.

- A musical character that you would like to BE (not perform): Dolly Gallagher Levi (HELLO, DOLLY!). To be serenaded and get to eat chicken. Wonderful…

- A character of your opposite sex that you would like to perform: Sweeney Todd.

- What do you like best/least about your work? My fellow actors/the fatigue.

- What is your favorite musical movie? THE SOUND OF MUSIC.

- The last CD/DVD related to Musicals that you have bought is: Andrea Burns' album, 'A Deeper Shade of Red'. It's terrific.

- What is your favorite line from a musical: "You're a tiger. I'm a hawk. We're our own zoo." (from A LITTLE NIGHT MUSIC).

- Agree or disagree with TV Shows finding new Musical Stars: I'm in favor of musical stars working on television. I also appreciate television or film stars who understand what doing eight shows a week means. Brooke Shields is a great example of someone who really gets it.

- You feel proud of: My family.

- Of this moment you're living as an actress, the most important thing to you is: Health.

- Other projects you are working on: Not allowed to say.
Información Relacionada