entrevistas
[ Volver al artículo en castellano ]
Richard O'Brien: "ROCKY HORROR is one of those great joys in my life because it's a great joy in other people's lives"
25/08/2009
The creator of THE ROCKY HORROR SHOW is working on the last details of the new UK tour production of ROKY HORROR while his new project, THE STRIPPER, is about to premiere at the Queen's Theatre Hornchurch.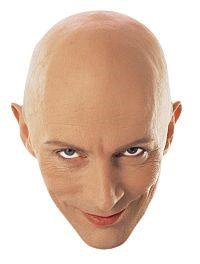 Richard O´Brien is world famous for being the creator of THE ROCKY HORROR SHOW, that opened in 1973. O´Brien was also responsible, with Jim Sharman, for the screenplay of the film adaptation two years later. The stage show has been in almost continuous production since its first opening, and the cinematic version is one of the best known and most ardently followed cult films of all time.
With only a few weeks to go until THE ROCKY HORROR SHOW hits the road on a new UK tour, Richard O´Brien talks about the meaning of this show in his life and professional career, the preparations for this new UK production and about his new project, THE STRIPPER, based on the book by Carter Brown, a musical for which he wrote the lyrics.

HOW DOES IT FEEL TO BE TALKING ABOUT 'THE ROCKY HORROR SHOW' STILL AFTER ALL THIS TIME?
I have no problems talking about THE ROCKY HORROR SHOW. It is one of those great joys in my life because it's a great joy in other people's lives. One of the nicest things about being in this business is I love the fact that show comes into town and it cheers people up.
I wouldn't want to be sitting here if I was just flogging a show for the sake of flogging it. That would really embarrass me. I really am sincere. If the band is cooking and the audience is laughing, I'm kinda happy. It's not quite as simple as that, you want excellence. And one of the things I've discovered in the last few weeks while we've been auditioning for ROCKY and THE STRIPPER is that Britain really does have talent. There's some fucking good talent.
One day we were auditioning for THE STRIPPER and it was almost an embarrassment of riches. People came and sang for Richard Hartley, my writing partner, and I at 10.30 in the morning, and we were leaking tears from the corners of our eyes as this girl was singing. Not only has she got all the pressure of auditioning, she's just got out of bed and she turned up and sang like an angel. It sends shivers down your spine. It's so wonderful. It makes me want to weep.
That's what I like about ROCKY it keeps employing young artists, young singers and it keeps giving people in the towns a nice week of 'let's go and see the show'. Groups of people, from offices and the like, often go as a party and it's party time. What a wonderful thing to be giving people pleasure for 30 years.
So to answer your question the long way round it gives me a great deal of pleasure to talk about ROCKY HORROR and I hope THE STRIPPER is going to give people as much pleasure.

HOW INVOLVED ARE YOU IN THE STAGING OF 'THE ROCKY HORROR SHOW' NOW? DO YOU STILL LIKE TO BE HANDS ON?
Well, thankfully this time round with ROCKY I haven't had to be too hands on and that's given me the freedom to concentrate on THE STRIPPER. That's simply because there are two people involved this time I know I can trust completely. One is Christopher Luscombe, our director, who directed it the last time round and did a splendid job and understood exactly what was going on. And David Bedella is playing Frank 'N' Furter again and David was terrific; controlled, sensible, witty and intelligent. With the two of them at the helm I didn't really have to worry very much and I can concentrate on THE STRIPPER as a result.

'THE ROCKY HORROR SHOW' HAS ITS OWN CULTURE IN A WAY, HASN'T IT? THE FANS HAVE CREATED THEIR OWN EXPERIENCE AND SCRIPT FOR THEMSELVES. HOW DO YOU FEEL ABOUT THAT?
I think it's splendid. It's lovely. But it's not for them alone. I think the more responsible fans understand that too because if they're not getting a good show, the best show possible, even they're dipping out aren't they? And if they want the best show possible, they have to allow the people on stage to give them just that. I think we've got the balance right now so everybody can enjoy it.
A good sound system is essential and high-energy theatrical performances are very important. We know it's artificial, but within a couple of minutes we buy into it and the energy level rises and the body language becomes more extreme, but we love it.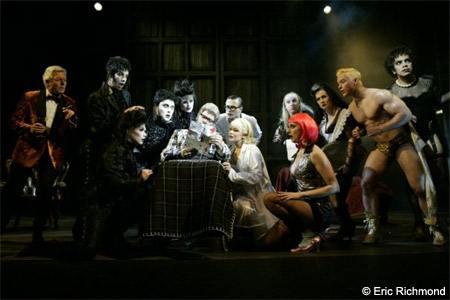 A scene of THE ROCKY HORROR SHOW
HOW DID THE WHOLE FAN INTERACTION THING START?
It started with the movie. It started, apparently, in New York City, in Greenwich Village. I think somebody yelled a line at the stage and it got a small snigger of approval and the next night somebody else tried a line and it was like wildfire. It got to one stage, Sal Pero was the chap who was the ROCKY HORROR principal player in New York City and he was telling me 'The strange thing Richard, someone would shout out a new line in New York and the very next night someone is shouting it out in Hollywood. Isn't that incredible?' So it is kind of interesting.
It was a very strange phenomenon. Very, very odd and quite wonderful. Almost like a liturgy. I'm not saying it was a religious experience but it wasn't dissimilar. Somebody would say something and then the response from audience, or if you like congregation, it wasn't terribly dissimilar. Because it had no theological roots (laughs) it was interesting.

YOU WROTE 'THE ROCKY HORROR SHOW' WHILE WORKING IN THE THEATRE WITH JIM SHARMAN. DID YOU FIND THAT AN ENJOYABLE PROCESS?
I did actually. I studied play structure at drama school and kind of knew it in general terms but writing ROCKY was the first thing I had ever written, so I learned a lot in the rehearsal period. Then when Jim Sharman and I went away to do the screenplay together I found that I became a kind of creative secretary. I didn't mind that at all. He'd say 'I think I would like to see so and so, and approach it from this kind of angle, now write the scene. What do you think?' He'd give his ideas and I became the creative secretary and I really rather liked that process. It was kind of cool because I was not only helping him create his vision but I was having creative input. I wasn't just a secretary where I took down notes of what he said, he was able to fire my imagination. I learned quite a bit from that. It's a craft at the end of the day and it was enjoyable.

HOW DID YOU COME ACROSS THE ORIGINAL IDEA FOR 'THE ROCKY HORROR SHOW'?
I used to love watching the late-night B movies on television in the late 60s, early 70s. BBC2 used to shut down at midnight as did ITV, there wasn't a Channel 4 in those days. At 11.30pm at night, the only people watching television were night owls, people like myself ,and so they didn't bother with putting anything on that had cost a great deal of money, they put on a creaky old movie.
That was my time and I used to like it very much. I'd have a jazz cigarette (laughs) and watch a B-movie and I used to just roar with laughter at how they used to take themselves so seriously, and it became unintentionally funny. That's what I wanted to capture and write about, one of those B-movies that made us laugh.
Strangely when we went to make the movie, away from the stage, we realised we were treading a tightrope situation. On stage everyone knew we were parodying these B-movies and sci-fi movies, but taking it back to film how do we let people know this is not just a bad movie and yet don't dare make the comment that we are parodying it? It's got to be played for real, no comment must be made, once you do it nudge-nudge you've lost the point. So that was interesting.
We got to Bray to the House of Hammer. Our line producer said 'It's interesting Richard, you do realise the most successful British movies of all time, what they are, don't you?' Ooh I don't know, Korda, Ealing? He said: 'Neither. Hammer House of Horror and Carry On movies.' And if you think about it, ROCKY HORROR is almost a combination of those two things. Which is fascinating, isn't it?
We struck a chord. It took America a little longer to catch onto the joke. They weren't quite sure how to market it actually, 20th Century Fox. Strangely that movie, of course, they did want to pull the plug on it. Alan Ladd Jr was the head of 20th Century Fox by the time we went into production and he wanted to ditch it, he didn't want the studio to make Rocky Horror. He thought it was trashy and he didn't like it at all. However it was too late, it was too late for him to make that call, the green light had gone on and we'd stepped over a point of no return.
So that was interesting, he came to the set a disgruntled unhappy man and then the film was released and they didn't know where their target audience was, how they were to sell it, who to sell it to, they had no idea. It kind of went down the tubes and Alan Ladd Jr felt vindicated, and said 'I told you.'
And then it started doing that late-night business, played for 25/30 years and became one of the most successful movies in 20th Century Fox's history.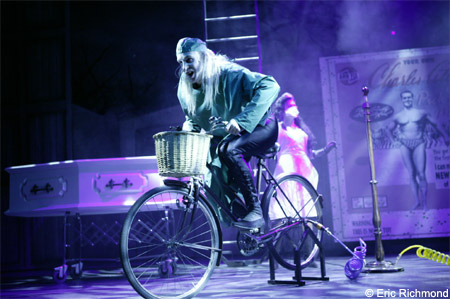 A scene of THE ROCKY HORROR SHOW
LET'S TALK ABOUT YOUR NEXT PROJECT. WHAT DREW YOU TO ADAPTING 'THE STRIPPER'?
I like populist themes. I'm not a high brow, you see. I started my reading with comic books, Just William, Enid Blyton at school and moved on to HG Wells and Saki, I love Saki and H. H. Munro [they're the same person], and all my reading is populist. I certainly loved the paperbacks, I adored the rough and readiness of them. I love crime fiction even today and I read an awful lot of crime. It's possibly formulaic, it needs a beginning, a middle and an end and it fits into something they call genre writing, however every now and again we get writers that completely transcend the genre. James Lee Burton is probably one of the greatest American men of letters of all time, never mind just genre writing. I think Dashiell Hammett is a great writer and I think a lot of pulp fiction writers based their work on his. He was the daddy, even Raymond Chandler is second to him. I mean Dashiell Hammett; his clarity, the spareness of his lines and dialogue and description. It's almost like reading a screenplay. It's riveting and wonderful. I like that.
You also have to remember of course, when I was a teenager and these people were writing these books for people like me, who had left school at 16 and the percentage of the population that went into higher education in those days was minimal, most people, I think we're safe to say, were undereducated; they didn't want to read high brow, they wanted populist themes that fitted their mentality and their educational mentality and these writers provided that for them. They were happy to read it and take it, they had no aspirations to show off, they were just ordinary folk like the rest of us and those are my people. That's what I come from and I hope that THE STRIPPER will again provide entertainment for ordinary people that don't necessarily want to see The Ring Cycle. And wouldn't thank you for a ticket to it in the first place, I don't blame them. I've been to an opera once, how boring it was. Wait for the aria, that's cool but then there's days of telling the same things over again.

ARE YOU STILL A KEEN SCI-FI AND HORROR FAN?
Yeah I still enjoy it. I believe Moon is quite good, I'm looking forward to seeing that. I certainly enjoyed Blade Runner and Alien, the first time they came out. I enjoy Star Trek and especially like Voyager on television. Kate Mulgrew as Kathryn Janeway was a particularly fine actress and I thought Patrick Stewart was excellent. Neither of them thought it beneath them to play these roles and played it with enough dignity so it didn't become trite. I hear the new film is terribly good. Katherine and Patrick allowed growth to those story lines because they brought fine acting and commitment to playing what could fall apart and become risible. I know a lot of people belittle these series and laugh at Trekkies but they are examining the human condition in each of these scenarios, there's always something in it where a man is put under the microscope. That's always worth watching. There was a lot of depth. Some were better written than others but I found them entertaining anyway.
Información Relacionada