[ Volver al artículo en castellano ]
JENNA LEE-JAMES, Glasgow 1977
20/05/2008
British actress who has starred musicals as WE WILL ROCK YOU, PETER PAN and, nowadays, JOSEPH & THE AMAZING TECHNICOLOR DREAMCOAT.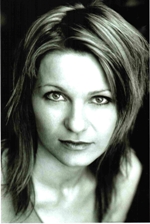 Her professional debut was at the King's Theatre in her home town of Glasgow where she played July in Annie, Maisie in The Boy Friend and Dorothy in The Wizard of Oz.
Other Theatre credits include original London cast of We Will Rock You playing both Meatloaf and Scaramouche (Dominion), Tiger Lily in Peter Pan with Leslie Grantham and Joe Pasquale (Theatre Royal, Newcastle), Lorraine in Boogie Nights with Shane Ritchie (tour), principal singer in Money, Money, Money the Real Abba story (tour) and the title role in Peter Pan (Grand Theatre, Swansea).
Currently she is preforming the role of Narrator in JOSEPH & THE ADELPHI TECHNICOLOR DREAMCOAT (Adelphi Theatre, London)
- The first musical you saw and/or most impressed you: STARLIGHT EXPRESS.
- You would like to make a duet with Robbie Williams.
- Webber o Sondheim? Webber.
- London or New York? Difficult one. Would love to work on Broadway but the West End is the new broadway I think!!! (Can't decide).
- Do you keep the programmes of the musicals you watch? Of course.
- The worst moment you've had live on the stage was (as a performer and/or as a spectator): My top cam undone on stage and lets just say my ladies assets were out on show for the world to see.
- An unforgettable moment (as a performer and/or as a spectator): Performing at the Queen's Jubilee in her back garden. Amazing!!
- Do you have any superstitions before the opening night? I have superstitions every night. Even down to the way my costume has to go on.
- A musical character that you would like to BE (not perform): Mary Poppins (not a care in the world).
- A character of your opposite sex that you would like to perform: Che (EVITA).
- What do you like best/least about your work? Best: The buzz of performing to a live audience every night. Worst: Having to wear so much makeup.
- What is your favorite musical movie? WIZARD OF OZ.
- The last CD/DVD related to Musicals that you have bought is: 'Dreamgirls'.
- What is your favorite line from a musical: Its from a song in a musical. From WICKED in "For Good": 'You'll be with me, like a handprint on my heart'. Very touching.
- Agree or disagree with TV Shows finding new Musical Stars: Mixed views for and against.
- You feel proud of: My family and friends for putting up with me over the years and constantly supporting me in decisions I have made.
- Of this moment you're living as an actress, the most important thing to you is: My family.
- Other projects you are working on: An album of non musical theatre songs.
Información Relacionada