entrevistas
[ Volver al artículo en castellano ]
Tony Sheldon: "In PRISCILLA every night is absolutely joyous, filled with cheering and laughter"
05/06/2009
The australian performer plays the role of Bernardette in the London production of PRISCILLA QUEEN OF DESERT THE MUSICAL, that opened at the Palace Theatre on March 24th.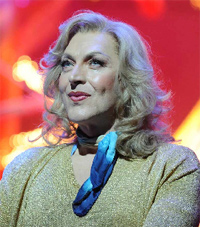 PRISCILLA QUEEN OF DESERT THE MUSICAL began functions at the Palace Theatre in London last March 10th. From the first night, audiences has reacted with an absolute enthusiasm to all functions, acclaiming the entire cast with standing ovations.
The show comes from Australia, where it has been a huge success. Now, it has arrived to the West End willing to repeat this success in the West End. The cast of the London production is completely new, except for one performer that was in the original production: Tony Sheldon.

Tony Sheldon took part of the original workshops of PRISCILLA, and he was also in the world premiere of the musical in Sydney on 2006. In London, Sheldon reprises the role of the transexual Bernardette. He, along with Jason Donovan as Tick and Oliver Thornton as Adam, leads the cast of PRISCILLA.

Actor, director and writer, Sheldon has worked in Australia in musicals as THE PRODUCERS and THE WITCHES OF EASTWICK. He tells us how is he living these first months of PRISCILLA QUEEN OF DESERT THE MUSICAL on the West End.

HOW HAVE LONDON AUDIENCES RECEIVE THESE FIRST WEEKS OF PERFORMANCES OF `PRISCILLA´? HAVE YOU BEEN SURPRISED BY THEIR REACTION? HAS IT BEEN DIFFERENT FROM AUSTRALIAN?
The audience reaction in Australia was always strong but the response in London has surpassed it. Every night is absolutely joyous, filled with cheering and laughter. I was a little surprised because I'd been told that London audiences were rather conservative.

COULD YOU TELL US ABOUT THE REHEARSING PROCESS? IT HAS BEEN THE SECOND TIME YOU REHEARSE THE SHOW… HAVE YOU LIVE IT THIS TIME IN A DIFFERENT WAY THAT THE FIRST ONE?
I had to rehearse the London production as if it were a completely new show. I learned early on that I should hold my tongue and not remind the director "This is how we did it in Australia" because he wanted to try new and different ways of approaching the script. It was also interesting listening to the English actors as they struggled with the Australian accent!

WHAT COULD YOU TELL US ABOUT YOUR COLLEAGUES JASON DONOVAN AND OLIVER THORNTON? HOW DO YOU FEEL WORKING WITH THEM?
They are both the sweetest men in the world although Jason can be a bit naughty. I couldn't ask for two better co-stars.

BERNADETTE IS A VERY SPECIAL CHARACTER. WAS IT VERY DIFFICULT FOR YOU AT THE BEGINNING FACING THE CHALLENGE OF PERFORMING A CHARACTER THAT TERRENCE STAMP HAD DEVELOPED SO BRILLIANTLY IN THE FILM?
I made a decision very early on that I would not impersonate Terence Stamp's performance. Apart from the fact that I didn't want to be compared to such a famous portrayal, I wanted my Bernadette to be a bit more glamorous and "showbiz" than the film version because I have to do a lot more singing and dancing in the show. I had known quite a few transsexuals and female impersonators when I was growing up so I had a lot of personal experience to draw on.

WHAT IS FOR YOU THE MOST DIFFICULT ASPECT OF PERFORMING BERNADETTE?
The preparation is the hardest aspect of the role. It takes three hours of make-up, physical and vocal warm-up, wigs and costuming before I even set foot on stage.

WHAT DO YOU ENJOY MOST OF HER? WHAT DOES SHE MEAN TO YOU?
I love the role because Bernadette is such a well rounded character that she calls upon all the skills I've learned throughout my career as a performer. And she's taking me all around the world in a hit show!

DO YOU THINK THAT A SHOW LIKE `PRISCILLA´ CAN HELP IN THE FIGHT AGAINST HOMOPHOBIA?
The mere fact that we have a major musical featuring two gay men and a transsexual as the leading characters is a breakthrough, and audiences appear to have taken them to their hearts. Homophobia is an important part of PRISCILLA's storyline and we illustrate that there is a lot of hatred out there for those who choose to live their lives out of the mainstream.

`PRISCILLA´ HAS BECOME ONE OF THE MOST SUCCESSFUL SHOWS IN AUSTRALIA. WHY DO YOU THINK THAT THIS SHOW CONNECTS SO MUCH WITH PEOPLE?
People still have great affection for the original 1994 film version and they come to the musical with certain expectations. Fortunately, we are even better than the film and audiences have such a wonderful time that they come back again and again. It's simply a joyous experience from beginning to end.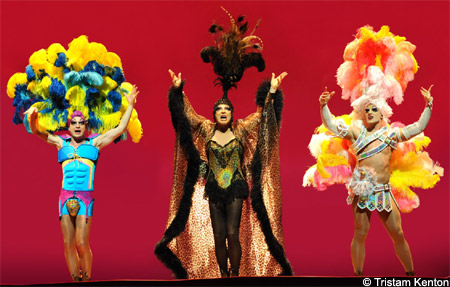 Jason Donovan, Tony Sheldon y Oliver Thornton en una escena de PRISCILLA
WHAT IS THE SITUATION OF MUSICAL THEATRE IN AUSTRALIA?
Australian producers are reluctant to invest in musicals unless they are established hits from overseas and audiences can be unpredictable so we tend to get the same shows as the rest of the world…MAMMA MIA, THE LION KING. Original musicals are usually low-budget affairs in subsidised theatres which makes PRISCILLA's commercial success even more extraordinary.

YOU HAVE STARRED THERE `THE PRODUCERS´ AND `WITCHES OF EASTWICK´. WHAT WOULD YOU HIGHLIGHT ABOUT YOUR EXPERIENCE IN THESE TWO BLOCKBUSTER SHOWS?
When you appear in an established hit like THE PRODUCERS there isn't much room to be creative, you must reproduce every single gesture as it was originally done on Broadway, so it isn't very fulfilling artistically. But at the same time it is fascinating to be part of an internationally known "brand". So much money and energy goes into promoting the show that you cannot help but be swept up in all the excitement.
Información Relacionada