entrevistas
Simon Bowman: "I really should have recorded `One Night With You´ a long time ago"
26/01/2009
The performer of musicals like MISS SAIGON, LES MISÉRABLES or THE PHANTOM OF THE OPERA has recently release `One Night With You´, his debut solo album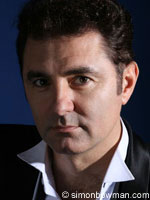 Simon Bowman won widespread acclaim when he created the role of Chris in the original production of MISS SAIGON. Besides this work, he has been in some of the most mythical West End musicals, as LES MISÉRABLES (in the role of Marius and, years later, playing the role of Jean Valejan) or THE PHANTOM OF THE OPERA as Raoul and The Phantom. Other musical plays on his career include ARE YOU LONESOME TONIGHT?, THEY´RE PLAYING OUR SONG (in Dublin), BLONDEL and MACK & MABEL.

Simon Bowman has recently released his debut solo album. `One Night With You´ is a collection of musical numbers he has performed through his career.

On this interview Simon Bowman talks about the creation of `One Night With You´. He also comments on the concerts he is doing accross several countries in the world. Finally, Bowman reviews some of the most significant roles of his career.
`ONE NIGHT WITH YOU´ IS YOUR DEBUT SOLO ALBUM. WHY DID YOU DECIDE TO RECORD THIS NEW ALBUM?
I have been asked for years to do this album but being busy on other shows and projects I always put it off. I really should have recorded this a long time ago so am pleased that it's finally done.

IN `ONE NIGHT WITH YOU´ THERE ARE SOME OF THE MOST POPULAR SONGS OF THE MUSICAL THEATRE HISTORY. THEY HAVE BEEN RECORDED BEFORE BY DIFFERENT PERFORMERS. WHAT IS YOUR CONTRIBUTION TO EACH OF THESE SONGS?
Well, seeing that I have played the characters in the West End myself I can bring to the songs what and how the emotional content was at that moment when they happen in the structure of the show itself. So instead of just singing the song, I portray it by telling it's unique story colouring the vocals with light and shade and emotion in it's real context.

AS YOU SAY, `ONE NIGHT WITH YOU´ FEATURES SONGS FROM WEST END SHOWS YOU HAVE BEEN IN. IT OUGHT TO BE DIFFICULT TO CHOOSE BETWEEN SUCH AMOUNT OF GREAT SONGS… HOW DID YOU MAKE THE SELECTION?
That was very difficult as there are so many but I think you have to start with the most famous of them all first especially if you've actually played the parts for real on stage. Then I wanted to make the album diverse with styles musically and vocally so there is something for everyone. Someone who may like Elvis songs rather than Phantom etc. So I went for a good mixture and variety.

RECENTLY, YOU HAVE BEEN IN LA CORUÑA AS ONE OF THE PERFORMERS OF THE CONCERT 'THE MUSIC OF ANDREW LLOYD WEBBER'. HOW WAS THAT NIGHT? CAN YOU COMMENT ON THESE CONCERTS THAT YOU OFFER AROUND EUROPE?
That was a special night, as I love Spain and have filmed and performed there before. So to get that live feed back from the excited and apprecietive audience was very thrilling and I hope I am invited back in the future. Performing in Europe and around the world is a thrilling experience as every country and the audiences are different but equally appreciative.
YOU CREATED THE ROLE OF CHRIS IN THE ORIGINAL LONDON PRODUCTION OF FROM MISS SAIGON. HOW DID YOU REMEMBER THIS WORK?
It was a very exciting time in my life and career. When you create and originate a role you never really forget that role, especially when there is an album that lives on forever!

YOU HAVE ALSO BEEN IN ANOTHER HISTORICAL SHOW OF THE WEST END, LES MISÉRABLES, FIRST AS MARIUS AND 14 YEARS LATER AS JEAN VALJEAN. WHICH ONE OF THESE ROLES DID YOU ENJOY THE MOST?
I think I enjoyed both of them as equal in their own right. As Marius I was much younger a juvenile lead role which is nice, and then playing Valjean years later was again exciting both completely different roles. Valjean of course being the mature adult role which I am pleased to have been able to have made the transition from juvenile parts to other roles like Judas or Phantom.

WHAT ARE THE MAIN DIFFERENCES BETWEEN CREATING AN ORIGINAL ROLE AND GOING INTO AN ESTABLISHED ONE? WHAT DO YOU ENJOY MOST?
Creating a role is probably the most satisfying thing to do as you are the very first to have sung and performed the charácter as the producers and directors see it. I also think that when others come to perform or sing the role alter you they tend to be heavily influenced by the original person who created it. It is a very proud feeling to be asked to create and originate a part. When taking over a role I tend to look for something fresh to do with the part so to try and make it your own personal interpretation.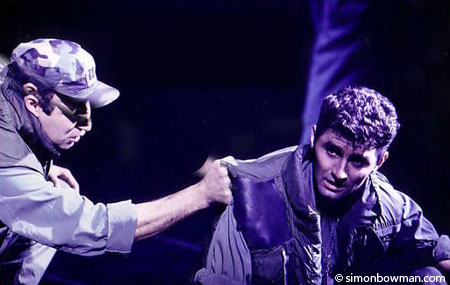 Peter Polycarpou (John ) and Simon Bowman (Chris) in a scene from MISS SAIGON
YOU´RE WORKING IN A NEW MUSICAL WITH JOHN SINCLAIR. WHAT CAN YOU TELL US ABOUT THIS PROJECT?
All I can say at this moment is that I'm very excited about this Project it's a new piece that has been put onto CD Ready to distribute to potential backers. Will be able to give you more detail about the story and music in the near future but as for now I'm sworn to secretcy because of copywrite terms.

YOU WILL BE ONE OF THE PERFORMERS OF THE CONCERT ´THE MUSIC OF JAMES BOND´ WITH THE NEW YORK POPS, IN THE CARNEGIE HALL OF NYC. HOW WILL THIS CONCERT BE? WHAT DO YOU LIKE THE MOST OF THE MUSIC OF JAMES BOND FILMS?
This concert is with a huge orchestra and as we sing the title songs from each film they show a big screne with the clip from the film so it's keeps moving and is action packed. The music from James Bond Films are always very thrilling and dynamic with powerful electrifying orchestral sequences not forgetting of course the slow sexy passionate ballads.
Enlaces de Interés
Información Relacionada