noticias
Ben Richards coprotagonizará el regreso de THE BODYGUARD al West End
11/03/2016
Interpretará a Frank Farmer, coprotagonizando el musical junto a la previamente anunciada Beverey Knight en el Dominion Theatre de Londres a partir del 15 de julio de 2016.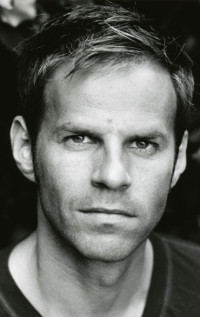 Ben Richards interpretará a Frank Farmer en el regreso al West End de THE BODYGUARD, coprotagonizando el espectáculo junto a la previamente anunciada Beverley Knight, quien dará vida a Rachel Marron durante la temporada limitada que el musical realizará en el Dominion Theatre del 15 de julio de 2016 al 15 de febrero de 2017.
Ben Richards inició su trayectoria artística en el West End participando en musicales como RADIO TIMES, HOT MIKADO o SMOKEY JOE'S CAFE. En 1993 interpretó a Terry Johnson en GREASE; y en 1998 se puso en la piel de su primer personaje protagonista sobre los escenarios dando vida a Tony Manero en SATURDAY NIGHT FEVER. Años más tarde volvería a incorporarse al elenco de GREASE en el West End como Danny Zuko. En 2002 interpretó a Jerry en THE FULL MONTY y un año después a The Dentist en LITTLE SHOP OF HORRORS. Otros de sus créditos en los últimos años incluyen Sky Masterson en la gira de GUYS AND DOLLS en el 2006; Tick en PRISCILLA QUEEN OF THE DESERT en el West End en 2010; y Franklin Hart Jr. en la gira británica de 9 TO 5 THE MUSICAL. Ha desarrollado también una extensa carrera en televisión, protagonizando series como 'The Bill' o 'Hollyoaks'.

Junto a Ben Richards y Beverley Knight integrarán el elenco de THE BODYGUARD Rachel John (Nicki Marron), Carole Stennett (alternate Rachel Marron), Mark Holden (Bill Devaney), Alex Andreas (Tony), Dominic Taylor (Sy Spector), Matthew Stathers (Stalker) y Glen Fox (Ray Court). El ensamble lo formarán Faye Best, Pablo Ceresuela Torres, Carlos Ugarriza Crespo, Lisa Darnell, Charles Hagerty, Emma Joy Hopkins, Ibinabo Jack, Christopher Jeffers, Verity Jones, Phoebe Liberty, Raul Naranjo Garcia, Mary Lynn Tiep, Michael Wade-Peters, Matthew Wesley, Emmy Willow y Mark Willshire.

Basado en la película de Lawrence Kasdan de 1992 producida por Warner Bros, THE BODYGUARD, dirigido por Thea Sharrock y con libreto de Alex Dinelaris, se representó en el Adelphi Theatre del West End de Londres del 6 de noviembre de 2012 (estrenándose oficialmente el 5 de diciembre) al 30 de agosto de 2014.

La historia de THE BODYGUARD se centra en los personajes de Frank y Rachel. Frank es un antiguo agente del Servicio Secreto convertido en guardaespaldas, y es contratado para proteger a la superestrella de la musical Rachel Marron de un acosador desconocido. La estrecha relación profesional que deberán mantener provocará que ambos se enamoren inesperadamente.

Este thriller romántico incluye en su banda sonora grandes éxitos de la carrera de Whitney Houston, entre ellos "Queen of the Night", "So Emotional", "One Moment in Time", "Saving All My Love", "I'm Your Baby Tonight", "Run to You", "I Have Nothing", "How Will I Know", "I Wanna Dance With Somebody" y uno de los grandes temas de todos los tiempos, "I Will Always Love You".

THE BODYGUARD cuenta con diseño escenográfico de Tim Hatley, iluminación de Mark Henderson, sonido de Richard Brooker y diseños de vídeo de Duncan McLean. La coreografía es de Karen Bruce, las orquestaciones de Chris Egan y la supervisión musical de Richard Beadle.

THE BODYGUARD se representa también en el Beatrix Theter de Utrecht (Holanda); y en el Musical Dome Theatre de Colonia (Alemania). Ambas producciones se estrenaron en 2015 y continúan llenando teatros desde entonces.

THE BODYGUARD está producido por Michael Harrison y David Ian.
Enlaces de Interés
Información Relacionada
Comentarios
Para poder añadir comentarios necesitas autentificarte como usuario registrado de todoMUSICALES.