noticias
Se edita el álbum de la nueva producción de Broadway de THE COLOR PURPLE
30/12/2015
Broadway Records edita la grabación de este revival protagonizado por Cynthia Erivo, Jennifer Hudson y Danielle Brooks que saldrá a la venta el 19 de febrero de 2016.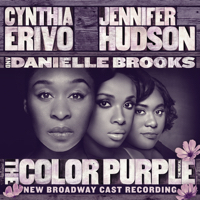 Broadway Records ha editado el álbum de la nueva producción de Broadway de THE COLOR PURPLE, revival estrenado oficialmente en el Bernard B. Jacobs Theatre de Broadway el 10 de diciembre de 2015, tras iniciar funciones previas el pasado 10 de noviembre.
El álbum 'THE COLOR PURPLE - New Broadway Cast Recording', grabado en estudio el pasado 14 de diciembre y producido por Frank Filipetti, saldrá a la venta el 19 de febrero de 2016.

El elenco de esta producción procedente de la Menier Chocolate Factory Londres, dirigida por John Doyle, está liderado por Cynthia Erivo (SISTER ACT UK Tour, I CAN'T SING!) como Celie, Jennifer Hudson (DREAMGIRLS) como Shug Avery, Danielle Brooks ('Orange Is The New Black') como Sofia, Isaiah Johnson (SIDE SHOW) como Mister, Joaquina Kalukango (GODSPELL, HOLLER IF YA HEAR ME) como Nettie, y Kyle Scatliffe (LES MISÉRABLES) como Harpo.

Completan el reparto Phoenix Best, Dwayne Clark, Lawrence Clayton, Carrie Compere, Patrice Covington, Adrianna Hicks, Bre Jackson, Grasan Kingsberry, Kevyn Morrow, Ken Robinson, Antoine L. Smith, Carla R. Stewart, Akron Watson y Rema Webb.

THE COLOR PURPLE, basado en la novela homónima de Alice Walker ganadora de un premio Pulitzer, cuenta con libreto de Marsha Norman y letras y música de Brenda Russell, Allee Willis y Stephen Bray.

La historia de THE COLOR PURPLE se sitúa a principios del siglo XX y su protagonista es Celie, una adolescente negra de catorce años que está embarazada de su propio padre, un hombre despótico y cruel. A partir de entonces su vida estará llena de dolor y humillaciones; pero también le conducirá hacia el descubrimiento del poder del amor. La partitura del musical es una mezcla de jazz, ragtime, góspel y blues.

La versión cinematográfica de 'The Color Purple', dirigida por Steven Spielberg, se estrenó en 1985 con Whoopi Goldberg y Danny Glover como protagonistas, recibiendo 11 nominaciones al Oscar.

El musical se estrenó originalmente en el Broadway Theatre de Nueva York el 1 de diciembre de 2005 dirigido por Gary Griffin y protagonizado por LaChanze como Celie, Brandon Victor Dixon como Harpo, Felicia P. Fields como Sofia y Renée Elise Goldsberry como Nettie. El espectáculo permaneció en cartel hasta el 24 de febrero de 2008, tras realizar más de 900 funciones.

El listado completo de temas del álbum 'THE COLOR PURPLE - New Broadway Cast Recording' es el siguiente:

1. Opening/Mysterious Ways
2. Somebody Gonna Love You
3. Our Prayer
4. That Fine Mister
5. Big Dog
6. Mister/Nettie & Lily of the Field
7. Dear God - Sofia
8. A Tree Named Sofia
9. Hell No!
10. Brown Betty
11. Shug Avery Comin' to Town
12. All We Got to Say
13. Dear God - Shug
14. Too Beautiful for Words
15. Push Da Button
16. Uh-Oh
17. What About Love?
18. African Homeland
19. The Color Purple
20. I Curse You Mister
21. Celie's Curse
22. Miss Celie's Pants
23. Any Little Thing
24. What About Love? (Reprise)
25. I'm Here
26. The Color Purple (Reprise)
Enlaces de Interés
Información Relacionada
Comentarios
Para poder añadir comentarios necesitas autentificarte como usuario registrado de todoMUSICALES.