noticias
Se anuncia el elenco que protagonizará A CHORUS LINE en el West End
23/11/2012 (actualizada 04/01/2013)
John Partridge, Scarlett Strallen, Leigh Zimmerman y Victoria Hamilton-Barritt protagonizarán el musical de Michael Bennett con música de Marvin Hamlisch que iniciará funciones en el London Palladium el 2 de febrero de 2013.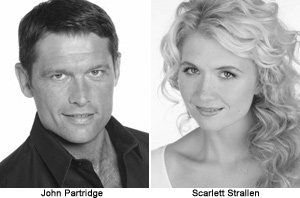 Se han anunciado los intérpretes que darán vida a los protagonistas del musical A CHORUS LINE en su estreno en el London Palladium del West End en febrero de 2013.
John Partridge dará vida al director Zach. Partridge es popular por el personaje de Christian Clarke en la serie de televisión 'EastEnders'. Además ha participado en numerosos musicales en el West End, entre ellos CATS, STARLIGHT EXPRESS, TOMMY, GREASE, THE DROWSY CHAPERONE, RENT y MISS SAIGON. Fue jurado del reciente programa de la BBC 'Over The Rainbow'.

Scarlett Strallen, que actualmente interpreta a Kathy en la producción del West End de SINGIN' IN THE RAIN, interpretará a Cassie. La actriz ha interpretado en Londres los personajes de Clara en PASSION, MARY POPPINS y Truly Scrumptious en CHITTY CHITTY BANG BANG.

Leigh Zimmerman dará vida a Sheila. La intérprete ha protagonizado en el West End en las producciones de CHICAGO y THE PRODUCERS, y ha trabajado en Broadway en FOLLIES, CRAZY FOR YOU y A FUNNY THING HAPPENED ON THE WAY TO THE FORUM.

Victoria Hamilton-Barritt interpretará a Diana. La actriz recientemente dio vida a Gypsy Rose Lee en la producción del Leicester Curve Theatre de GYPSY. Anteriormente interpretó a Alex en la producción del West End de FLASHDANCE y a Maria en la gira internacional de WEST SIDE STORY.

Junto a ellas estarán Lucy Adcock (Judy), Georgie Ashford (Trisha), Ed Currie (Bobby), Frances Dee (Kristine), Segun Fawole (Butch), Harry Francis (Mark), Simon Hardwick (Al), Rebecca Herszenhon (Val), James T Lane (Richie), Marc Leslie (Roy), Vicki Lee Taylor (Maggie), Daisy Maywood (Bebe), Alice Jane Murray (Lois), Alastair Postlethwaite (Larry), Andy Rees (Greg), Adam Salter (Mike), Alexzandra Sarmiento (Connie), Michael Steedon (Tom), Gary Watson (Don) y Gary Wood (Paul). Además de Rebecca Giocopazzi, Genevieve Nicole y Ashley Nottingham.

Alice Jane Murray (que debuta en el West End) y Marc Leslie fueron seleccionados a partir de las audiciones abiertas que se celebraron en el London Palladium en septiembre de 2012 en las que participaron más de 2.000 personas.

La producción de A CHORUS LINE de Michael Bennett ganó nueve premios Tony y el premio Pulitzer al Drama cuando se estrenó en Broadway en 1975, convirtiéndose en aquel momento en el musical de mayor tiempo de permanencia en cartel con 6.137 funciones.

Ahora, por primera vez desde su estreno en Londres en 1976 -que ganó el premio Olivier al Mejor Musical-, un revival íntegro de la producción de Broadway del musical se podrá ver en el West End. A CHORUS LINE iniciará funciones previas en el London Palladium el 2 de febrero de 2013, estrenándose oficialmente el 19 de febrero. El musical ha extendido su periodo de venta de entradas, inicialmente previsto para el 29 de junio de 2013, hasta enero del 2014.

La producción estará dirigida por el veterano director de Broadway y del West End Bob Avian. Avian fue colaborador de Michael Bennett, y co-coreógrafo de la producción original de A CHORUS LINE en Broadway; y también dirigió el revival de Broadway de 2006 de A CHORUS LINE.

Respecto a este anuncio, Andrew Lloyd Webber, propietario del London Palladium a través de la Really Useful Company, ha declarado: "Estoy encantado de dar la bienvenida a A CHORUS LINE al London Palladium. Esta producción clásica de Broadway no se ha visto en el West End durante casi 35 años. Marvin Hamlich fue un gran amigo y me apoyó al inicio de mi carrera y no puedo pensar en una mejor manera de rendirle homenaje que con este gran revivan."

A CHORUS LINE cuenta con música de Marvin Hamlisch, libreto de James Kirkwood y Nicholas Dante y letras de Edward Kleban. El musical incluye canciones como "One (Singular Sensation)", "What I did For love", "I Can do That", "Hello Twelve, Hello Thirteen, Hello Love" o "Hope I Get It".

Este revival londinense de A CHORUS LINE se convertirá en un homenaje al compositor del espectáculo Marvin Hamlisch, quien falleció a principios de agosto de este 2012. La contribución de Hamlisch a los escenarios y a la gran pantalla es ampliamente reconocida. Entre sus canciones más populares se encuentran "The Way We Were" y "Nobody Does It Better" y, además de su trabajo en la composición de teatro musical, compuso las bandas sonoras de películas como 'Ordinary People' o 'Sophie's Choice'.

La adaptación cinematográfica del musical se estrenó en 1985, dirigida por Richard Attenborough y protagonizada por Michael Douglas.

A CHORUS LINE estará producido en el West End por Mark Goucher, Adam Kenwright, ACT Productions, Tim Lawson, Daniel Sparrow y Mike Walsh Productions por un acuerdo especial con John Breglio y A Chorus Line Broadway.
Enlaces de Interés
Información Relacionada
Comentarios
Para poder añadir comentarios necesitas autentificarte como usuario registrado de todoMUSICALES.