noticias
[ Read this Article in English ]
Se anuncia el reparto completo que estrenará THE BODYGUARD en el Adelphi Theatre del West End
03/08/2012
Junto a los previamente anunciados Heather Headley y Lloyd Owen estarán Debbie Kurup, Mark Letheren, Ray Shell, Nicolas Colicos y otros 28 intérpretes que, bajo la dirección de Thea Sharrock, estrenarán este nuevo musical en Londres en otoño de 2012.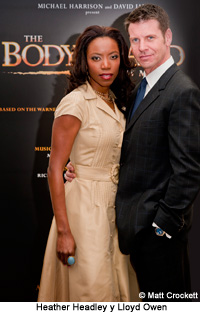 Se ha anunciado el elenco completo que estrenará el nuevo musical THE BODYGUARD en el West End. Junto a los previamente anunciados Heather Headley y Lloyd Owen estarán Debbie Kurup, Mark Letheren, Ray Shell, Nicolas Colicos, Mark McKerracher, Sean Chapman, David Page y Oliver Le Sueur. A su lado tendrán también a Luis Buddy, Caius Duncombe, Jaydon Fowora Knight, Kwame Kandekore, Taylor Lockhart y Malakai Paul, quienes se alternarán en el personaje de Fletcher, el pequeño hijo de Rachel Marron.
Los miembros del ensamble son Nigel Barber, Jordan Darrell, Yasmin Harrison, Shanay Holmes, Holly James, Robert Jezek, Melissa Keyes, Gil Kolirin, Janet Kumah, Nick Maude, Richard Murphy, Gloria Onitiri (alternante de Heather Headley como Rachel Marron), Ashley J Packer, Dharmesh Patel, Lucinda Shaw, Paul Smethurst, Charlotte Watts y James Wooldridge.

Basado en la película de Lawrence Kasdan de 1992 producida por Warner Bros, este nuevo musical, THE BODYGUARD, con libreto de Alex Dinelaris, se estrenará en el Adelphi Theatre del West End de Londres en otoño de 2012. Las funciones previas se iniciarán el 6 de noviembre de 2012, 20 años después del lanzamiento de la película, estrenándose oficialmente el 5 de diciembre de 2012.

Debbie Kurup (Nicki Marron) originó los personajes de Dee Dee en TONIGHT'S THE NIGHT en el Victoria Palace, y de KT en SISTER ACT, en el London Palladium. Ha interpretado a Velma Kelly en la producción del West End de CHICAGO y a Mimi en RENT, tanto en el West End como en gira por el Reino Unido. Participó en los conciertos CHESS IN CONCERT y The Night of 1000 Voices en el Royal Albert Hall.

Mark Letheren (The Stalker) ha participado en espectáculos como 'The Country Girl' en el Apollo Theatre, 'Comedians' and 'All My Sons' para el Bolton Octagon, 'Cloud Nine' en el Almeida Theatre, 'Find The Lady' en el Young Vic y 'A Midsummer Night's Dream' para la Royal Shakespeare Company. En television ha participado en series como 'Casualty' y 'Wire in the Blood'.

Ray Shell (Bill Devaney) formó parte de los elencos de MISS SAIGON en el Theatre Royal Drury Lane, GONE WITH THE WIND en el New London Theatre, THE LION KING en el Lyceum Theatre, FIVE GUYS NAMED MOE en el National Theatre, STARLIGHT EXPRESS en el Victoria Apollo y JESUS CHRIST SUPERSTAR en el Barbican Theatre.

Nicolas Colicos (Tony) ha trabajado en WONDERFUL TOWN en el Queens Theatre, WHISTLE DOWN THE WIND en el Aldwych, SUNSET BOULEVARD en el Adelphi, MAMMA MIA en el Prince Edward, THE PRODUCERS en el Theatre Royal Drury Lane, y SUNDAY IN THE PARK WITH GEORGE en el National Theatre.

Mark McKerracher's (Herb Farmer) interpretó a Jean Valjean en LES MISERABLES tanto en el West End como en Broadway. También ha trabajado en Londres en CATS, SUNDAY IN THE PARK WITH GEORGE y THE PHANTOM OF THE OPERA. En Estados Unidos ha participado en musicales como EVITA y SOUTH PACIFIC.
La historia de THE BODYGUARD se centra en los personajes de Frank y Rachel. Frank es un antiguo agente del Servicio Secreto convertido en guardaespaldas, y es contratado para proteger a la superestrella de la musical Rachel Marron de un acosador desconocido. La estrecha relación profesional que deberán mantener provocará que ambos se enamoren inesperadamente.

Este thriller romántico incluye en su banda sonora grandes éxitos de la carrera de Whitney Houston, entre ellos "Queen of the Night", "So Emotional", "One Moment in Time", "Saving All My Love", "I'm Your Baby Tonight", "Run to You", "I Have Nothing", "How Will I Know", "I Wanna Dance With Somebody" y uno de los grandes temas de todos los tiempos, "I Will Always Love You."

THE BODYGUARD cuenta diseño escenográfico de Tim Hatley, iluminación de Mark Henderson y sonido de Richard Brooker. La coreografía es de Arthur Pita, las orquestaciones de Chris Egan y la supervisión musical de Mike Dixon. THE BODYGUARD está producido por Michael Harrison y David Ian.
Enlaces de Interés
Información Relacionada
Comentarios
Para poder añadir comentarios necesitas autentificarte como usuario registrado de todoMUSICALES.