noticias
El álbum 'Thirteen Stories Down' captura la música de Jonathan Reid Gealt
14/12/2010
Darius de Haas, Will Chase, Kate Baldwin, Lauren Kennedy, Tituss Burgess y Caissie Levy son algunos de los artistas que participan en este álbum que se lanza digitalmente el 14 de diciembre.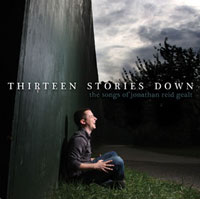 El sello discográfico Sh-K-Boom/Ghostlight Records edita el álbum 'Thirteen Stories Down: The Songs of Jonathan Reid Gealt', que está disponible en formato digital a través de iTunes el 14 de diciembre y a través de los canales de venta habituales el 11 de enero de 2011. El disco también se puede adquirir a través de la página web del sello discográfico.
Producido por Joel Moss y Lynne Shankel, el álbum está integrado por 13 temas escritos por el actor, cantante, actor, bailarín y compositor Jonathan Reid Gealt , que son interpretados por numerosos artistas de Broadway, entre los que se encuentran Kate Baldwin (FINIAN´S RAINBOW, WONDERFUL TOWN, THROUGHLY MODERN MILLIE), Will Chase (BILLY ELLIOT, AIDA, RENT), Tituss Burgess (GUYS & DOLLS, JERSEY BOYS, THE LITTLE MERMAID), Quentin Earl Darrington (RAGTIME), Caissie Levy (HAIR, WICKED, HAIRSPRAY), Lauren Kennedy (VANITIES, SPAMALOT, LES MISERABLES), Adam Chanler-Berat (NEXT TO NORMAL), Natalie Weiss (EVERYDAY RAPTURE, WICKED), Carrie Manolakos (WICKED, MAMMA MIA!), Alysha Umphress (AMERICAN IDIOT), Matt Doyle (SPRING AWAKENING, BYE BYE BIRDIE), Darius de Haas (RENT, KISS OF A SPIDER WOMAN), Zak Resnick (`The Broadway Boys´), Capathia Jenkins (CAROLINE OR CHANGE), Bridie Carroll (GREASE), Adam Armstrong (`History Boys´), y Jonathan Reid Gealt, así como Stephanie Umoh (RAGTIME), Lindsay Mendez (GREASE, EVERYDAY RAPTURE), y el coro 'The Broadway Inspirational Voices'.

Jonathan Reid Gealt ha participado como intérprete en producciones regionales estadounidenses de musicales como LES MISÉRABLES, ANNIE GET YOUR GUN, THE SOUND OF MUSIC, CATS y JESUS CHRIST SUPERSTAR. También ha actuado como solista en diversos conciertos, entre ellos el de Jason Robert Brown en el club Birdland y en el concierto ´The Music of Lucy Simon´ del Joe´s Pub.

El listado completo de temas del álbum 'Thirteen Stories Down: The Songs of Jonathan Reid Gealt' es el siguiente:

1. I Am Yours - Caissie Levy
2. I Won´t Have to Anymore - Adam Chanler-Berat
3. Quiet - Natalie Weiss
4. My Best Friend - Tituss Burgess y Quentin Earl Darrington
5. No Reason at All - Carrie Manolakos
6. September of ´92 - Zak Resnick
7. Expectations of a Man - Bridie Carroll
8. Lessons Learned - Will Chase y Kate Baldwin
9. Alex...You´re Fine! - Lauren Kennedy
10. Lovable - Alysha Umphress
11. Stay/I´ll Never Go - Adam Armstrong y Jonathan Reid Gealt
12. Wanting - Matt Doyle y Darius de Haas
13. Momma Don´t Cry - Capathia Jenkins
Enlaces de Interés
Información Relacionada
Comentarios
Para poder añadir comentarios necesitas autentificarte como usuario registrado de todoMUSICALES.