noticias
El recital benéfico 'Six Degrees of Marvin Hamlisch' reunirá a numeros artistas de Broadway
25/08/2010
El concierto en el que se interpretarán temas del compositor de musicales como A CHORUS LINE o THEY´RE PLAYING OUR SONG tendrá lugar el 4 de octubre en el Symphony Space de Nueva York y rendirá tributo a la directora musical Fran Liebergall.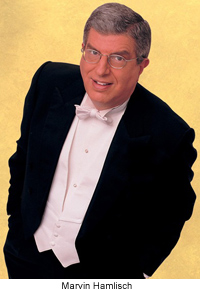 El próximo 4 de octubre de 2010 el Peter Jay Sharp Theatre del Symphony Space de Manhattan acogerá un concierto benéfico en el que bajo el título de 'Six Degrees of Marvin Hamlisch - An All Star Celebration' diversos artistas de Broadway interpretarán temas de Marvin Hamlisch. El evento servirá como homenaje a la figura de Fran Liebergall, directora musical, pianista y colaboradora habitual de Hamlisch, con el que ha trabajado los últimos 35 años. Liebergall padece desde hace algunos años de escleorosis múltiple, lo que ha limitado sus actividades profesionales en los últimos tiempos.
'Six Degrees of Marvin Hamlisch' reunirá, además del propio Hamslish, a diversos artistas de Broadway como Liz Callaway (MERRILY WE ROLL ALONG, CATS, MISS SAIGON), Victor Garber (DAMN YANKEES, LITTLE ME, SWEENEY TODD, THEY´RE PLAYING OUR SONG), Donna Murphy (PASSION, WONDERFUL TOWN, THE KING AND I), Lucie Arnaz (THEY´RE PLAYING OUR SONG, DIRTY ROTTEN SCOUNDRELS), Lesley Gore (SMOKEY JOE´S CAFE), Debbie Gravitte (THEY´RE PLAYING OUR SONG,BLUES IN THE NIGHT, LES MISÉRABLES), Robert Klein (THE APPLE TREE, THEY´RE PLAYING OUR SONG), Jack Noseworthy (A CHORUS LINE, JEROME ROBBINS´ BROADWAY, SWEET SMELL OF SUCCESS), Billy Stritch (42ND STREET, LIZA´S AT THE PALACE) y los miembros de la compañía original de A CHORUS LINE Donna McKechnie (HOW TO SUCCEED IN BUSINESS WITHOUT REALLY TRYING, COMPANY, ON THE TOWN), Kelly Bishop (PROMISES, PROMISES, ON THE TOWN), Robert LuPone (MINI´S BOYS, THE MAGIC SHOW, LATE NITE COMIC), Priscilla Lopez (COMPANY, PIPPIN, NINE, IN THE HEIGHTS), el director musical Don Pippin (LA CAGE AUX FOLLES, CABARET, THE RED SHOES) y Sammy Williams (THE HAPPY TIME, APPLAUSE).

Dirigido por Murphy Cross y Paul Kreppel, 'Six Degrees of Marvin Hamlisch' tendrá como director musical a Ron Abel.

Nacido en 1944 en Nueva York, Marvin Hamlish ha desarrollado una exitosa carrera como compositor, habiendo sido galardonado con premios Emmy, Grammys, Globos de Oro, Oscars, Tony y un Pulitzer. Es autor de la música de espectáculos como A CHORUS LINE, THEY´RE PLAYING OF SONG, JEAN SEBERG, SMILE, THE GOODBYE GIRL, SWEET SMELL OF SUCCESS: THE MUSICAL e IMAGINARY FRIENDS. Como compositor de bandas sonoras para películas de cine destaca su trabajo en 'The Way We Were', 'Sophie´s Choice', 'Ordinary People' o 'The Informant!', entre muchas otras. Hamlish también fue director musical y arreglista de la gira de conciertos de Barbra Streisand en 1994.

La recaudación obtenida en el concierto 'Six Degrees of Marvin Hamlisch' irá a beneficio de la entidad The Actors Fund, organización benéfica que ayuda a los profesionales de las artes escénicas.
Enlaces de Interés
Información Relacionada
Comentarios
Para poder añadir comentarios necesitas autentificarte como usuario registrado de todoMUSICALES.